Unbaby.Me Google Extension
Unbaby.me Baby Picture Removal Service: Ga Ga or Gag?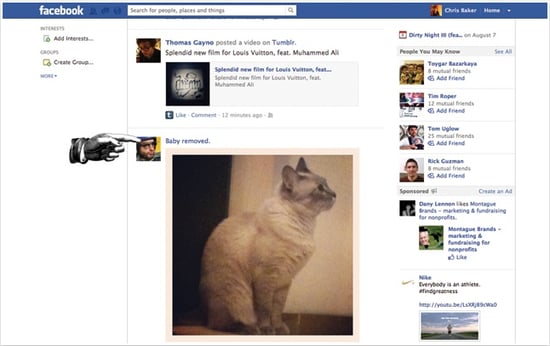 If you thought the backlash against mom-centric Facebook updates was limited to funny Tumblrs, think again! The latest way Facebook users are raging against moms who constantly post photos of their lil ones in various poses is rather stealth.
Unbaby.me, a Chrome extension, allows users to remove baby photos from their newsfeeds and replace them with pictures of "awesome stuff" (the default option is cats, but anything from a food item to your own Instagram feed can be placed in the "tag" field). So when your best friend posts yet another picture of her 2-week-old sleeping, you can see a picture of the tastiest cupcake or shirtless Olympians instead, and your friends will never know! Would you add Unbaby.me to your browser?