Utah Teachers Conceal Guns at School
Utah Teachers Conceal Guns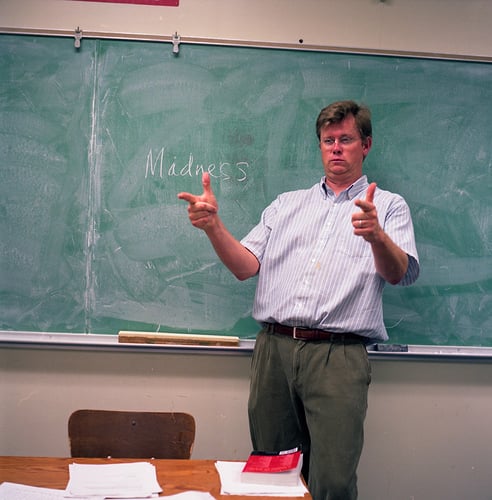 Should your child's teacher tote a gun?
Allowing guns in school is a controversial issue, especially after the shooting at Connecticut's Sandy Hook Elementary school in December. But at least two Utah teachers have anonymously admitted that they legally carry concealed guns at school, The Salt Lake Tribune reports.
The paper interviewed two middle-school teachers who hold concealed firearm permits — and therefore are not required to tell parents, school police officers, or principals that they are packing heat — because they believe it makes their classrooms safer.
"I can think of nothing worse than having to witness my students being killed or maimed without me being able to at least attempt some sort of intervention," one teacher explained. "I might even die in the process, but, in my opinion, going down shooting would be better than standing in front of them helplessly."
Keep reading.
While parents might be fearful to find out their child's teachers possess weapons in the classroom, the teachers said they keep a safe distance to prevent students from accidentally brushing up against them and touching the guns. Plus, they believe they are more trustworthy and have more patience and control because of the routine background checks they face to maintain the concealed carrying permit.
In the past, Utah lawmakers proposed legislation that would allow parents to find out which teachers carry guns. But, the bill was quickly shot down, as it infringed on privacy rights.
The gun-toting teachers said they have not informed their school principals that they are carrying weapons because they don't want their school administrators to face unnecessary scrutiny. And practically speaking, the teachers said if they were required to inform parents that they are carrying, that could make the school less safe, as these teachers would likely become targets should a gunman decide to attack the school.