Warning About Baby Slings
Government Set to Issue Baby Sling Warning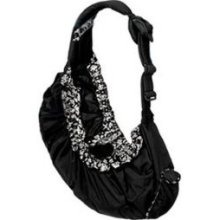 Babywearers beware! The head of the Consumer Product Safety Commission is preparing to issue a general warning about baby slings, citing suffocation hazards with the popular fabric carriers.
Speaking at the Juvenile Products Manufacturers Association, CPSC head Inez Tenenbaum said, "We know of too many deaths in these slings and we now know the hazard scenarios for very small babies. So, the time has come to alert parents and caregivers."
The agency head did not specify any particular baby sling manufacturers, there have been growing safety concerns about the products. In some cases, slings have not been properly secured, and babies have fallen out of them, while other versions force lil ones into a curled up "C" position, increasing their chances of suffocation.
Babywearing has grown in popularity as more mamas heed attachment parenting beliefs. Seventeen percent of LilSugar readers told us that they tote their tot in a sling, and the carriers' popularity was even spoofed in a You Tube video earlier this year.
If you are a babywearer, do you ever worry about suffocation? Will you consider alternative methods for carrying your wee one now?