Ways For Soccer Moms to Work Out During Practice
Soccer Moms Unite! Work Out During Practice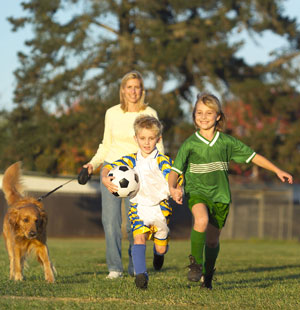 Peewee soccer season is in full swing, so take a note from your little players and get active. Busy kids mean a little free time for mom. So if you're carpooling to practice, pack your water bottle and grab your sneaks — there's a workout to be had. My daughter practices on a field in the middle of a regulation track, making her practice a perfect time for me to go running. While I make laps around the field, I can see what's going on with the team without hovering — it feels a little like mommy jog meets reconnaissance mission.
If you don't like to run, then walk; even if there is no track around, walking the perimeter of the field is a great option. You'll meet other parents this way too. Add walking lunges to your laps to fit some strength training into your cardio time. Use benches or the bumper of your car for push-ups and triceps dips.
Basically, any sports practice or music lesson is like free child care. Look for fitness opportunities nearby these regularly scheduled weekly destinations. If you poke around, you just might find Pilates, yoga, dance studios, and climbing gyms within minutes of your little jock's practice or your budding violinist's lesson. Remember, a 20-minute workout is better than no workout at all.
Do you work out when your child is at sports practice? Tell us what you do in the comments section below.
Be sure to enter LilSugar's giveaway for a chance to win a Mountain Buggy Terrain Jogging Stroller!