Ways to Support the Sandy Hook Elementary School Community
1 Year Later, Newtown Needs Your Love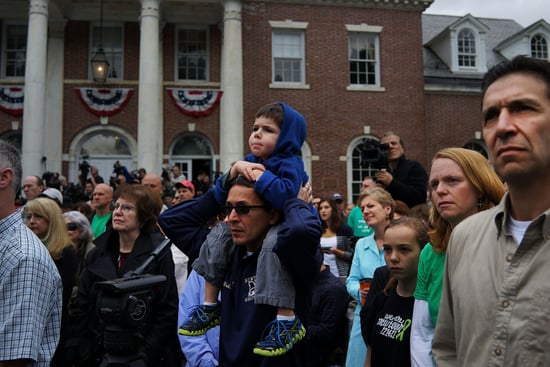 One year after the tragic massacre at Sandy Hook Elementary School, Newtown, CT, is still a town in mourning. As the nation continues to debate gun control, assault weapon bans, and funding for mental health issues, we can't take our minds off the 26 families of the victims who lost their lives in the Newtown shooting a year ago today — let alone try to explain to our kids why it happened.
A beautifully written piece by Rob Cox, cofounder of Sandy Hook Promise, ran in USA Today and reminds us that a year isn't nearly enough time to heal in the wake of such a tragic and senseless act of violence:
Newtown still needs a hug. Don't be fooled by my hometown's prickly approach to the media, or even to well-wishers with their legions of teddy bears and letters. It is not a show of anger or entitlement that town leaders are asking the press to allow the community to mourn privately the 20 first-graders and six educators massacred a year ago Saturday at Sandy Hook Elementary School. Newtowners are not shirking a responsibility to remember and record what happened. They just need space and time to heal . . . Eventually this community will be ready to accept the embrace of the world. And it will give a big bear hug right back.
Until then, the 26 families directly impacted by the shooting in Newtown have joined together to build My Sandy Hook Family, a website that serves as a united front for sharing, communicating, and honoring the loved ones who they lost. Visiting the site will allow you to learn more about each of the victims and contribute to their individual memorial funds.
Here, other ways that you can show your love and support: