Ways to Treat Yourself on Mother's Day
It's All About You, Mom! 6 Mother's Day Indulgences That You Most Definitely Deserve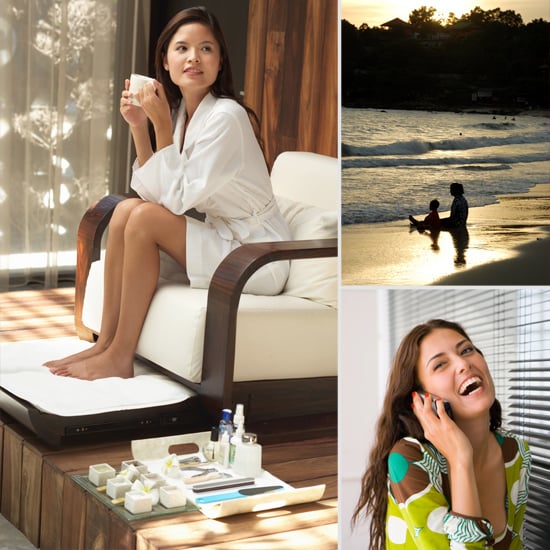 Since Mother's Day should be all about you, we suggest that this year, you take advantage of the holiday and spoil yourself silly. That doesn't have to mean going on a giant shopping spree or treating yourself to a full day at the spa. Instead, take stock of the little things in life that you don't think you get enough of and ask your family to indulge you in just one or two of them. While we're sure you've got your own "wish list," here are a few fun ideas to get you started:
Phone a Friend: When's the last time you had an hour-long, laugh-out-loud conversation with a long-distance friend or family member? If you've got lil ones running around, chances are, it's been awhile. Ask your husband to hold down the fort, shut the door, and dial away.
Schedule a One-on-One Date . . . With Your Child: Whether you're a mom of one or four, we're willing to bet that you don't get as much quality one-on-one time with each of your kids as you'd like. Think of something special that you (and your child) would really enjoy doing and plan a date . . . or two, or three, or four . . .
Schedule a One-on-One Date . . . With Your Husband: Breakfast in bed with the kiddos is a great way to kick off Mother's Day . . . and adults-only dinner and drinks is the perfect way to end it!
Spend an Hour Alone: Think back to your preparent days and remember what you miss most. Prior to being a mom, did having an hour to kill mean treating yourself to a pedicure? A back massage? Window shopping? Indulge yourself for an hour, and you'll still be able to enjoy the rest of the day with your family.
Be Lazy: Whether it means sleeping in, ordering your choice of takeout for dinner, or letting a day go by without making the beds, take advantage of a "free pass" to be (just a tiny bit) irresponsible.
Reassume Your Role as Child: Even though you're all grown up, someone out there still thinks of you as her little girl. Borrow one of these ideas and start a new mother-daughter tradition with your mom.
Sources: Flickr User Damien, Thinkstock