WebMD Pregnancy App
5 Reasons to Download WebMD's New Pregnancy App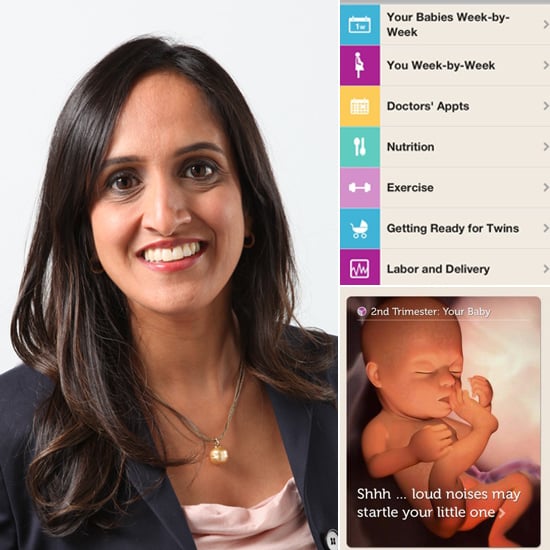 All it takes is a quick search on iTunes to learn just how many pregnancy apps are already in existence. From announcing your pregnancy to tracking your baby's size to monitoring contractions, when it comes to having a baby on board, there's something for every tech-savvy mobile mama to download. But when we learned that WebMD had a pregnancy app of its own coming out, we jumped at the chance to learn more from the site's pediatric medicine expert, Dr. Hansa Bhargava. After chatting with Dr. Bhargava and playing around on the app on our own, it's safe to say that WebMD Pregnancy is the most comprehensive and reliable option out there. Here, five reasons why every mom-to-be should download this (free!) app today:
It's a One-Stop Shop: Sure, you could create an entire folder to house your myriad pregnancy apps, but in the interest of efficiency, wouldn't it be easier to have everything in one place? "WebMD Pregnancy was designed to give a mom all of the info that she needs, and that she wants," Dr. Bhargava says. This includes everything from tracking your prenatal visits to what to expect at each stage, and even a digital pregnancy journal.
It's Physician-Approved: Perhaps the biggest draw of WebMD's Pregnancy app vs. its competitors is the fact that all of its information is derived from, and approved by, actual doctors. Pretty important!
Click here for three more reasons to use WebMD's pregnancy app.
It's Easy to Use: Dr. Bhargava suggests starting off by first programming your due date, or the date of your last menstrual period. This customizes your WebMD app to sync up with the timing of your own pregnancy. Next, visit the notepad icon in the upper left hand of your screen. It serves up a menu of all of the app's offerings in one easy-to-find spot.
It Answers Your Questions . . . and Gives You New Ones to Ask: "At your prenatal doctor's visits, you're in and out in 10 or 15 minutes," Dr. Bhargava says. "You want to get the most of those visits." In addition to providing the answers to many pregnancy FAQs, the app serves up questions that you may want to ask your ob-gyn in person at your next visit.
It's Fun!: In addition to all of the important medical information for moms and babies, the app offers a "Baby Bump Slideshow" feature to track and share snaps of your evolving belly and a journal to track pregnancy memories.