Welcoming New Parents Home From the Hospital
The Best Way to Welcome New Parents (and Baby) Home From the Hospital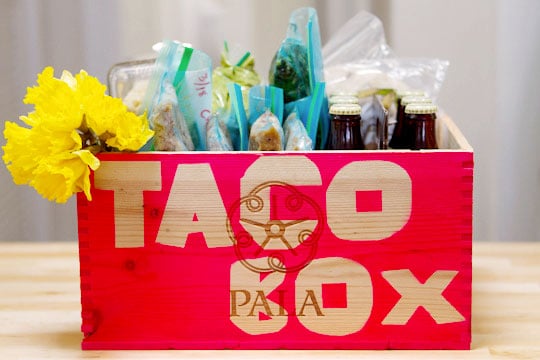 "When I had my baby, after 50 hours of unbelievable labor, I came home to a kitchen that was not quite through a remodel and a pretty empty fridge," said Sara Kate Gillingham-Ryan, founding editor of The Kitchn. "After that, I swore that from then on I would always cook for my friends when they had babies, and that is how my famous Taco Box evolved."
We thought Sara Kate's New Baby Taco Box concept was such a clever (and actually useful) way to welcome home a new family, we were thrilled when she agreed to let us share it with you. Here's what's inside:
The Crate: Sara Kate's version is made from a wine crate, which she says you can ask a wine shop or local restaurant for (they'll most likely be happy to unload a few). She blocked out the words "Taco Box" in masking tape, spray-painted the whole thing, and let it dry.
The Flowers: Even if mom got plenty of flowers at the hospital, fresh blooms are always welcome (and especially nice when you know that the new family's likely to be cooped up inside for the better part of the first few weeks).
The Tacos: Shredded chicken, pork, or beef can be divvied up into freezer bags and used immediately, or frozen for later. Stash tortillas in another Ziploc bag, along with store-bought or homemade guacamole, salsa, rice, and whatever other accompaniments you please.
The Booze: New parents are likely to have lots of friends and family visiting, so a six-pack of beer or a bottle of their favorite wine is likely to be a welcome treat.
Other Fun New Baby Box Ideas
Tacos not your thing? No worries. The concept is easily adaptable to whatever you think the new parents would enjoy most. A few more ideas . . .
Breakfast in a Box: Include pancake or waffle mix, good maple syrup, fresh fruit, a bag of a favorite coffee or tea, milk, and juice.
Easy Italian: Go traditional with a homemade lasagna or baked ziti (these are also great because they can easily be popped into the freezer), or pick up the foundations — a box of good pasta, a jar of sauce, a loaf of Italian bread, and pair with salad ingredients, something sweet, and if it suits you, a bottle of wine.
Mediterranean Mezze: Hummus, pita chips, good olives, and grape leaves are perfect for a family who prefers to graze than to sit down to a big meal. Also a good option if you know that they'll have a lot of family in and out.
Souper Soups: Soup freezes easily, can feed a crowd, and is likely to last for several meals. Make a double portion of a favorite kind, and divvy it up into multiple plastic containers so that they can enjoy some now, and freeze some for later. Be sure to include some good crackers or bread and salad fixings as well.
Chef For a Day (or Night): If it's a really, really good friend (the kind who won't be too polite to tell you that she's exhausted and it's time to go home), offer to come over and cook dinner (let her make menu suggestions) one afternoon or early evening. So long as she's feeling OK, she'll appreciate the company, and it'll give you time to visit with the new parents and baby. Just don't leave any dirty dishes!