What Is the Cinnamon Challenge?
The Dangerous "Challenge" to Discuss With Your Kids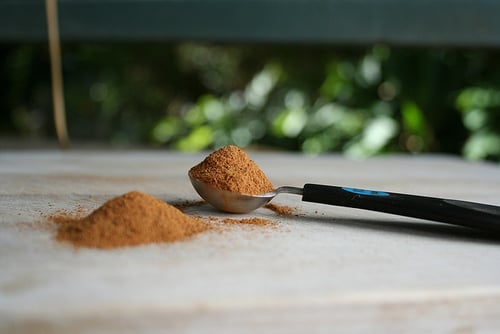 We know the dangers of huffing and smoking, but who knew that our kids' safety could be in danger from a simple spice in the cupboard? Kids are actually being hospitalized after taking the "Cinnamon Challenge." What is it, why is it so dangerous, and what are moms doing to address it? Keep reading.
What Is the Cinnamon Challenge?
I have to admit I had never heard of this crazy dare until I read an article in Forbes called, "5 Reasons Not to Take the Cinnamon Challenge." Even once I knew that kids are challenging each other to swallow a tablespoonful of the spice (without any liquids) in a minute, it seemed ridiculous to me that any kids would take the challenge.
In fact, so many kids are doing it that there is a website devoted to the Cinnamon Challenge, the American Academy of Pediatrics has put out an entire publication explaining the dangers of the behavior and the American Association of Poison Control Centers issued a widespread warning!
Aside from being unwise, it apparently can be dangerous, too. Kids are choking, aspirating, having asthma attacks, and being hospitalized for collapsed lungs by doing the Cinnamon Challenge.
Every Generation Has Their "Cinnamon Challenge"
While this particular dare may be new, many moms pointed out that every generation has their own stupid things to try. Denikka G. recalled that when she was in high school it was snorting crushed-up tart candies.
She went on to describe other trends, too: "Playing chicken with cars, chubby bunny, the cinnamon challenge . . . there's always something new and dumb to do."
More recently, dumb trends have included smoking the spice salvia and "huffing," both of which can cause damage to lungs and respiratory function like the Cinnamon Challenge.
Talking to Kids About the "Cinnamon Challenge"
But it's not enough to simply shrug our shoulders and say "Kids will do stupid things," or "When I was a kid, the stupid thing we did was . . ." Regardless of what the trend is, it's still important to check in with and talk to your kids about it.
When I asked my teenager about the Cinnamon Challenge, she said she'd heard of it and knew some kids who had tried it, which surprised me. I thought maybe it wasn't a widespread phenomena, but Circle of Moms members disproved that theory.
One mom, Jodi, is from Australia. She said she learned of the Cinnamon Challenge almost a year ago when her teenage son showed her one of the thousands of videos kids trying it have posted to YouTube.
In answer to my tongue-in-cheek question as to whether parents now need a lock on the spice cabinet as well as the liquor cabinet, Jodi says, "Surely a teenager is old enough to understand the difference between a little spice on something and a huge spoonful of it once you've had a discussion with them."
I thought so, but maybe not. Jodi thinks it's the discussion with your kids that may be lacking when it comes to stupid stuff like this and she's probably right. As mom Shawwn L. points out, kids will do stupid things, but if you instill some common sense in your kids, they're less likely to try these "challenges."
Although Bettina B. was referring specifically to huffing, you can insert any other trend into her sentence and it still not only rings true, but is also perhaps the best comment on why you need to have these discussions. She says, "Teaching kids the dangers of huffing is extremely important because they don't know what they don't know!"
This article has been updated to reflect the following correction: No known deaths have been caused by the Cinnamon Challenge.