What's the Definition of a Single Mom?
Can You Call Yourself a Single Mom?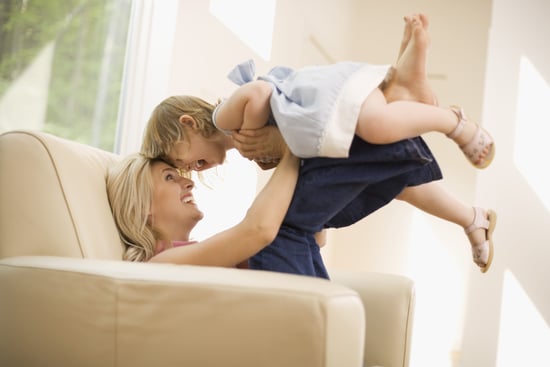 I have a lot of respect for single moms, because I used to be one. Before I remarried, I got my children up in the morning, made sure they were clothed and fed, met their emotional needs, and faced the financial hardships and school events alone. According to some moms' definition, though, I couldn't really call myself a single mom.
My children spend a few weekends a month with their biological father and he pays child support, which moms like Sharon G. say disqualified me from the title of single mom. Instead, I was a co-parent. "Single parents do it all with no help," Sharon explains. Here, moms share three questions to ask yourself if you're questioning whether or not you can call yourself a single parent.
Keep reading.
Do You Really Do It All Alone?
Single parents do it all with no help, but I think the definition of help varies. A number of moms say that if you're the main caregiver, you're a single parent. In fact, mom April D. says she could use the "single parents do it all" argument to make the case that even though she's married, she's a single parent.
Child support payments are a help but, if like Jodi, you only get sporadic child support payments or only receive minimal support, that money only goes so far. You're still responsible for making sure there's enough money to feed, clothe, shelter, and otherwise take care of your children.
As for co-parenting, well, that only works if the other parent is willing to take on the responsibility of being a parent, and many say that doesn't always happen. (See the related article 6 Tips for Co-Parenting With a Jerk)
A mom called Johnny says defining help is simple: "It really depends on the amount of financial, emotional, and practical support and time a parent contributes."
Does Relationship Status Matter?
Another popular argument against awarding the single mom title is the relationship status test. If you can honestly list yourself as "single" on a social media website or government form, then you're allowed to call yourself a single parent.
It seems like a sound definition, but it has its flaws. Take, for example, a mother like Amanda W., whose new boyfriend who hasn't met her kids yet. She's not single, but is still parenting her kids alone. Then, as another mother called Jenni points outs, there's the problem of interpretation in context when using this definition of "single parent."
If you use the relationship status test, then the same uninvolved co-parent who leads you to call yourself a single parent in the first place could claim the title as well.
Krista E. says that loophole is an interesting comment on gender roles. She notes that people use the phrase "single dad" for fathers whose involvement ranges from biweekly visits to sole custody, but if a mother doesn't have primary custody, there's no way we'd call her a single mom.
Do Moms Need to Use This Title?
I never set out to be a single mother and I wouldn't want to do it again. The bottom line is that it's not easy. Single mothers cope with loneliness, guilt, and sometimes other people's judgement.
As I see it, the question isn't whether or not you have the right to call yourself a single mom, but why some people fight so hard to define who is and isn't one. Why not just take comfort in the fact that there are other mothers who identify with you?