What Is Elimination Communication
Elimination Communication: How to Go Diaper-Free by 3 Months!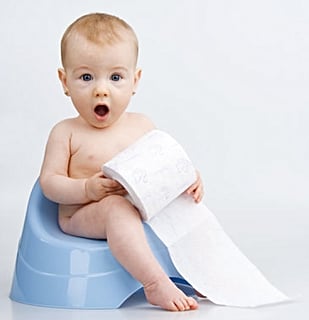 Wondering what the growing diaper-free trend is all about? Keep reading to find out!
Andrea Page wanted the birth of her first child to be as natural and stress-free as possible. During the first four and a half months of her son Taio's life, the Edmonton, Alberta, new mom has tried to stay the course by creating an environment for her firstborn that is calm, loving, and sensitive to his needs.
That is why she says she wants her infant to be diaper-free. She's one of a growing number of new parents who are practicing "elimination communication," or natural infant hygiene, a potty-training method that starts babies on the toilet in the first six months of life.
"Taio is now 4 and a half months and hasn't really pooped in his diaper since the end of December," says Page. "We've had a few near misses or partial starts (mostly when Mommy has stepped away and Daddy isn't as intuitive with the signs) but for the most part all poops on the potty."
The idea behind elimination communication, says Page, is that "instead of letting the child get used to going in his shorts, you show him the eco-friendly, diaper-rash-preventing, more natural alternative." Elimination communication is also more hygienic and "makes the training more natural than waiting until a child is 2," she adds.
"Elimination communication is simply about being sensitive to your child's cues that she needs to relieve herself, and helping her to become aware of her body's needs," Circle of Moms community member Lisa M. writes. "There's no coercion, no shame, no rewards, or punishment. No expectations as well. It's just you and your daughter learning together."
Indeed, elimination communication has become quite the buzz in the Circle of Moms Babies community, where moms like Melissa B. are reaching out to other moms for inspiration. "I'm getting ready to give it a go and wanted to find support from other moms like me," says Melissa, whose daughter is almost 5 months old.
Key Elimination Communication Tips
1. Practice makes perfect. Find some afternoon time to give your baby a diaper-free hour on a washable surface (towel, tiles, quilt) so you can watch for and begin learning the physical or verbal signs she uses when they need to relieve themselves.
2. Patience matters. Start gradually, going diaper-free just part-time.
3. Create a consistent toilet time. For example, put the baby on the potty right before bed, as part of the bedtime routine.
4. Look for signals. A baby's main signals that it's time to head for the toilet include lots of fussing and squirming, grunting, and vocalizations. Some babies make strong eye contact, flare their nostrils, or make the classic face of extreme concentration.
5. Create a holding pattern. To position your baby over the potty, hold your baby in the "classic" position: back safely against your belly, hands gripping and supporting baby's thighs from below, holding them slightly apart.
It's also important to remember that every baby is different and sends his or her own signals and cues. "From birth, Taio hated having dirty nappies and would scream bloody murder (he's not as bad now)," says Page. "So I should not have been so surprised that he learned EC so fast."
And keep your eyes on the prize. As Jessica S.'s experience demonstrates, with persistence and consistency, EC works. "I have been doing 'elimination communication' since my son was 3 months old, but we have really started to buckle down recently, and he goes on the potty the majority of the time."