What Goes in a Diaper Bag
Your Diaper Bag Must Haves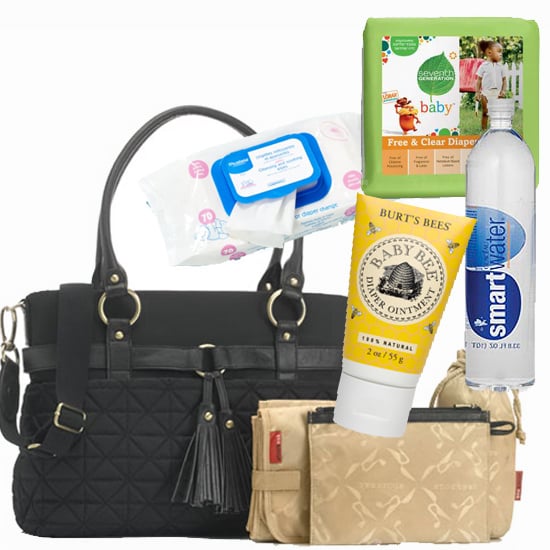 You've got the baby, the stroller, now you need the goods for your diaper bag. What to stash may seem like a daunting task, so we've streamlined the process for you. The below necessities are all you really need, and it's a good idea not to overstuff your bag to the point of it becoming a backbreaker (remember, you've also got a little person to tote around). As for the extras, pick and choose what's important for you.
The Necessities
Diapers: Follow the rule of always bringing a few more than you think you'll need.
Wipes: Stock up on travel-sized packages so that you'll always have some ready to go.
Diaper Cream: Save any sample-size tubes that you get from the pediatrician or baby store, and keep them in your bag.
Changing Pad: Most diaper bags come with them, so only purchase an extra if it's necessary.
Change of Clothes: You never know when a diaper's going to explode or spit-up's going to become a mess.
Sealable Plastic Bags: These become trash bags in a pinch.
Bottle, Formula, or Snacks: Pack accordingly, depending on the length (or potential length) of your outing.
The Extras
Bottled Water: For you to drink, to use with powdered formula, or to rinse off any other surprises that may come your way.
First Aid Kit: It can never hurt to be prepared . . .
Toys and Other Distractions: You know your baby best! If there's a go-to stuffed animal or "lovey" that he or she can't live without, bump this up to the "necessities" category.
Sling or Wrap: If your baby prefers to be carried, this may save tears when you arrive at your destination.
Blanket: To serve as a shade, nursing cover, changing pad, or burp cloth in a pinch.
Hand Sanitizer: If you're looking to streamline, wipes can do double-duty here. Otherwise, a little bottle doesn't take up much room.
Diaper Bag Pictured Above: StorkSak Isabella Nylon in Black ($235)