When to Introduce Nuts to Babies
Would You Give Your Baby Peanuts and Eggs at 6 Months Old?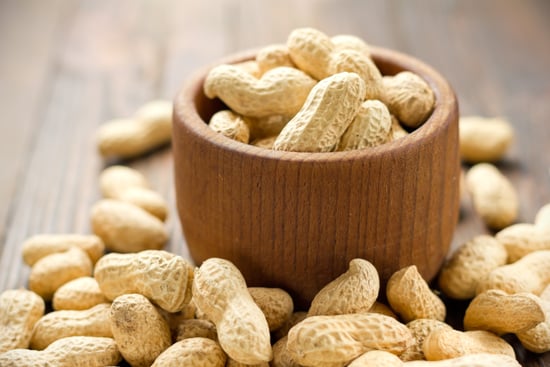 Parents of kids with food allergies can often be found questioning themselves: Did I eat something I shouldn't have while pregnant? Did I wait too long to introduce nuts, eggs, or milk? For all of the scientific research out there, there's no conclusive research explaining the 18 percent increase in kids with food allergies from 1997 to 2007.
But a new report from the American Academy of Allergy, Asthma & Immunology in a January article in the Journal of Allergy & Clinical Immunology: In Practice suggests that we are going about food introduction all wrong. Instead of delaying the introduction of highly allergenic foods — wheat, soy, milk, tree nuts, and shellfish — until kids have reached their first birthdays, we should be giving them the foods soon after they have their first bites of pureed carrots and mashed bananas.
The author of the study says, "There's been more studies that find that if you introduce them early it may actually prevent food allergy." He suggests that parents should give babies the highly allergenic foods "after typical first foods have been eaten and tolerated, such as rice cereal, fruits and vegetables . . . [they should] be fed the foods at home and in gradually increasing amounts."
As the parent of a child with a tree nut allergy, I can understand the thought behind moving up the introduction of the foods, but knowing how children react — with itchy and scratchy mouths, a tightening feeling in the throat, etc. — I have to question whether it's smart to give these foods to babies who can't express what they're feeling. What do you think?