When People Don't RSVP to Your Kid's Party
When Guests Don't RSVP to Kids' Parties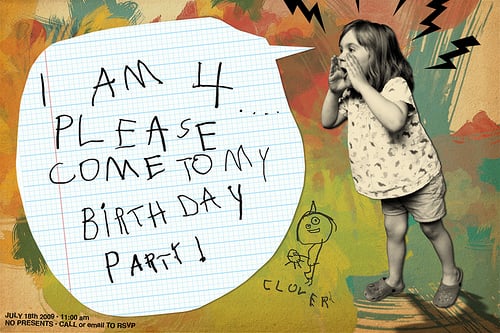 What should you do if you don't receive many — or any — RSVPs for your child's birthday party?
Circle of Moms member Tonia G. says she's only received one RSVP to her 9-year-old son's party, and she sent invitations a week ago. "My boy is a great kid. I am sad for him," she says, wondering what to do now that there might be few friends around for the birthday celebration. Similarly, Laura says that no one has replied to the invite for her 6-year-old son's bowling birthday party. "I don't know what to do . . . I feel really bad for him."
If you, too, are singing the birthday blues because invitees haven't RSVP'd, then Circle of Moms members offer the following four tips.
Keep reading.
1. Follow Up
Circle of Moms members say that when you don't receive many RSVPs for your child's birthday party, the first thing you shouldn't do is fret. There are myriad reasons why people might not respond. Perhaps parents don't understand the meaning and importance of RSVPs, Beth G. says. Or, Jackie adds, "People might want to come [but] they're just too busy to RSVP or have forgotten or lost the invitation. This happens to me sometimes, even though I hate it when people do it to me. I certainly don't mean to be a rude cow, but I simply forget!"
Especially when you send out invites through the kids, moms like Joy say you have to consider that parents might not have seen the invitation. "Children forget things sometimes, and it's possible some of the invites never made it to the parents."

To get a better idea of who actually will be attending, Circle of Moms members like Cristi S. suggest you follow up with a phone call, text, or email: "What I found works best is to get phone numbers or email addresses for all the parents and call them a few days beforehand. I began doing this because I had a few parties where I planned for a certain number and twice the amount showed up," she says. "Another tactic that I think is a little brazen (and I've never had the guts to do)," she adds, "is to put a note on the invitation to say that those who don't RSVP won't be let in the door. My son's friend's mother did this, and she got an RSVP for every person who showed up."
2. Reschedule the Party
If you don't receive enough responses to warrant a party, then you can always change the party date or venue. Celebrating a birthday on a different date is actually a common tactic of parents whose children have birthdays during the Summer or around a holiday. Sabrina T., for example, says she frequently encounters problems with people not replying to invitations because her son's birthday is on Dec. 8. When she doesn't seem to get a good response, she phones parents for feedback to see if an alternate time would be better. She also has let her son have a party in the Summer instead, so he can have fun when it's warm outside. 
Kaye also has moved her child's December birthday party to earlier in the month or to January. "It eliminates a lot of the heartache for the child who ends up thinking it's them, when it is not the case at all," she explains. "Just be sure and explain to your child what you are doing and why."
3. Celebrate at School
For a child who wants to party with classmates, parents also can ask the school permission to have cake in class. "I find it a perfect surprise for my son every year showing up at his classroom with gifts for the whole class and a cake," Dina A. shares. "He sets off his candles, has fun with his friends for half an hour or so, enjoys the cake, all the kids are happy about their gifts, and I'm back home clean and clear."
An in-class party has other advantages, she adds: "You're catering for no more than a cake . . . you don't need to deal with any RSVPs or any inconsiderate parents. You're having the party for your kid and his friends to enjoy . . . and they're all there happy and smiling."
Even if you don't make as big of an effort as Dina does, an in-class party is a lot of fun, Madtilde A. says, and of course all the classmates show up.
4. Have a Backup Plan 
Even if you have several RSVPs, it helps to predetermine a birthday party backup plan in case fewer than the expected number of guests attend. Tracie D. recalls one birthday party for her daughter, for which 10 people didn't RSVP until the day of the party. "But it gets better," she says. "Eight of them didn't show up, after I'd made a frenzied last-minute trip to get more goody bag stuff and prizes, and [to] change the size of the cake."
When Bethany A.'s son is having a party to which he wants to invite school pals, her backup plan is to invite a few family, friends, and neighbors with children "so regardless if his classmates show up, there will be others there to celebrate with him."
And even if just one or two people show up for the party, you can still make the day special, says Rebecca S., speaking from experience. She says her son Caidyn "was crushed last year" when no one showed up for his birthday party. So now, she suggests parents "really make plans to do [something] instead of a party if no one does show, like a special breakfast, movies in the afternoon, and maybe his favorite dinner and playing together," to focus on his happiness that day instead of how many people are at a party. 
Melanie B. adds that you can emphasize to your child that if just one friend shows up, that can make the party even more special. With a young child, you can "take him to the zoo or something like that, and he will forget about [how many people showed up]," mom Beth says. If you do a special activity, like bumper cars, a grown-up movie, or minigolf, then it won't matter if only one or two friends are there, Mary G. adds. "He might have the best day ever; unplanned adventures are usually the best."
Overall, Melanie B. says, you have to "take lemons and make lemonade." Miriam G. agrees, summarizing that parents have to remember the point of a child's birthday party. "It's not about the number of people there to celebrate; it's about the fun of the celebration."