When to Stop Using a High Chair
When and How to Abandon the High Chair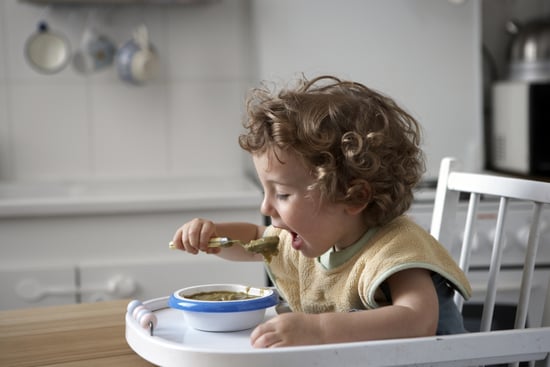 The dinner table is a great place for families to reconnect while sharing a meal. But Circle of Moms member Nicole L. says her daughter Lucy instead is creating mayhem because she goes into hysterics when placed in her high chair. When the high chair create chaos at chow time, Circle of Moms members generally advise it's time to make a switch, but what about when the signs to abandon the high chair are more subtle? Here are three clues that it's time to make a switch, plus a key tip on how to ease the transition.
Keep reading.
1. When They Want to Play Musical Chairs  
Between about 18 months and 3.5 years of age, children will experiment while they eat — and that often includes wanting to test out different seating arrangements, Circle of Moms members say. Mom Jodi suggests that if your child is being fussy about being in his high chair for meals, then that's a sign that he might be anxious for a little more variety and independence. This provides an opening to gradually move away from the high chair. For instance, Ashley says her son, now 20 months old, still sits in a high chair most of the time, yet also will eat at a little table and chair set she got him.
2. When They Try Imitating "Big Kid" Behavior

On the other hand, Many Circle of Moms members say the desire to sit somewhere besides the high chair stems from the desire to be like their parents, or elder brothers and sisters. Carolyn M., for instance, says: "[My daughter] wants to sit in the chair, just like everyone else at the table." Amanda P. similarly notes that when her 18-month-old realized her older sister didn't sit in a high chair, she didn't want to either because she wants to be a big girl just like her older sister. Roshanwnda D., too, says her daughter has a problem with sitting in her high chair to eat because she sees her brother in a big chair.
In a similar vein, Vanessa B. suspects her daughter's desire to get out of the high chair and sit at the 'big kid' table is a result of sitting like that with other children. "Because my daughter is now at daycare and they all sit at a table, she likes to sit at the table with us like a big girl. We use her booster seat. It's not very often now that we can get her into the high chair," she says.

3. When Escape is Possible

"If your child is big enough that he or she is crawling in and out of a contraption — be it a high chair, crib, playpen, etc. — then they no longer need or want to be in it because at that point it becomes more of an endangerment than a help," Stacy K. emphasizes. Jodi agrees: "I kept my kids in until they got too big for it really."
Consider a Booster Seat
When you sense your child wants to get unbuckled from her high chair, but isn't able to reach the family table, then Jessy suggests using a booster seat. Giving her daughter that option made it much easier for her to eat at the family table and feel included, compared to when she was in a high chair or having her sit at a separate kids' table. "She's very independent, and it makes meals much more agreeable for everybody," Jessy says. Amanda F. says switching to a booster seat helped her daughter to sit like a lady at the table with the rest of the family." Heather N. says her daughter used to fuss when in a high chair and wouldn't sit still, but once they switched her to a booster seat and scooted her up to the table, she didn't seem to mind. "I think it has everything to do with wanting to be more involved and feel like a big kid, at least, that's the case with my daughter," she says.  
Ultimately, as long as your children are sitting still long enough to eat, then it shouldn't matter too much where they sit, Circle of Moms members say. But especially when your child is battling to bust out of his high chair, then it might be time for a switch. "My pediatrician reminded me that you have to choose your battles," Ameo L. says. Her 18-month old dislikes sitting in both a high chair and booster, so Ameo allows her to stand in the chair and eat. "As long as she's eating and we're all together, it's not a problem," she concludes.