Which TV Shows Are Appropriate For Little Kids
9 Mom-Approved TV Shows For Little Kids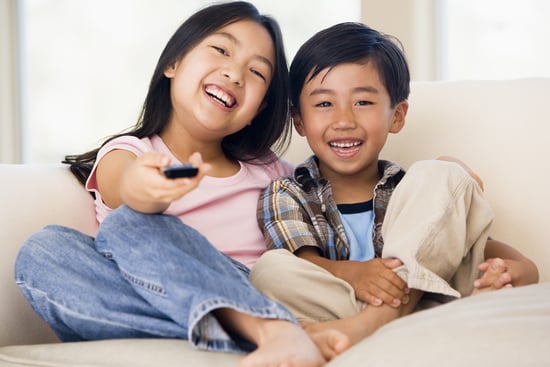 It may not be the most politically correct thing to admit, but sometimes in order to get the laundry done, phone calls made, and other important things accomplished, we moms turn to the TV to keep our little ones occupied. Just because the TV is on though doesn't mean your child has to be watching something without merit.
Many Circle of Moms members are working hard to make TV time worthwhile for their kids by setting time limits, not using the television for background noise, and paying more attention to the educational ratings and content of the shows.
Keep reading for nine shows recommended by our moms with preschool-aged kids.
1. Sesame Street
Since Sesame Street first aired on PBS in 1969, it has remained one of the top choices in children's programming among moms. Most remember Sesame Street fondly from their own childhoods. Moms like Holly C., who doesn't let her 2-year-old daughter watch a lot of TV, really appreciate the educational value of the show. "My daughter adores Sesame Street and is already counting to three and pointing out letters," she shares.
2. Super Why
Another PBS favorite is the show Super Why! The show is designed to teach literacy using interactive reading games. Our moms think the interactive component of the show keeps their kids engaged and has educational benefit. Penny says it's her daughter's favorite show: "She can look at signs and things we write and tell us what the letters are already," she says. That's quite a feat for a young preschooler!
3. Dora the Explorer
Many preschoolers are exploring right along with Dora the Explorer and her sidekicks Boots and Swiper. While many moms find Dora to be slightly irritating, they tune in for the show's educational value. As a mother of three boys, Lesli K. sees Dora as a positive female role model for all kids: "I liked that Dora was independent and capable without having a boy being seen as incapable and/or stupid," she says.
4. Thomas and Friends
When my oldest son was a preschooler he was transfixed by everything Thomas, but at the time we had to buy the videos for him to be able to watch it. Since then, Thomas and Friends has been picked up by PBS and Sprout, fascinating a whole new generation of kids. Like me, mom Daniela G. says, "I know every word to every song and I could probably tell him every story with out the books!"
5. Sid the Science Kid
Yet another PBS show, Sid the Science Kid can be summed up by its peppy catchphrase, which is a kid-friendly riff on the scientific method: "Observe! Compare! Contrast! Describe!" Sid and his preschool class figure out the world around them, all the while singing, dancing, and chanting this phrase. Circle of Moms member Susan O. sums up the appeal of this show best: "Sid is adorable and lively!"
6. Mickey Mouse Clubhouse
This is not your mother's Mickey Mouse Clubhouse! Part of Disney Junior's lineup, the show is animated, musical, and oriented toward problem-solving. Each episode has a three- or four-part "problem" that has to do with "colors, numbers and counting, shapes, and words," and that needs to be solved, explains Circle of Moms member Marcia L. As a former teacher, one of the things I like best about this show is it utilizes the idea of "wait time," which means asking kids who are watching a question and waiting a few beats before giving the answer, so that they can actively participate.
7. Little Einsteins
Another Disney Junior production, Little Einsteins integrates classical music and art into its storylines as a way to teach young children art appreciation. Many moms commented on how much their children like the music in the show. As Circle of Moms member Charmain L. puts it, "This show teaches them about musical terms and instruments, along with showing them real art pieces and letting them explore real places."
8. Handy Manny
Also on Disney, Handy Manny is more than just a show about a handy man and his set of talking tools. It's a show about community that teaches kids about fixing things, both physically and socially. Marcia L. includes it in the list of educational shows she lets her son watch not only because it's "cute," but because the characters are "always solving things and learning about words, language, friendship, and sharing."
9. Yo Gabba Gabba
A Nick Jr. creation, Yo Gabba Gabba!, is a show that Circle of Moms members either hate or love. As Christina G. puts it, "It may be educational, but it drives me crazy!" On the other hand, Kimberly H., a mother of two, lauds the show's "catchy tunes, cute [and] not-so-annoying characters, and [the] good messages in their songs." Most moms agree that with its focus on simple life lessons like how to be a good friend, or why you shouldn't eat too much candy, it's a good choice for their kids.
The views expressed in this article are those of the author and do not necessarily represent the views of, and should not be attributed to, POPSUGAR.