Whiteboard Paint For Kids' Rooms
IdeaPaint Home Clear: Kid-Friendly or Are You Kidding?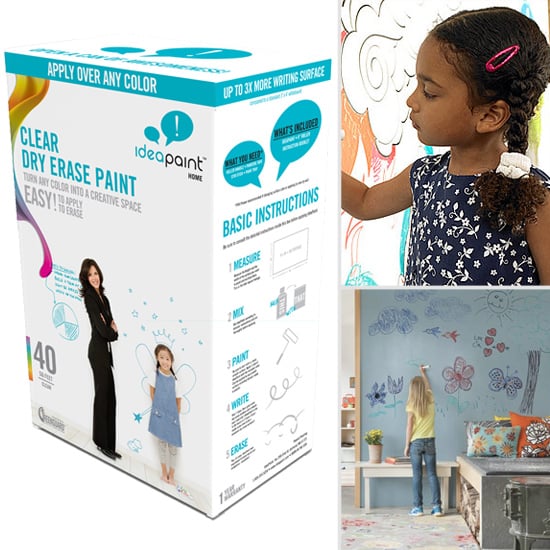 Pull out the eraser as it's time to wipe the chalkboard clean and try something new on your kids' walls. Schools everywhere are trading in the dusty chalkboard in favor of whiteboards that are cleaner and easier to use. IdeaPaint, the company behind dry-erase paint solutions, is now bringing the whiteboard home with a playroom-friendly version of their paint.
IdeaPaint Home Clear ($140) is a transparent paint that can be used on top of any paint — regardless of the color — transforming the space into a whiteboard surface. Paint it on the walls, on the kids' table, or even on their doors, and watch it become a marker free-for-all as lil ones turn it into a creative doodling space. Any colored dry-erase markers will write on the surface (though IdeaPaint does make its own low-odor versions), and almost any cloth or clean sock can erase it — without the dust caused by chalk. Both low-VOC- and Greenguard Children and Schools-certified, the paint solution is safe for kids' bedrooms and playrooms. So what do you think? Would you replace the chalkboard for a whiteboard?