Winter Pregnancy Survival Guide 2010-10-07 09:00:45
Brrrr! Tips For Surviving a Cold Weather Pregnancy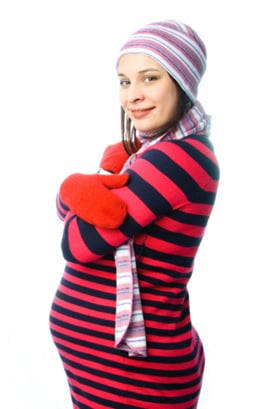 Since the first frost warnings of the season, moms-to-be are getting ready for the cold months ahead of them. Considering the drop in temperature, icy roads, and cold and flu season, expectant mamas have a lot to contend with throughout their pregnancies. But, there are some easy ways women can make it through the season – check out these tips!
Invest in flat rubber-soled boots. Platform heels and wedge booties may be stylish, but a comfortable pair of boots – possibly a half size larger than your normal size – will keep your feet and legs warm and help stabilize you on a slushy morning.
Dress in layers. The thermometer may read in the single digits, but an expectant woman's body temperature is on the rise as more blood flows through her body. Layering on the clothes will allow mama to add or remove pieces so she doesn't overheat.
Get a flu vaccine. The March of Dimes, the American Academy of Pediatrics, and the American College of Obstetricians and Gynecologists all agree that the 2010 flu shot is safe for pregnancy, preventing devastating complications from the flu and helping to protect unborn babies as well.
Keep active. A long walk on a brisk Winter afternoon will keep a mama-to-be's heart rate up, but when the weather is colder maintain a fitness routine by either joining a gym or finding an indoor pool which takes some of the pressure off of the sciatic nerve.
Stay away from botanical cold remedies. Winter colds are a drag, and while many women turn to botanicals to fight off the sniffles, researchers have not spent enough time studying the effects of echinacea on pregnancy.
To see the rest of our tips, read more.
Keep hydrated. Summer heat is often associated with dehydration, but a lack of humidity in Winter can draw every last bit of water out of an expectant mama's body. Drink at least the eight recommended glasses of water a day, and consider adding some juices to your diet too.
Grab a coat. It doesn't have to be a maternity coat, any large coat will do, but keeping a growing bump covered will help a pregnant mama fend off the cold that can lead to her feeling under the weather.
Buy loose socks. We don't want your socks falling down, but keeping a loose fit will ensure that a pregnant mama's circulation isn't cut off when her legs inevitably swell.
See your doctor. When a cough and a stuffy nose just won't go away, don't write it off to a lingering cold. See a doctor and be sure that it isn't pneumonia. Pregnancy strains the immune system making expectant mamas more susceptible to infections.
Rest up. Pregnancy is tiring, so take advantage of the short days by curling up with a blanket, some hot cocoa, and some Netflix rentals.