Winter Toys and More For Kids
9 Wintery Finds For Kids Celebrating Cold Weather
Cold weather is here to stay, and if your kids are anything like ours, they're probably anxiously awaiting the first big snow (and any snow days that might come with it). Encourage their celebration of all things Winter — though the season doesn't officially start until Dec. 21 — with a fun find that's all about the big chill. From snow toys to Winter-themed decor and clothing, the following nine finds will make this year the coolest ever, regardless of the temperatures!
Mini Boden Winter Fun T-Shirt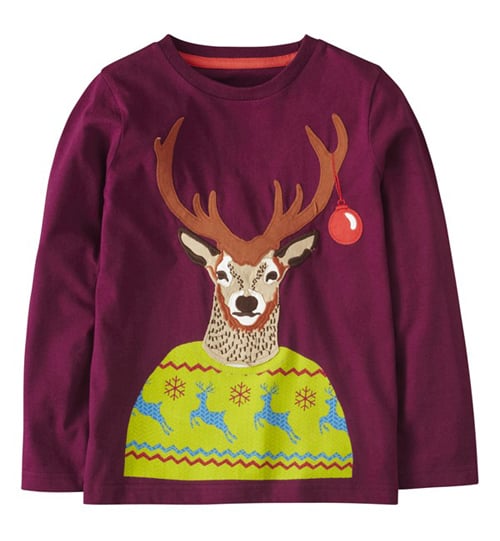 In sizes for kids 1-4, Mini Boden's Winter Fun tee ($26) features a stag wearing a Christmas sweater and an ornament on his antlers.
Snowboogie Polar Bear Foam Sled
Snowboogie's Polar Bear Foam Sled ($20) is 36 inches long with two soft, durable handles and a slick bottom for speed. The sled is super lightweight and easy to carry back up the hill for another run with a built-in grommet for a pull rope.
Keep reading for more fun cold-weather finds.
RH Baby & Child European Moose Print Bedding
Warm up his bed with RH Baby & Child's European Moose Flannel Bedding ($24-$139), available as a duvet cover, sheet set, sham, and standard pillowcase. The bedding looks extra cozy when mixed with the brand's European Cabin flannel sheets ($24-$169) and faux fur pillows and throws ($45-$179).
Melissa & Doug Snowman Stacker
Melissa & Doug's Snowman Stacker ($13) helps develop fine motor skills with eight wooden pieces that add up to one cute snowman.
Ideal Sno Sculpture Kit
Ideal's Sno Sculpture Kit ($22) helps turn a snow day into a sculpture day! The kit shows kids how to build a penguin, robot, polar bear, castle, bunny, and dinosaur using Sno Sculpting tool and molds.
J.Crew Snowflake Sweater
J.Crew's Snowflake Mockneck Sweater ($78) comes in sizes for girls 2-14 and features intarsia-knit neon pink snowflakes on a straw-colored backdrop.
The Land of Nod Winter Deer Print
The Land of Nod's Winter Deer print ($20) is the perfect addition to your snow bunny's bedroom. The limited-edition print features a scarf-wearing deer surrounded by snow and Christmas-ready trees.
Toysmith Dress a Snowman Kit
Toysmith's Dress a Snowman Kit ($15) includes everything you need to make your very own Frosty, including a sturdy wooden pipe, buttons, eyes, nose, and mouth, along with a hat, that can be used year after year and stored in a colorful box.
O'er the Hills Saucer Sled and Helmet
The Land of Nod's O'er the Hills Saucer Sled ($39) and Helmet ($34) will make your little one the fastest — and safest — kid on the hill. The sleek steel saucer sled is built for speed, while the helmet makes sure you'll both be laughing all the way down.