Yahoo CEO Marissa Mayer Baby Name
Yahoo CEO Marissa Mayer May Be Crowdsourcing Her Baby Name; Would You?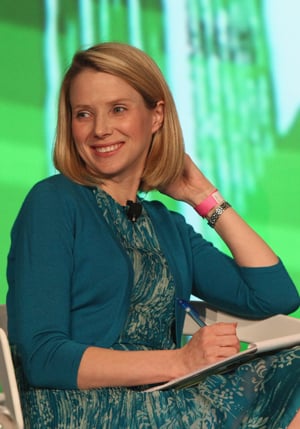 Baby name inspiration can come from virtually anywhere — family tradition, favorite vacation spots, celebrities, a baby name book, and more. But when you're stuck in a name rut and it's time to fill out the birth certificate information, where do you turn? To your friends?
Marissa Mayer, Yahoo's new CEO who ruffled many feathers when she said she'd only be taking a short maternity leave — which she'd be working through — when she announced her pregnancy, seems to be in that precarious position. Hours after Mayer's husband tweeted the arrival of their baby boy yesterday, the new mom is reportedly stuck without a name for the tot. According to NYU journalism professor Jeff Jarvis, she's asking close friends and family for suggestions. He tweeted:
Just got a large-group email from @marissamayer. She's crowdsourcing suggestions for Baby Boy Bogue's name! How digital can you get? ... Just to be clear, @marissamayer says she'll take suggestions for a name. Nobody suggest Yahoo, now!
Whether she's officially "crowdsourcing" or just looking for ideas has yet to be determined, but the tweet got us thinking. Where did you go to find your baby's name?