Yoga Mom and Daughter on Instagram
A Yoga-Loving Mom Becomes an Instragram Sensation (Without Breastfeeding!)
Here's a post from our partners at BabyCenter! Every week, we bring you the best parenting and lifestyle stories from the experts at BabyCenter, including this post about an incredibly fit Instagram mom.
One of Instagram's latest stars is not only a photogenic mom of two, she's next-level bendy. Allow me to introduce you to Laura Kasperzak, best known on Instagram as @laurasykora, and her breathtaking images:
Laura, who is the cofounder of Two Fit Moms with longtime best friend and fellow yoga enthusiast Masumi Goldman, spoke with me by phone about her family, keeping in such amazing shape, and yes — the woman the term 'yoga mom' brings to mind for most of us.
Related: 20 reasons to admire your mom
This 36-year-old has been practicing yoga for 17 years, and along with collecting Instagram followers by the hundreds of thousands, teaches classes and workshops in the New Jersey area.
Curious about the small cutie seen in a number of the images, I asked Laura how she gets her daughter to join in the posing.
"It doesn't take much," she told me with a laugh. "She's the ham of my two children, and loves to be photographed. Just recently she was doing a headstand and said 'Mommy, take a picture!' After I did she said 'Let me see.' She goes, 'Oh no, mommy, we have to do it again. I wasn't smiling.'"
While Laura's son is a little more camera-shy, her preschool-aged daughter is learning sun salutations, down dog and other basic poses in 5-10 minute practice sessions.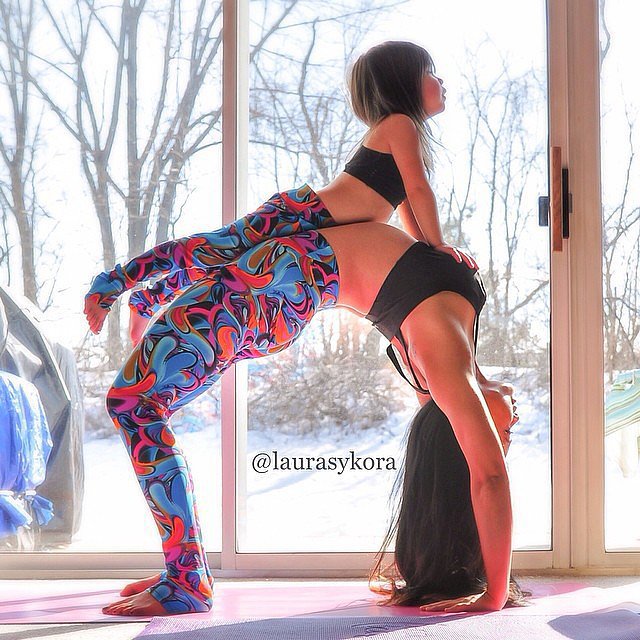 During her pregnancies, Laura was not quite the yoga enthusiast she is now. After giving birth to each of her babies naturally, she opted for a mix of strength-training, cardio and yoga to get back in shape. Today though, her workout is power yoga all the way.
When asked what the common misconceptions about yoga are that are held by people who have never tried it, she quickly told me, "That it's easy. That it's boring. That it's just sitting on your mat meditating. That's one form of yoga, and there are many, but it can be a workout — and is not boring!"
Regarding the infamous 'breastfeeding yoga mom' I spoke to last summer, Laura says she did see the photo and found the comments that ensued to be an interesting read. Though she didn't feel the need to jump in and support Amy Woodruff or say the nude image took things too far, Laura stands by her fellow yoga enthusiast's right to share.
She explained, "That picture that she took was very artsy, and I think people have the right to put out to the world anything they choose. I had no problem with it whatsoever."
And to those who allege such an unusual image must have been staged, the mother of two said, "I tend to give people the benefit of the doubt. On my social media account I don't like to be called a liar…if she says it was natural then hey, I take her word for it."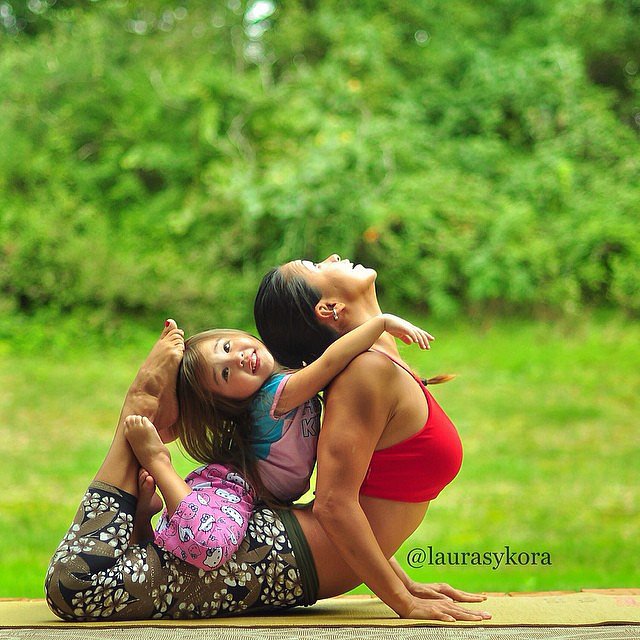 Laura and Masumi's main message to fellow moms out there who might be struggling to find time for fitness is simply: "Don't give up."
She went on to share, "Once my son was born I felt very guilty if I was not doing something for him, but taking an hour of the day for yourself can only benefit your whole family."
Their number one tip for those ready to make a start today is simply "do something active 15 minutes a day." Assuring it's all right to start small with daily walks rather than jump into 2-hour gym sessions, she says just get going.
Along with offering yoga tips from beginning to advanced (plus some 'why didn't I think of that?' photo tips), Two Fit Moms offers recipes and wellness advice. In a statement that surely must be yoga-approved, Laura tells me their goal is "to just keep spreading the love."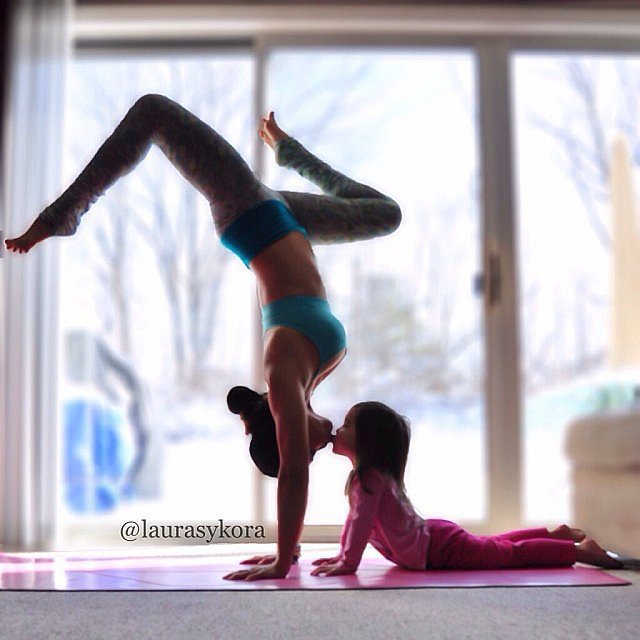 More great reads from BabyCenter:
5 reasons to ban kids from electronics
Could playing with Barbie limit a girl's future?
The 10 best and worst cereals for your kid
Does potty boot camp really work? 1 mom tried it
Source: Instagram user laurasykora