Yogurt Fettuccine Alfredo
Kid-Friendly and Healthy Yogurt Fettuccine Alfredo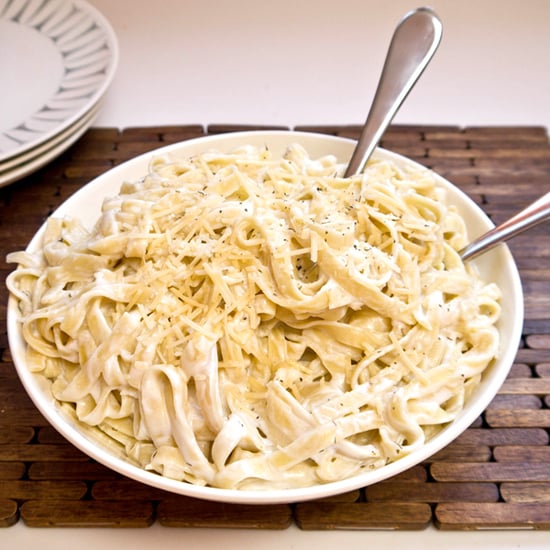 A big bowl of creamy pasta sure hits the spot, but neither kids nor grown-ups need all those calories. Ditch the heavy cream for healthy plain yogurt, which makes a savory kid-friendly pasta dinner that's also easy on the waistline. This spin on the classic dish only requires a few ingredients and takes just minutes to make. Serve with broiled chicken cutlets or your family's favorite Italian sausage, and dinner is served! This recipe is so easy your lil one can help measure and stir.
Keep reading for the healthy recipe.
Yogurt Fettuccine Alfredo
From Sarah Lipoff, LilSugar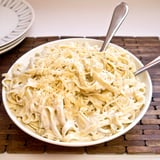 Ingredients
1 pound fettuccine noodles
1 small garlic clove, chopped
1 cup plain yogurt
1 tablespoon butter
1/2 teaspoon salt
1/4 teaspoon Italian seasoning
1/2 cup grated parmesan cheese
Dash of pepper
Dash of nutmeg
Directions
Bring a stockpot of water to a boil and add the pasta and simmer according to the directions on the box. To make this dish even healthier, use whole wheat noodles.
Chop the garlic and add it to the boiling water with the pasta. This mellows out the garlic and infuses the pasta with its flavor.
In a large mixing bowl, invite your child to measure and add the yogurt, salt, and Italian seasoning. Give the mixture a stir.
Once the noodles are cooked through, turn off the heat, strain, and return the noodles to the hot pot. Add the butter and toss so the pasta is coated.
Carefully add the pasta to the yogurt mixture and stir until the sauce is evenly distributed.
Sprinkle with the parmesan cheese and give it another toss. Serve with extra cheese and a dusting of salt and pepper and a hint of nutmeg.
Makes four large servings
Information
Category

Pasta, Main Dishes

Cuisine

North American