Young Girl Protests Sexist Books
8-Year-Old's Protest of Sexist Survival Books Prompts Action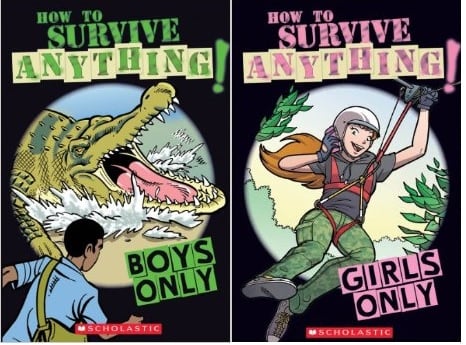 It's hardly surprising that two books caught the attention of 8-year-old KC Cooper, who loves to read. What is surprising is that she was nearly in tears when she pointed out the How to Survive (Almost) Anything books to her mom because they were sexist, Today reports. Her mom, Constance, says the boy version of the book featured chapters such as "How to Survive a Shark Attack" and "How to Survive a Camping Trip," while the girl version featured chapters such as "How to Survive a Breakout" and "How to Survive a BFF Fight."
Joshua Lynn, manager of Half Price Books, agreed the books were offensive and moved them to a less-prominent area of the children's section. "While we certainly understand why the books upset her and commend the girl for speaking out against stereotypical portrayals of gender roles in books, I would like to stress that we are strong advocates of First Amendment rights and do not advocate censorship or removal of 'objectionable' books from circulation," he said.
Meanwhile, Constance says she used the event as an opportunity to explain that girls and boys are hurt by sexism. The boy version implies that all boys do is fight and deal with disasters, but they could benefit from some of the girl chapters, such as "How to Survive Shyness" or "How to Be a Brilliant Babysitter," too, she says.