Ashley Graham gave birth to her first child just weeks before the world shut down due to the global pandemic, and everything else aside, she recently said being able to witness all the small moments of her son's first year has been "a dream come true." That said, bringing Isaac into the world was a lot different than Ashley thought it'd be, from the pain of childbirth to her postpartum experiences. In an interview for Elle's August digital issue, which was conducted by fellow mom Kristen Bell, Ashley opened up about all things birth, motherhood, and what it's like to parent her own way.
"First of all, I had no idea it was going to hurt that bad," Ashley said of being in labor, jumping right into the *real* details of childbirth. "Let me just go there for a second: Every mother talks about, 'Oh yeah, it's painful.' Whether they got an epidural or not, or a C-section, whatever happened, they're like, 'Yeah, it hurt.' And they say it kind of calmly like that. They don't go into the astronomical pain that you go through, especially if you choose to go natural. So there's that."
"This is not just a battle wound. This is something that has changed my life forever, and I'm going to celebrate my new body."
"When I look at my new stretch marks and the changes that my body went through, it reminds me that, as women, we're all superheroes. I'm always reminded that our bodies were built to do this," she told Kristen. "It's such a beautiful thing to be able to give birth, but I didn't realize it until afterward. . . . Before I was even pregnant, that was always my hope for women in general, that they could learn to continue to love their bodies through the changes and the ups and downs. And then, when I got pregnant, I had to reimagine my relationship with my body with this creature inside me taking over. I was gaining weight so rapidly. . . . At first it felt devastating, and then when I met Isaac, I said, 'No, this is exactly what every woman has talked about for ages. This is not just a battle wound. This is something that has changed my life forever, and I'm going to celebrate my new body.'"
And celebrate she has, with a few photo shoots conducted at home by her husband, cinematographer Justin Ervin. Not only did he take the photos shown here for Elle, but he took gorgeous photos of Ashley in multiple Swimsuits For All bikinis.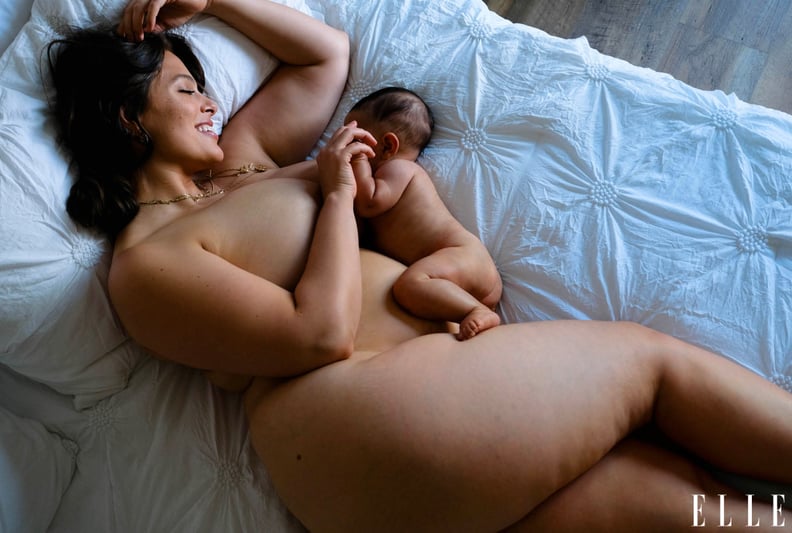 Speaking of making the most of being at home, Ashley gave birth on Jan. 18, so barring the first seven or so weeks of her son's life, Ashley's been spending all her time sheltering in place with Isaac and Justin. "The silver lining in all this is that I gave birth just before quarantine," she said, "so I've been able to watch Isaac grow up before my eyes. Experiencing every single moment with him has been a dream come true. I feel really bad for the next kid, because I don't know if they're going to get this much attention."
Second-kid problems, amirite? However, seeing as Ashley has a pretty healthy mindset when it comes to parenting styles and allowing each parent to find their own way with their children, we predict everything will work out fairly well!
"Everybody has an opinion [on parenting], right? But I just kind of did what I wanted to do."
"Everybody has an opinion [on parenting], right? But I just kind of did what I wanted to do," Ashley said. "Isaac is not sleep-trained, but he only wakes up maybe once or twice in the night, max. I feel 100 percent rested, so it's not like I'm living in agony [every day] like, 'He didn't sleep last night.' We're walking into month [seven], and he's screaming at the top of his lungs. He thinks it's so fun to be louder than Mom and Dad."
Regarding the ever-hot topics of mommy shaming and unsolicited parenting advice, she added: "I've got a couple of family members who are pregnant, and my instinct is to say, 'Oh, do this, do that.' But I stop myself every time, because I remember how I felt when everybody told me what to do and sent me their unsolicited advice and their lists. If there's a question to be asked, ask it. But other than that, keep your trap shut and just let that mother figure it out. The mommy-shaming on social media is out of control." Prompting this response, Kristen noted: "What bonds us is not how we're parenting, it's that we are parenting. If what's happening in your household is working for you, then you don't need to receive any advice on how to change it. That's confident mothering."
Preach! Read everything Ashley had to say in Elle's August digital issue.