25 Disney World Restaurants That You Should Plan Your Entire Vacation Around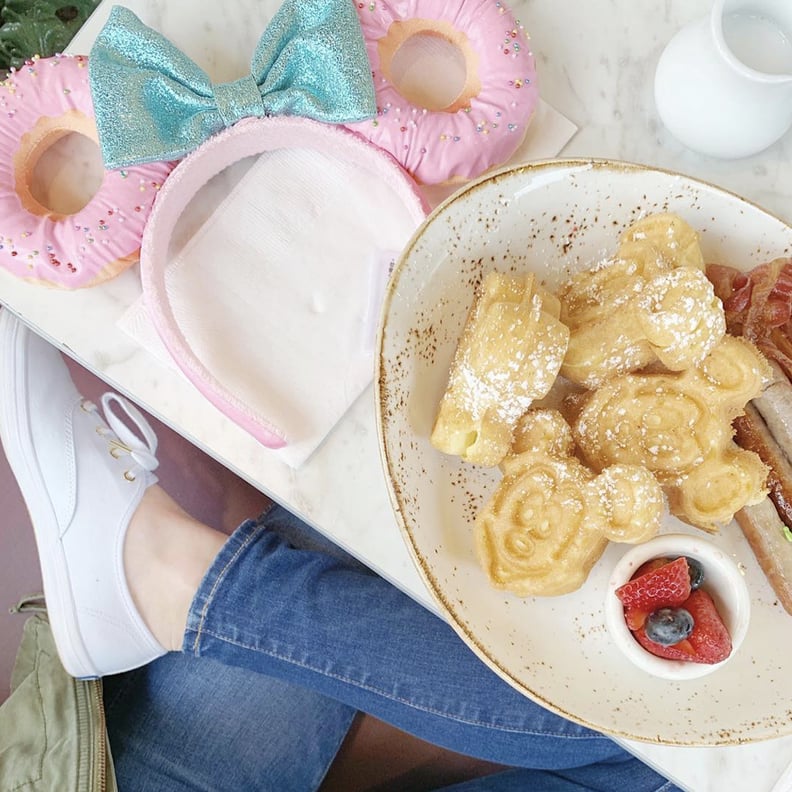 Walt Disney World is known for its wild rides, top-notch character sightings, and having some of the best food in all the parks. With mouthwatering restaurants located within walking distance from all the attractions, finding the time to eat at all of them should be your number-one priority (besides snapping pictures in the cool photo spots, of course). From hearty breakfasts to sophisticated dinners, we rounded up the 25 most delectable dining spots Disney World has to offer. Whether you're looking for a tasty bite before your FastPass+ is up or you want to indulge in a feast fit for royalty, every option on this list is sure to win you over. Now all you need is a little faith, trust, and pixie dust (and some extra room in your stomach).
— Additional reporting by Lauren Harano
01
Flame Tree Barbecue
If you're looking for deliciously messy barbecue, Flame Tree has got the goods. This outdoor BBQ quick-serve has a menu full of ribs, chicken sandwiches, loaded fries, and all the sauce you could dream of. When you're not gazing at your tasty meal, take a look at Expedition Everest's summit and enjoy the view.
02
Baseline Tap House
If gooey cheese and craft beers are calling your name, head to Baseline Tap House ASAP. This Hollywood Studios find has a menu that's jam-packed with trendy beers and top-notch cheese — not to mention, this place is complete with all the hipster vibes you could want.
03
Coral Reef Restaurant
Salivating for seafood? The Coral Reef Restaurant in Epcot is where you'll find your fix. This intimate dining spot has a living coral reef with more than 4,000 sea creatures who call it home! Don't worry though, you won't find any of them on your plate (at least, we hope not).
04
Storybook Dining at Artist Point
Located at the Wilderness Lodge Resort, this restaurant is a dream come true. Enjoy a sophisticated meal with Snow White, the seven dwarfs, and more of your favorite characters all in one romantic place. With food fit for royalty, there's nothing on the menu that won't make your mouth water.
05
Jungle Navigation Co. LTD Skipper Canteen
In the mood for good food and bad jokes? Jungle Navigation Co. LTD Skipper Canteen has both! With a tropical menu in an exploration-themed setting, this restaurant is fun for the whole family.
06
Chef Mickey in Disney's Contemporary Resort
Who doesn't love a good buffet on vacation?! And it's even better when you know that Mickey Mouse, Minnie Mouse, Pluto, Donald Duck, and Goofy will most likely make an appearance.
07
Biergarten Restaurant in Epcot
Grab a boot of German beer (or a Schöfferhofer Pink Grapefruit Hefeweizen!) to wash down the sausage platter in this family-style sitting restaurant.
08
Spice Road Table in Epcot
Hit up this Mediterranean-inspired spot for dinner or dessert to enjoy the IllumiNations: Reflections of Earth show, which highlights the past, present, and future of our planet.
09
California Grill in the Magic Kingdom
If you're looking for a Sunday brunch spot, this is it. There are plenty of specialty dishes, healthy options, and mimosas, of course.
10
Sci-Fi Dine-In Theater Restaurant in Disney's Hollywood Studios
You'll really get the '50s drive-in experience with these car-shaped booths and tables! Chow down on a burger, onion rings, and cheesecake while watching some old-school cartoons and sci-fi clips.
11
The Plaza in the Magic Kingdom
If you're looking for a casual bite between all the rides, head to The Plaza for waffles, a salad, or a sandwich — and don't forget to head to the Plaza Ice Cream Parlor around the corner for dessert!
12
Rose & Crown Dining Room in Epcot
Save up your appetite for some traditional fish and chips at this British-style pub. In addition to the delicious food, you can also sit inside or outside to overlook the World Showcase Lagoon.
13
Hoop-Dee-Doo Musical Revue in Disney's Fort Wilderness Resort & Campground
You get two hours of eating and good, old-fashioned fun at Hoop-Dee-Doo Musical Revue! The all-you-can-enjoy menu and unlimited beer, wine, and sangria while you watch the show makes for the perfect family night out.
14
T-REX in Disney Springs
The prehistoric setting of this dinosaur-themed restaurant will bring you back 200 million years! Expect meteor showers and rumblings while munching on dishes like burgers and pasta.
15
Be Our Guest in the Magic Kingdom
You can't possibly go to Disney World without going to this Beauty and the Beast-inspired French restaurant! And yes, they do have the "grey stuff" from "Be Our Guest," and yes, it's delicious!
16
Tusker House in Disney's Animal Kingdom
Hang out with Donald Duck and get some African flavor at this spot for breakfast, lunch, or dinner!
17
Tutto Italia Ristorante in Epcot
End your day of walking around the park with some handmade pasta for dinner and gelato or a cannoli for dessert!
18
Cítricos in the Magic Kingdom
American cuisine coupled with Mediterranean flavors makes for a yummy menu (and all Mary Poppins Returns themed, no less). Don't skip the cheese course and save room for the warm chocolate-banana torte.
19
Via Napoli Ristorante e Pizzeria in Epcot
You will be shocked by how many pizza pie options there are here! And of course, there are plenty of Italian desserts to end the meal right.
20
'Ohana in Disney's Polynesian Resort
Dine with Lilo and Stitch (and their friends!) and enjoy breakfast infused with Polynesian flavors. You'll start the day off right with games and a hearty meal.
21
Liberty Tree Tavern in the Magic Kingdom
This restaurant goes colonial with their all-you-can-enjoy lunches and New England-inspired eats!
22
Sanaa in Disney's Animal Kingdom Lodge
You've never had a lunch view quite like this before. The African cuisine with Indian flavors will relocate you to a whole other place — and the animals wandering close to your table help do that too!
23
Yak & Yeti in Disney's Animal Kingdom
Get a taste of multiple regions across Asia at this quaint restaurant tucked away in the Animal Kingdom. The Asian beers pair well with the pork egg rolls, crispy honey chicken, and the massive fresh fish-filled Dragon Roll Bowl.
24
Mama Melrose's Ristorante Italiano in Disney's Hollywood Studios
It's all about bold Italian food here! Start your meal off with some great California wine and end it with a steaming cappuccino.
25
PizzeRizzo in Disney's Hollywood Studios
PizzeRizzo, which replaced Pizza Planet, has a variety of pies, kids meals, and beer, wine, and sangria ready to go!