As parents, it's not always easy to stay on top of what yout teens and tweens are watching, listening to, or reading. Thanks to our friends at Common Sense, one of those areas just got a lot more managable to keep track of.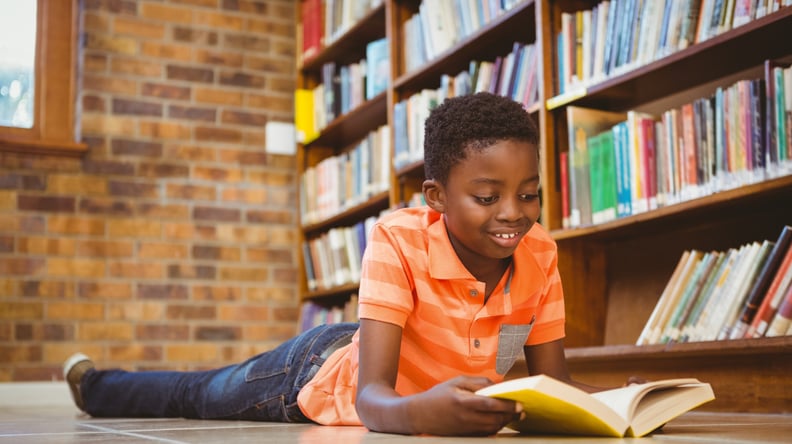 Word of mouth rules when kids age 7 to 12 pick a book to read. See what titles kids are hyping these days.
Peer pressure's not so bad when it comes to reading. A popular book has the power to sweep up even reluctant readers as word of its awesomeness catches on. Nobody knows better than tweens what books to recommend to other tweens, so we asked them: "What would you tell your friend to read?"
According to our informal poll, their picks go beyond the enduring biggies kids regularly recommend: the Harry Potter series, anything by Rick Riordan, Lemony Snicket's 13-volume A Series of Unfortunate Events, the Diary of a Wimpy Kid series, the Hunger Games trilogy, and graphic novels such as Raina Telgemeier's Smile, Drama, and Sisters.
Check out tweens' recommendations, old and new, and see if one — or more — will hook your kid, too:
13-Story Treehouse, by Andy Griffiths and illustrated by Terry Dentonage, age 8+. This first book in the madcap Treehouse series charts the silly escapades of two boys who live in a fantastical treehouse with a bowling alley, a see-through swimming pool, a marshmallow machine, a sea monster masquerading as a mermaid, and more. In subsequent zany books, their dwelling grows to 26 stories, then 39 stories, and even bigger!
Dork Diaries series, by Rachel Renee Russell, age 8+. This middle school saga with a strong female main character is up to Book 10 and still going strong. Some plots are thin and have some stereotypes (mean girls, jocks, clueless parents), but others are fresh and realistic glimpses of tween life. Either way, tween girls can't seem to resist.
Immortal Guardians: Spirit Animals: Fall of the Beasts, by Eliot Schrefer, age 8+. Spun off from the seven-part Spirit Animals franchise, this exciting fantasy is similarly multimedia (linked to a website), multi-author, and loaded with action.
Roller Girl, by Victoria Jamieson, age 8+. This graphic novel about a girl's experience at roller-derby day camp the summer between fifth and sixth grades is a 2016 Newbery Honor book. It explores themes of friendship, teamwork, and how much more complicated life becomes as you grow up.
The School for Good and Evil, Book 1, by Soman Chainani, age 8+. Graduation at this school means becoming a character in a fairy tale. But when two friends get dropped off, they feel they've been switched. The sweet one is directed to villain training, and the sour one's headed for princess classes. This first of a trilogy takes the clichés of fantasy and folklore and shakes them up with wit and insight.
The Wishing Well: The Land of Stories, by Chris Colfer, age 8+. The first of a four-volume series by actor-author Colfer (Glee) plunges brother and sister twins — and readers — into the land where fairy tale heroes live. They meet Goldilocks, Cinderella, Snow White, and others who help the kids get home.
Circus Mirandus, by Cassit Beasley, age 9+. Young Michah was raised by his grandfather, who told him fantastical stories about a circus that exists only to enchant children. Now Micah and his disbelieving friend Jenny set off to find the circus — and hopefully a miracle — to save the dying man. A gripping fantasy about a wondrous world.
The Crossover, by Kwame Alexander, age 9+. This poignant novel in verse mixes basketball, family, and coming-of-age themes with serious issues regarding a parent's life-threatening condition. It won the 2015 Newbery Medal and a Coretta Scott King Author Honor and portrays a loving, supportive, intact family — a rarity in middle-grade fiction.
The War That Saved My Life, by Kimberly Brubaker Bradley, age 9+. Set in the English countryside during World War II, this 2016 Newbery Honor book is a standout coming-of-age story. A brother and disabled sister escape the war and their abusive mother and meet a spinster who takes them in and changes their lives.
Out of My Mind, by Sharon M. Draper, age 10+. Melody has cerebral palsy and is very intelligent but unable to express herself verbally or physically. When she enters a mainstream classroom, she gets a machine that lets her communicate, and she strives to be accepted by her peers. Melody's a well-rounded, likable character kids will empathize with in this riveting story of self-acceptance.
The Thing About Jellyfish, by Ali Benjamin, age 10+. This coming-of-age story about seventh-grader Suzy Swanson, whose best friend has just died by drowning, explores how we cope with loss. Beautifully written, lovingly constructed, deeply touching, and thoroughly engaging, this gem delivers tremendous emotional depth with remarkable grace.
Timmy Failure: Mistakes Were Made, by Stephan Pastis, age 10+. This graphic novel from the creator of the comic strip Pearls Before Swine is the first in a series about a clueless 11-year-old boy who fancies himself a great detective. It's a funny, off-the-wall, yet poignant look at the life of an unusual kid who lets his imagination run away with him. Great for Wimpy Kid fans.
The Unwanteds, by Lisa McMann, age 10+. This is the first of a six-volume dystopian series about a caste of creative kids who are doomed to be thrown into a lake of boiling oil. Then they discover another world, where each individual is valued and encouraged to grow. The kids must rely on their creativity in a violent battle between the two societies. Great for reluctant readers.
Zeus: King of the Gods: Olympians, Book 1, by George O'Connor, age 10+. The first in a 12-book graphic-novel series that highlights each Greek god individually, so you really get to know them. A generous appendix provides profiles of the gods, a discussion guide, and a bibliography.
The Apothecary, by Maile Meloy, age 11+. Two teens, an American girl and British boy, meet in London in 1952 and stumble across a magical 700-year-old book — and instructions to protect it. But they also must save the boy's kidnapped father and prevent the Soviets from exploding their first atomic bomb. The first in an exciting, brilliant trilogy.
Wonder, by R.J. Palacio, age 11+. A previously homeschooled boy with severe facial abnormalities enters a mainstream class for fifth grade in this beautiful story. Auggie deals with the other kids, including a bully, and gains acceptance with the help of their charismatic, compassionate teacher.