Whether a breastfeeding mom works in the home, has a traditional 9-to-5 job, or is enlisted in the military, there's one thing many have in common: they struggle to find support for breastfeeding or pumping in public.
Vanessa Simmons of Candid Perspective Photography learned this the hard way after she captured a breastfeeding mama nursing her little one before changing for a family photo shoot. When Vanessa shared the candid yet powerful image, she was shocked by the hate and outrage that flooded her account.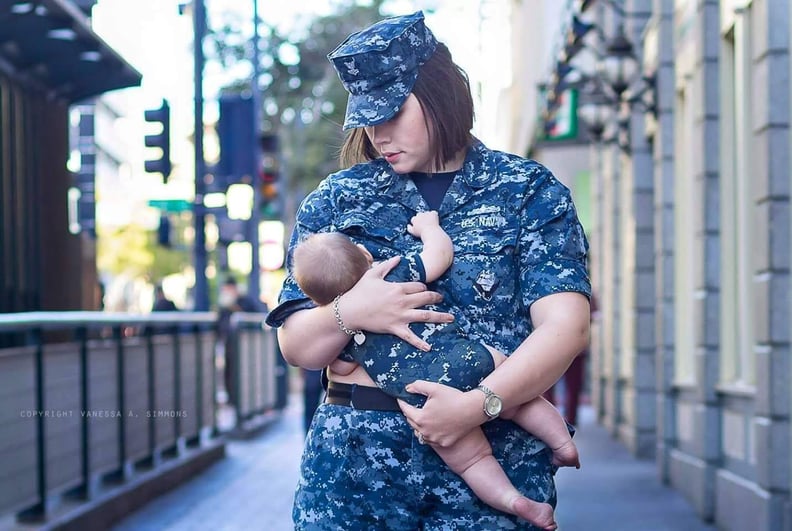 As the founder of the "Normalize Breastfeeding" project, Vanessa hopes that taking and sharing diverse photos of real women nursing in public will help remove the negative stigma that many moms endure while feeding their child. The impassioned photographer travels around the country as a part of her Normalize Breastfeeding Tour, and the photos she took of a group a women in their Army, Navy, and Air Force uniforms during a stop in Washington DC are truly stunning.
"I hope that others recognize the difficulty at hand for every mother to breastfeed their baby, yet I also hope that they see the strength of the women who serve our country while serving their families simultaneously," Vanessa told POPSUGAR. "I'm inspired by their stories, I'm impressed by their bravery in the midst of mothering, and I'm grateful to have the opportunity to share the images that I captured."
Vanessa based the project around capturing diverse variations of normal breastfeeding and hopes that both military and civilian breastfeeding moms to take the 2016 pledge to #NormalizeBfing. "Whether that is diversity in ethnic backgrounds or breast milk delivery — nursing, pumping, and donated breast milk — this is their 'variation of normal,'" Vanessa explained.