Chrissy Teigen's Bathtime Photo Is a Great Reminder of the Beauty of Postpartum Bodies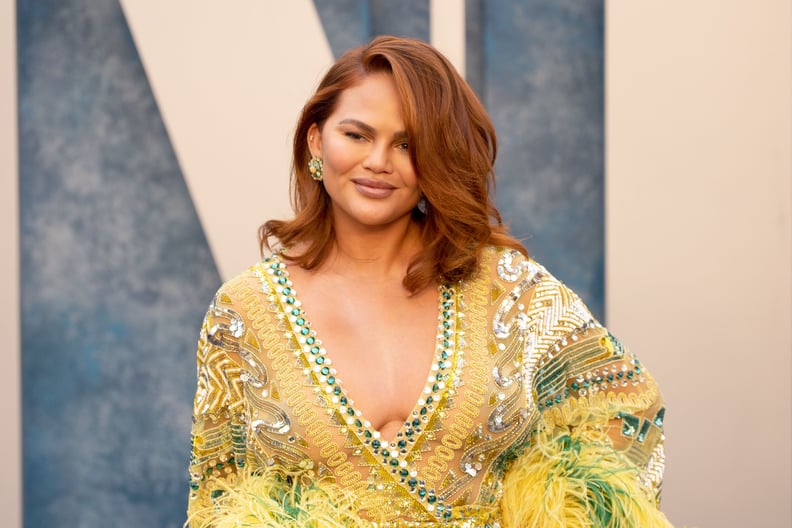 Getty Images | Robert Smith / Contributor
Getty Images | Robert Smith / Contributor
Chrissy Teigen has always been adored for her chronic oversharing, but since welcoming her three kids with husband John Legend — Esti Maxine, 13-weeks-old; son Miles Theodore, 4; and daughter Luna Simone, 7 — the model and cookbook author has made a concerted effort to remain vulnerable and honest about her postpartum experience.
The relatable mom of three has kept the good, bad, and ugly of her postpartum life brutally real on social media. She's shared glamour shots in mesh underwear and posted tweets about her — ahem — butthole. And while she's certifiably hilarious, she's also shared some of the more painful moments that can happen in the fourth trimester.
In 2016, after giving birth to her daughter Luna, the model opened up about living with postpartum depression (PPD). "I look around every day and I don't know how people do it," she wrote in an essay for Glamour in 2017. "I've never had more respect for mothers, especially mothers with postpartum depression. I'm speaking up now because I want people to know it can happen to anybody and I don't want people who have it to feel embarrassed or to feel alone."
Fast forward to March 2023, Teigen spoke with People about finding a new confidence in herself after welcoming her third baby. "It's easy confidence-wise, and honestly, a lot of the time, confidence is everything with it," said Teigen of her growing family. "You're just not so on edge and worried, and you're also not worried about what other people have to say as much."
Now, she's back online sharing her latest "soggy" adventures with her newborn daughter. Ahead, check out all the times she reminded us to give ourselves grace, from embracing her postpartum body to poking fun at all of the ways motherhood can change a person.
01
Baby Esti Is "Too Perfect" to Worry About Postpartum Scars
In an April 16 Instagram post, Teigen shared a photo of her taking a bath with 13-week-old daughter Esti. She captioned it, "A boob that somehow hangs all along my side and deep purple lifetime scars, but you are too perfect to worry about any of it !"
Fans flocked to the comments to applaud her body neutrality.
"Thank you for being brave (though it shouldn't be brave) enough to post... real photos," actor Keegan Connor Tracy wrote. "There is beauty in real. And in knowing that we sacrifice to make these beautiful little people. Our bodies are meant to be lived in! ❤️"
02
Nothing Is as Important as Healing From Birth
The "Cravings" cookbook author made it clear in a February 2023 Instagram post that she'd rather hang out with her daughter Esti Maxine, who was 3 weeks old at the time, even if it meant missing husband John Legend's performance of the Grammy-nominated track "God Did" at the 2023 award show.
The 37-year-old shared an adorable photo of her newborn sleeping on her chest as the two snuggled into the couch for the evening. She captioned her post: "happy grammy day!! had a dress fitting, looked around and realized. . . . what the hell am I trying to prove here. I cannot get up lol."
03
The Soggy Stage of Postpartum Life
In January 2023, Teigen shared a photo of her in what first appears to be a pretty put-together look with a slip dress and heeled boots. But after closer inspection, it's clear she's leaking milk with an additional stain lower down on the dress, likely the result of her C-section. The 37-year-old captioned it, "omw to bandage together both my wound and 3.8 second clips of Beyonce performing in Dubai until I get a full hbo special."
Fans rushed to the comments to commend Teigen on her transparency and to share similar experiences. "The soggy stage . . . everything is soggy," one person wrote. Another said, "The milk spots add an extra layer of authenticity to this."
04
Mommy and Baby Going Home in Diapers Together
In an Instagram post celebrating the birth of her daughter in January 2023, Teigen wrote, "She's here! Esti Maxine Stephens — the house is bustling and our family could not be happier 💕 Daddy sheds nightly tears of joy seeing Luna and Miles so full of love, and I am learning you still need diapers with a c section!? We are in bliss. Thank you for all the love and well wishes — we feel it all! X."
In her cheeky caption, Teigen, who was recovering from a C-section, raised a very valid point about birth that many expectant parents may not consider: both mommy and baby need a diaper after birth — and not just for vaginal deliveries, but C-sections as well.
05
This At-Home Spa Day Included a "Vagina Steam"
Teigen shared a photo of herself in June 2018 sitting with a sheet mask on her face and holding a heating pad behind her neck. From the waist down, she has a blanket draped over her legs.
In the caption, Teigen, who had given birth to her son Miles a month before, explains that she's doing a little "at-home treatment" for her vagina. "Face mask, heat pad, vagina steam," she wrote. "No, I don't know if any of this works but it can't hurt right? *vagina dissolves*"
06
Her Ode to "Asian Pear Underwear"
07
Accepting Her "Mom Bod"
Embracing your postpartum body is a journey and Teigen wasn't afraid to share hers. After giving birth to Miles, she embraced swimsuit season with an update on how she was healing. "I guess these just aren't going to go away. This is my new body," she said in a video on Twitter.
08
When She Addressed the Reality of Vaginal Tearing
Teigen took to Twitter to update her followers on her "postpartum life" after giving birth to son Miles in May 2018, writing that it's "90% better when you don't rip to your butthole. Baby boy: 1 point. Luna: 0" Sounds like Luna's never going to live this one down.
09
Postpartum Depression Won't Stop Her From Growing Her Family
After giving birth to daughter Luna in April 2016, Teigen struggled with postpartum depression. But in a March 2017 interview in the print issue of Marie Claire, she made it clear she wouldn't let PPD get in the way of her growing family. "I would definitely adopt or have foster children, but I loved being pregnant," she told the magazine. "Maybe I should be scared [of having PPD again], but I don't know. It couldn't be any worse than it was — could it?"
10
Speaking Out About Postpartum Depression For the First Time
The model first shared her brutal experience with PPD in an essay published in Glamour's April 2017 issue. "I looked at my doctor, and my eyes welled up because I was so tired of being in pain," she wrote. "Of sleeping on the couch. Of waking up throughout the night. Of throwing up. Of taking things out on the wrong people. Of not enjoying life. Of not seeing my friends. Of not having the energy to take my baby for a stroll."
Instead of pretending that she didn't spend most days in the exact same spot on the couch or start "keeping robes and comfy clothes in the pantry" so she wouldn't have to make the trek upstairs, Teigen detailed all of the ways PPD and anxiety impacted her in order to empower others.

11
When Teigen First Became a Mom
After Teigen gave birth to Luna in April 2016, she turned to Twitter to pass on some recently earned knowledge. "No one told me i would be coming home in diapers too," she wrote, according to Us Weekly.
Oh, how far she's come! We're thankful for Teigen for being just as shocked by motherhood as the rest of us — and being brave enough to share the journey.