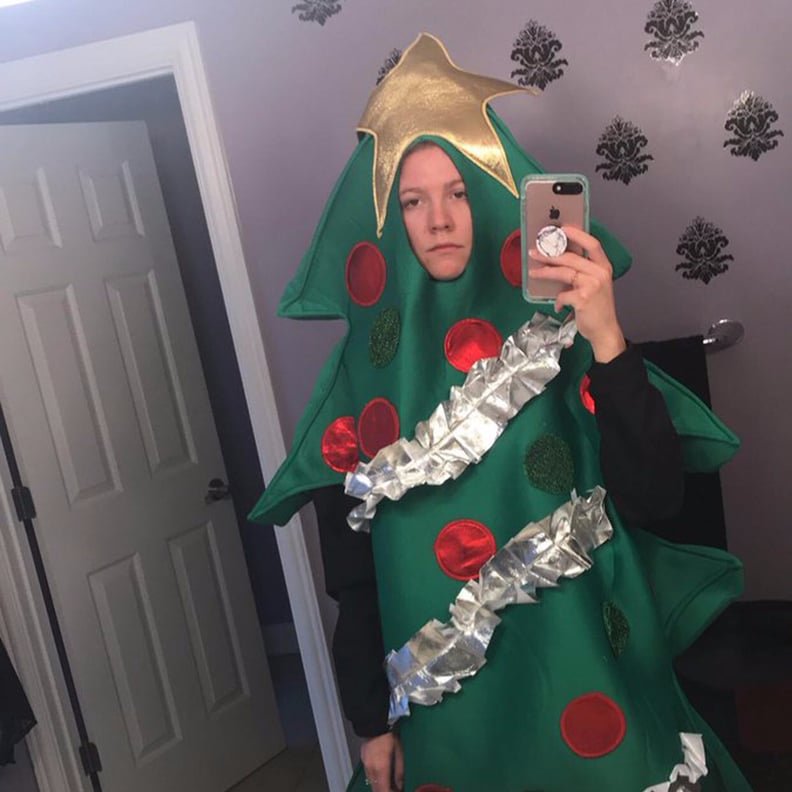 When 20-year-old Kelsey Hall tweeted out a photo of herself in a hilarious Christmas tree costume and claimed she'd wear the ensemble to all of her classes for the rest of the semester in exchange for 1,000 retweets, she grossly underestimated the people of Twitter. In basically no time at all, she surpassed her goal and the hilarious photo had been retweeted thousands of times, sealing her fate as class clown Christmas tree at the University of Alabama for the rest of the Fall semester.
Kelsey told BuzzFeed that on day one, Monday, Dec. 5, she was "really embarrassed" and "definitely got weird looks" as not everyone had seen the now-viral tweet that explained her chosen attire. However, that certainly didn't stop "fans" (who had no-doubt retweeted her original proposition) from taking photos with her, and her friends from posting videos of Kelsey walking to class.
"I did not think this would happen and that I'd have to wear it," Hall said. And despite tweeting on Sunday night, "Guys I really don't want to do this," and claiming in another tweet that this is her "biggest regret in life," she's clearly being a good sport about getting way more than she bargained for.
As they say at the University of Alabama, Roll Tide-ings!