If You've Ever Wanted to Throw a Pinterest-Worthy Party, You Need Darcy Miller's "Celebrate Everything"
When it comes to planning a fun and thoughtful party, nobody does it better than Darcy Miller. The Martha Stewart Weddings editor at large is something of a legend when it comes to planning the perfect party and we're not just talking about big, blowout, magazine-worthy weddings. As the mother of three daughters, she's thrown some pretty fantastic (and not too over-the-top) birthday parties for her girls.
After more than 20 years documenting and writing about other people's celebrations, Darcy's finally put all of her knowledge down in what can only be described as the new bible of entertaining. Celebrate Everything: Fun Ideas to Bring Your Parties to Life ($30, on sale for $18) includes 275 pages of tips and tricks — not to mention gorgeous photography, planning pages, and inspiring photos of her own kids' parties — to help the rest of us plan memorable events. The source list in the index is worth the price of the book alone! Throughout the book are Darcy's cheery whimsical illustrations that are often the centerpieces of her own parties.
We spoke with the legendary party planner about how she goes about planning her own daughters' parties and some things she's learned along the way. Read on for her tips — including some DIY tricks that make even the simplest parties look professionally staged.
01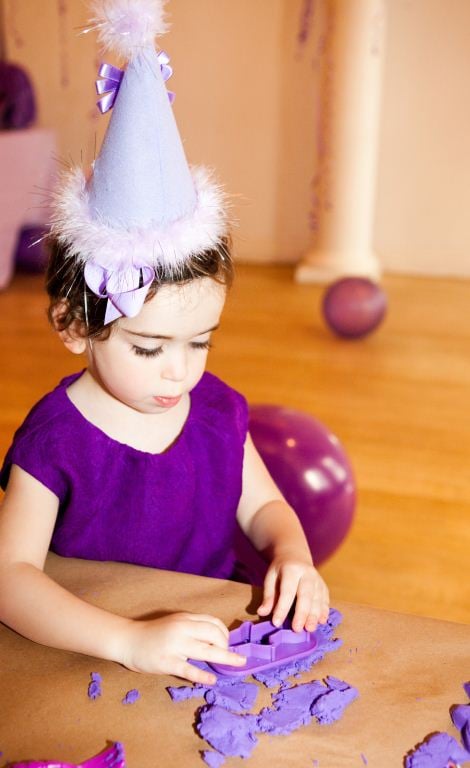 Involve the Guest of Honor in the Planning
A party should really be a collaboration between the birthday child and the parent. While the parents may need to set limits, it's important to listen to you child and understand what they really want out of the party. "We start with whatever the birthday girl is loving at the moment," Darcy explains. "When my daughter Pippa was turning 3, she loved the color purple. It was one of my other daughter's ideas to have 'Pippa's Purple Party' where everything from the cake to the play dough was purple."
It's the planning process that can help build memories, too. "I always say that though we might not DIY everything, we always D.I.T. — Do-It-Together," she continues. "I remember making my birthday invitations with my mom and now it's something that my mom and I do with my kids. It's the doing it together (planning to crafting) and starting traditions in doing that that I love."
02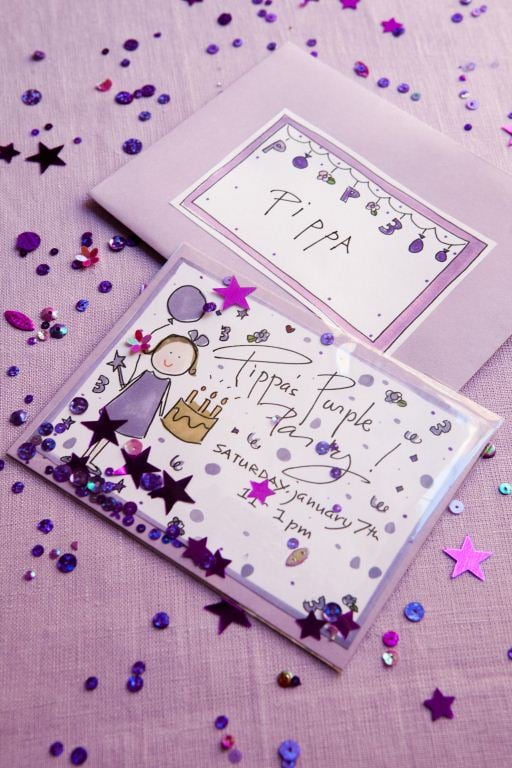 Put the Kids to Work
Just because the date and activities are picked, doesn't mean your child's only job should be showing up at the party. "Along the way we always find something to D.I.T. (Do It Together), whether it's planning activities, making favor bags (though their enthusiasm to be involved might have something to do with scooping candy!) or brainstorming a theme," Darcy explains. "For my daughter Ella's last birthday, she and her older sister made t-shirts for all the guests to wear at the party!"
03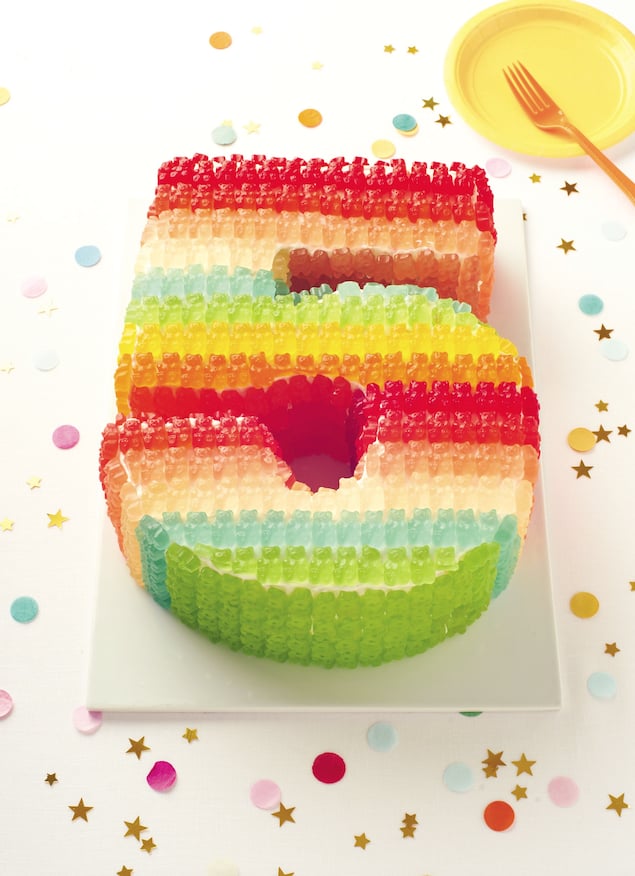 Take Inspiration From Popular TV Shows
Don't limit yourself to party themes that come in a box. Darcy says the biggest trend in kids' parties these days is reality TV shows like Project Runway and Top Chef. Create a contest-based party where the kids have fun baking or decorating something á la Cake Wars and then eat their creations. "I've been to cake wars party at the Craft Studio in New York City where the cakes they are decorating are inspired by a theme, and then at the end of the party everyone enjoys the decorated cakes," Darcy shared.
This Pinterest-worthy candy cake is easier to create than you'd think. Darcy has a DIY that explains the steps.
04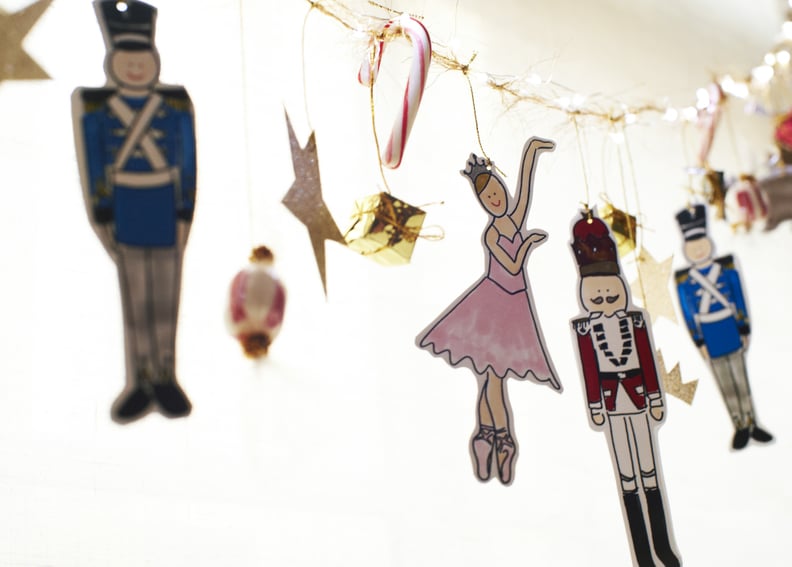 You Can't Go Wrong With a Photo Booth
If you're looking for a fun and easy activity, don't overlook the photo booth. While renting a booth (and a company to operate it) is an expensive endeavor, making one yourself, is easy and guaranteed to churn out some smiles. Darcy suggests finding a space that has some atmosphere around it and making it your background — a large couch, the local park, etc. Or, take a blank wall and hang a garland — peace garlands for a peace party, a Hollywood sign for a movie night. "Even just a bunch of balloons — there are so many cool kinds that are filled with confetti or light up — or streamers hung up between two trees outside can be great," Darcy suggests. Add in some fun props (pom-poms, beach balls, boas, speech bubbles, etc.) and you're ready to go. "You can use a Polaroid so that guests can sign a photo for the birthday kid, or any digital camera or phone will make the photoshoots quick and inexpensive — and the photos can be emailed out post-party so everyone gets a copy."
05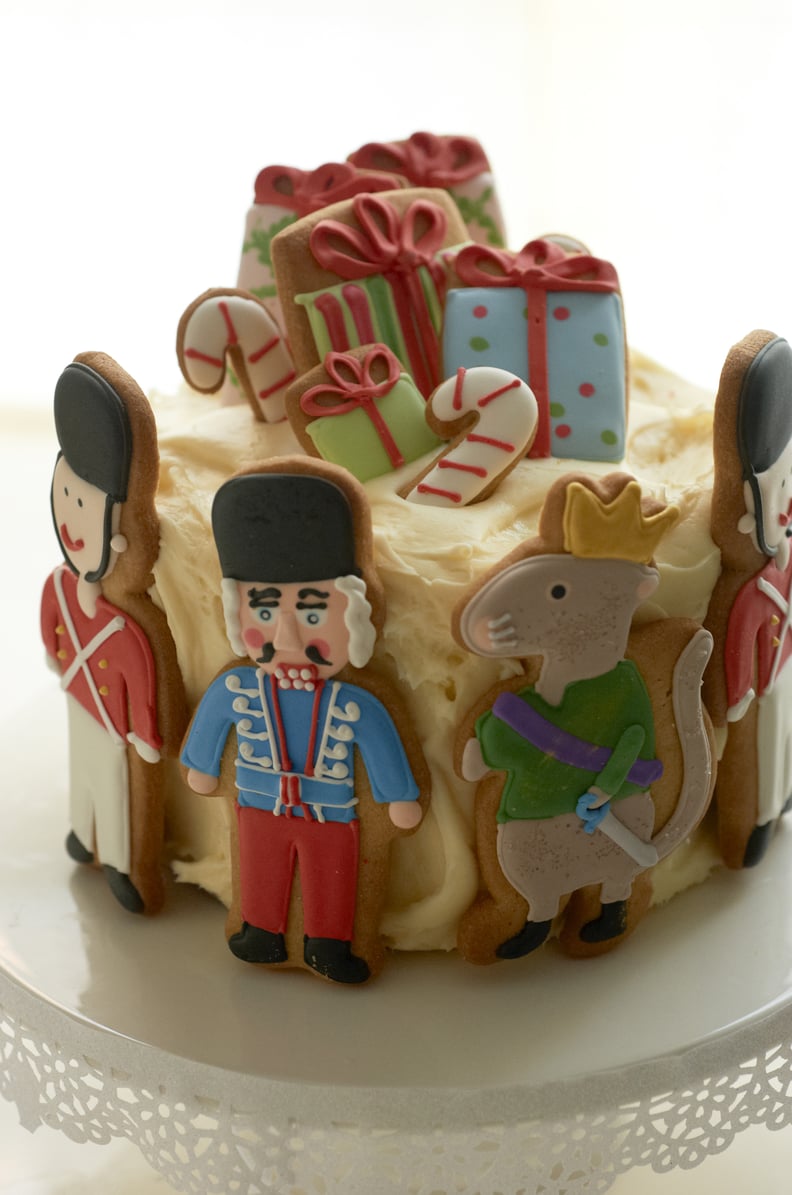 Customizing Store-Bought Treats
"There are so many ways to customize without having to order something special," Darcy says. "You can do something as simple as personalizing toothpicks, which can be put in cupcakes, sandwiches, or really anything else." For her daughter, Daisy's, birthday party, Darcy made daisy stickers and placed them on toothpicks before inserting them into store-bought cupcakes. Or, like the cake above, make a cake a home and then place some store-decorated cookies on it.
"It's simple to add a quick label to personalize anything from a chocolate bar to a lemonade bottle," she says. "You can print on label or sticker paper, design your own label on the computer, or just with pens [which is a] great place to involve the birthday boy or girl."
06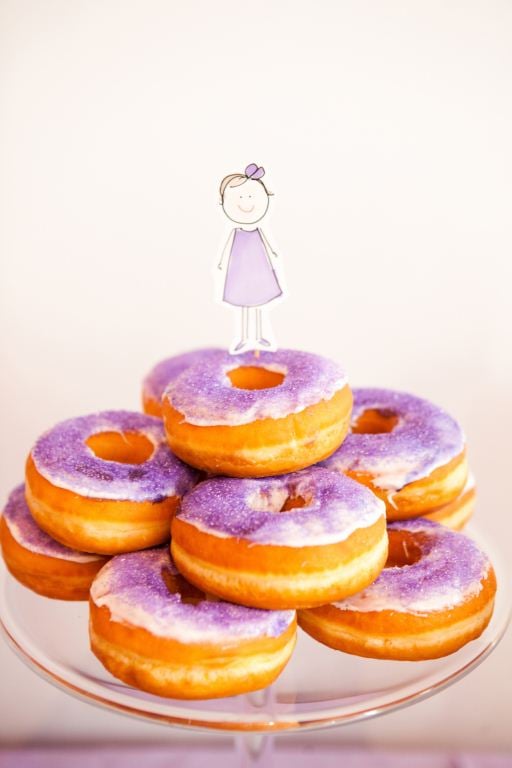 Every Party Doesn't Need a Cake
Who says there needs to be cake? Consider skipping the traditional dessert all together and serve up a tower of donuts. They can still tie into the theme with a little creativity.
07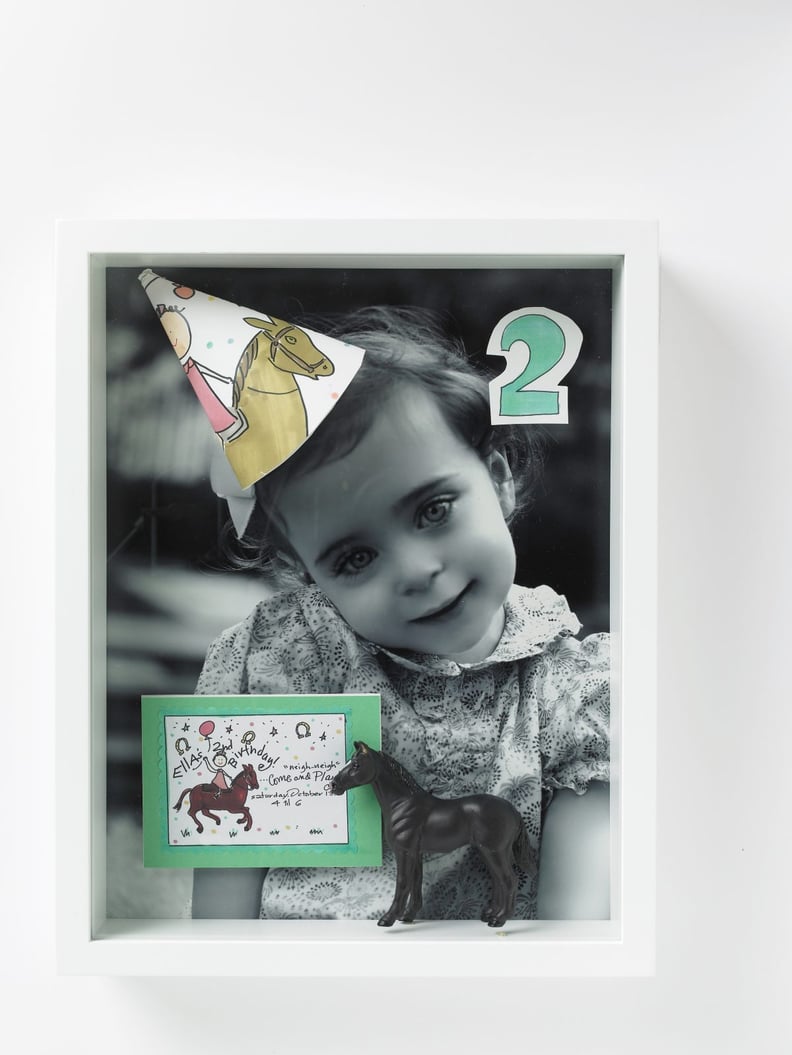 Document Your Parties
After all of that hard work organizing the party, you'll want to document it. "I always say that years from now, you'll never regret taking too many photos, but you will miss them if you don't take any at all," Darcy advises. But you don't need to hire a professional photographer to do so. According to Darcy, simply listen to where the fun is coming from and head there. Taking candid photos of your little one playing with his or her friends and genuinely enjoying the day will make for beautiful photos. Of course, you'll also want to add a few traditional photos to the mix for posterity, too — a group photo, blowing out the candles, the birthday child surrounded by family.
And don't just keep the photos sitting on your phone. Print them and get creative with them. Darcy is known for her scrapboxes that she displays throughout her home. "You can frame a simple photo from the party as the backdrop and save a memento from the celebration like party hat or birthday candle and frame it along with the photo for something to remember the day — even hang it in your kid's room," she says.
08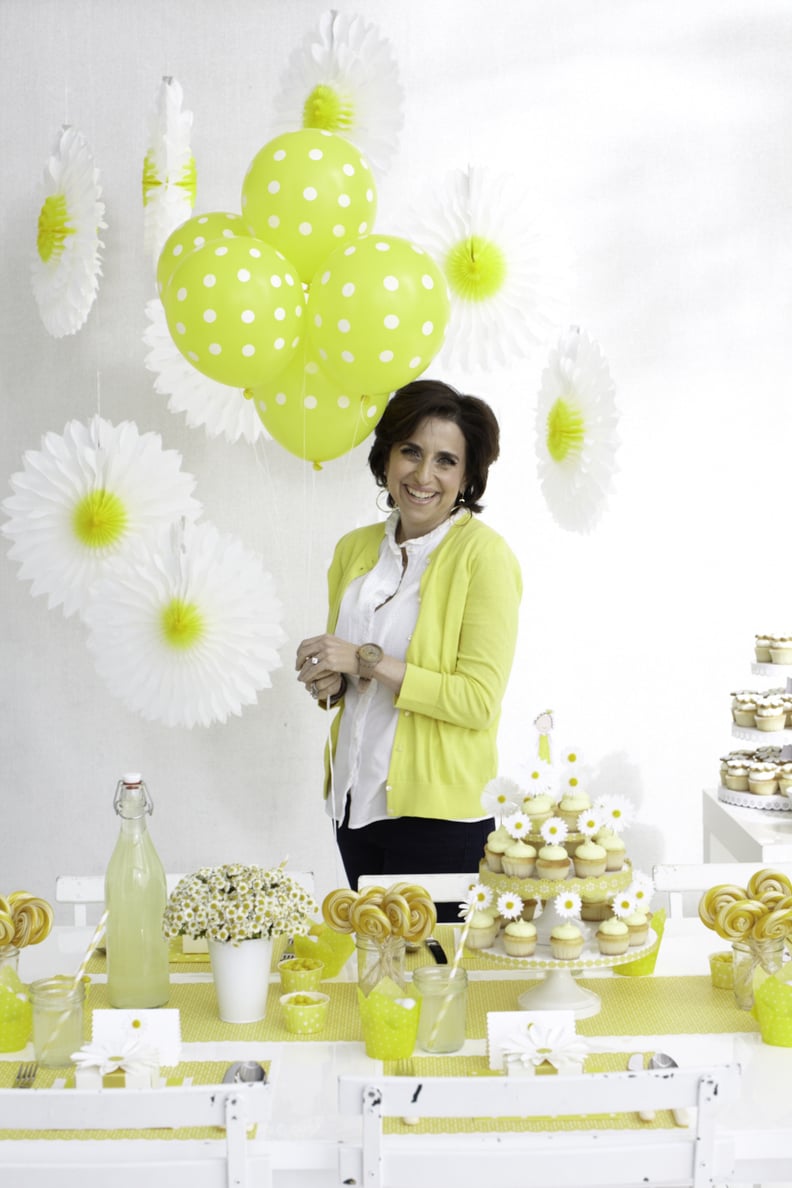 Always End on a High Note
Even a professional party planner learns from her mistakes. When reminiscing about one of her daughter's sleepovers, Darcy recalls expecting too much out of the guests. "When my daughter wanted to have her first sleepover party, we invited 10 kids and had everyone stay for activities the second day," she says. "After realizing we invited way too many kids and had them stay way too long the next day (pickup wasn't until 2 p.m. the next day!), I made some changes in all the slumber parties that came after! I've since learned that it's best to have a fun night with some games, an activity, and then breakfast in your PJs, but to make pickup a little earlier the next day so the party ends before everyone gets cranky — it's always good to end on a high note."