After a national survey found that some parents were skeptical about getting their children the flu shot, Dr. Jean Moorjani, a board-certified pediatrician at Orlando Health Arnold Palmer Hospital in Florida, wanted to go the extra mile to put moms and dads' anxieties at ease.
According to the survey results, some parents believe that their kids can actually come down with the flu just from getting the shot. And what's even more concerning, 30 percent of parents believe that vaccines are a conspiracy, and 28 percent of parents believe the flu vaccine can cause autism.
"The flu vaccine is the best protection against the flu."
Parents who aren't planning on getting their children the flu shot should definitely reconsider. Last year, 180 children died from the flu, 80 percent of which didn't receive the shot.
"The flu vaccine is the best protection against the flu," said Dr. Moorjani. "And of the children who died from the flu last year, about half of them were perfectly healthy children. Since we cannot predict who will develop a serious complication from the flu, we recommended that all children over the age of 6-months-old receive the flu vaccine for the best protection."
Read through to see Dr. Moorjani's reasoning behind why every healthy person in your family should get the flu shot. And don't forget to make a doctor's appointment for your children ASAP.
01 Myth: children can contract the flu from the shot.
"If parents don't vaccinate themselves or their children, then they have a higher risk of experiencing complications related to the flu," Dr. Moorjani told POPSUGAR. "For example, if a child is vaccinated against the flu today but is infected with the flu virus next month from someone else who has the flu, that child's body will have had enough time to build up protective antibodies so their illness will be more mild and not last as long."
02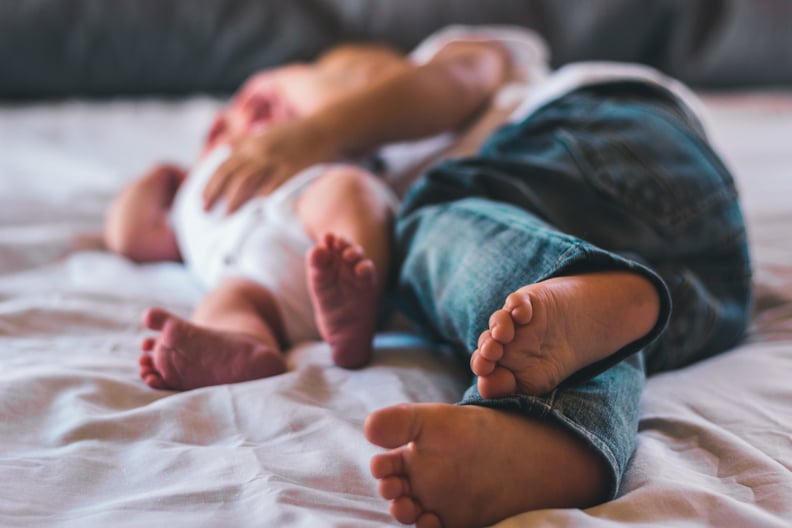 Myth: getting the flu shot won't make the symptoms less severe if my child gets sick.
Although getting your children the flu vaccine doesn't 100 percent guarantee that they won't get sick this season, it can make their symptoms significantly less severe.
"Their fevers may not be as high, and their duration of illness could be even a few days shorter," she explained. "If a child does not receive the vaccine and becomes infected with the flu, then their symptoms will be more severe, and they have a higher risk of developing a complication, such as pneumonia or sepsis."
03 Myth: getting the flu shot can cause autism.
Rest assured, the flu is not linked to autism in any way, shape, or form. In fact, there is significant research to back up this claim.
"After years of research, we know that the flu vaccine is safe," said Dr. Moorjani. "The flu shot does not cause autism or any other diseases or illnesses. Doctors recommend the flu shot because it is the best way to protect you and your family from the flu."
Still have doubts? Make sure you reach out to your child's pediatrician with questions.
"With any medication or vaccine, people are going to have concerns, and information can come from so many places, from friends and family to the internet," said Dr. Moorjani. "It's important to talk to a doctor you trust to get credible information that is based in science and facts."