Expert Guidance For Parents With COVID Vaccine
You're Vaccinated, but You've Got Kids at Home — What It Means For You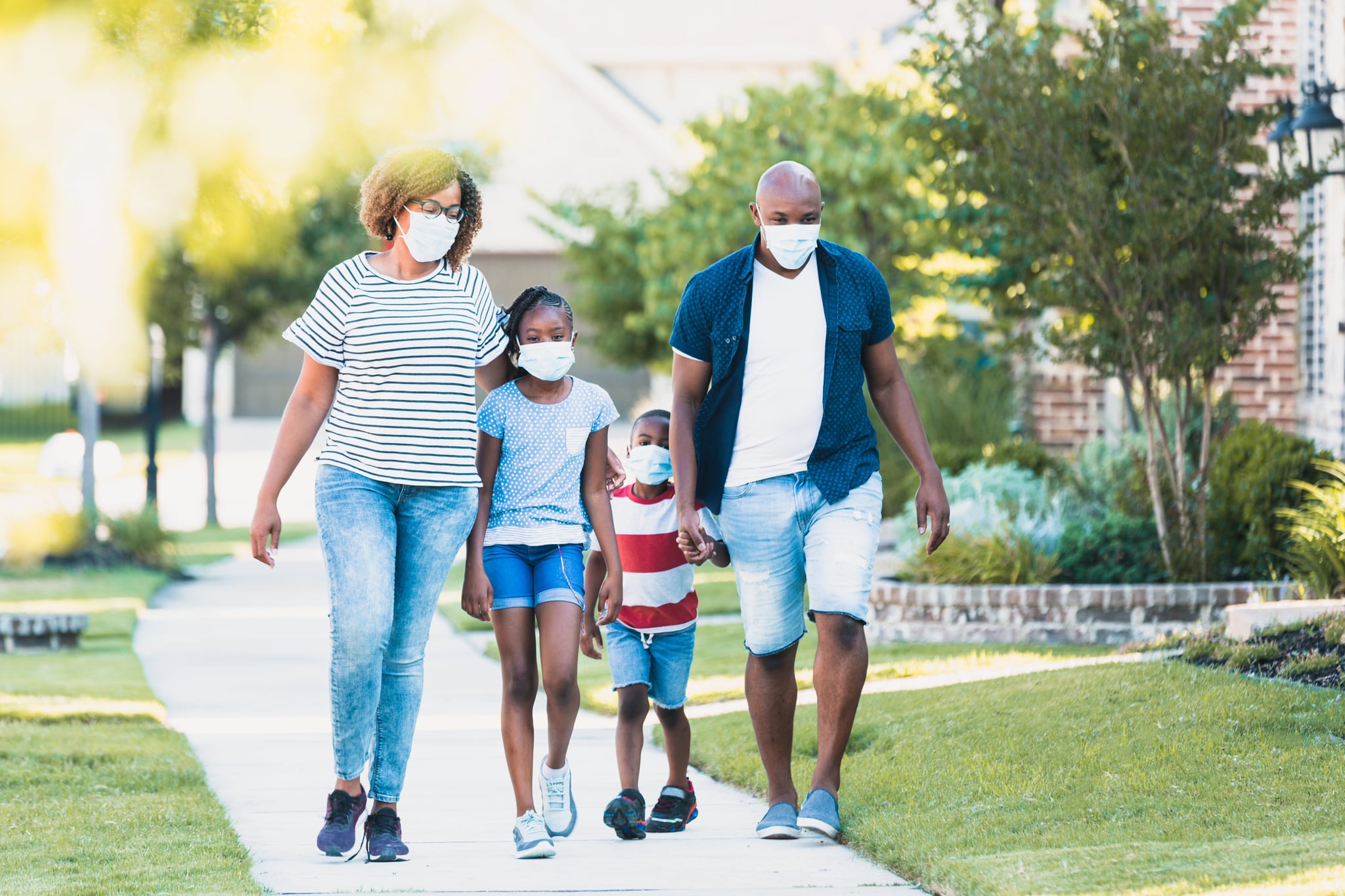 A third of all American adults are fully vaccinated, and now that it's officially open season for COVID-19 vaccinations — meaning anyone 16 years or older is eligible to receive a vaccine — it's safe to assume that if you want to be protected against COVID-19, you will be in short order. For many, this means a return to a sense of normalcy, but what does it mean for parents who still have unvaccinated children at home? Because current public health guidelines from the Centers For Disease Control and Prevention cover broad strokes, a lot of specific scenarios that only affect young families are simply not addressed.
Considering 3.7 million children have tested positive for the coronavirus since the onset of the pandemic and that research has found households with kids are more likely to have a COVID-19 infection, they should be.
"Most of these choices now are really individual family decisions, but it should still be about trying to balance the benefit of not being socially isolated against the risks."
"This is a really complicated time for parents," Jessica Malaty Rivera, an infectious-disease epidemiologist and science communication lead at the COVID Tracking Project, told POPSUGAR. "The CDC guidance here is gray because there are just so many variables. Some families have kids attending in-person school, whereas our kids are still at home with us. The ages of our kids are obviously different — as are the needs of a baby or a toddler versus a third-grader or a middle-schooler. So what you should and shouldn't do as a vaccinated parent isn't going to be black and white."
For instance, can a vaccinated parent go out to eat at a restaurant and come home to their unvaccinated preschooler? Can parents hire a babysitter? Can they sign up their kiddo for swimming lessons? Are play dates safe again? What about a family vacation?
We spoke to several experts — including Rivera and two pediatricians, Dr. Dane Snyder, the section chief of primary care pediatrics at Nationwide Children's Hospital in Columbus, OH, and Dr. Manasa Mantravadi, a pediatric hospitalist at the Riley Hospital for Children in Indianapolis — to find out what this new phase of the pandemic means for a partially vaccinated household.
A General Framework For Making Decisions About Activities
Before embarking on any new activity outside your household, it's important to consider the following:
The type of activity, namely whether it's indoors or outdoors. "Outdoor activities are much safer, and anything that's inside is going to be of higher risk," said Rivera, who noted that "common-sense measures" like maximum capacity limits, timed entries, and social-distancing protocols can help mitigate risk factors.
The amount of people who are vaccinated at the activity. This is something easily controlled in more intimate social gatherings but less possible to determine in public. For those who are not vaccinated, it's "very important to understand what is the risk for them should they get COVID," Snyder said. "If they are too young to get the vaccine or can't get it for another reason, consider: do they have a high-risk condition that would put them at greater risk of having severe complications?" In general, children, including very young children, fall into the category of unvaccinated people who are not at risk for severe illness. Still, that doesn't mean kids can be treated like vaccinated adults. "They can develop COVID-19," Mantravadi, who is also the founder of Ahimsa, said. "Many of them have no symptoms, or those who do get sick tend to experience milder symptoms." Snyder added that "the risks for kids is still there, just not as high." And Rivera went one step further by cautioning that those kids in the 12-to-15 age range actually respond to COVID-19 more like adults than younger children.
The balance of benefits versus risks that the activity provides. Determine which activities feel essential and of the highest valuable to you, your children, or your family, and if they don't carry great risk, consider it. "Most of these choices now are really individual family decisions, but it should still be about trying to balance the benefit of not being socially isolated and being able to see people you haven't in a long time against the risks that you know your family or the people you're visiting may have."
Because we do not live in a zero-risk society, Mantravadi told POPSUGAR to think about this framework in terms of risk reduction.
"The vaccine decreases the chance you will get very sick from COVID-19 or transmit the virus to others," she said. "While it is impossible to say we can eliminate the risk completely, we can say that the vaccine greatly reduces the risk so your behavior can be different in certain settings if you are vaccinated. But the truth is, with infection rates still high in much of the country, the fewer people you and your children are exposed to, the better, even if you are vaccinated."
Can Families Enroll Their Kids in In-Person School?
The American Academy of Pediatrics continues to strongly advocate that schools nationwide make all COVID-19 policy considerations with a "goal of having students physically present in school." Snyder added that school can and should be considered an "essential" activity, and where possible, the benefits of children returning to the classroom — not just from an education standpoint, but as a way to offer a safe space, proper nutrition, and social-emotional support — outweigh most risks.
Concerns over COVID variants, namely B.1.1.7, which originated in the U.K. and makes up a larger share of infections among unvaccinated individuals under 20 years of age, may leave parents fearing a return to in-person learning, but Rivera notes that if schools follow CDC protocols and mask-adherence is high, children shouldn't be considered potential super-spreaders of this more infectious strain.
"What would be more problematic would be if kids were wearing masks and staying distant in school, but then immediately after school they take off their masks to have a play date," she warned.
Can Families Attend Play Dates?
Although Rivera said that "now is a great time for fully vaccinated family and friends to enjoy indoor unmasked hangs," if it includes children, she keeps visits outside, where physical distancing is easier.
Indoor play dates are certainly possible, but, Snyder noted, "it's of course more difficult to have a mask on for extended periods of time." He advised open communication with families about symptom checking and extensive handwashing.
Mantravadi recommended minimizing the length of play dates and to limit them to a couple of children or families with whom you have been socializing during the pandemic. Previously organized pods or bubbles are ideal starting points.
Rivera agreed that determining play-date participants should be a conscious decision at this time: "Because my kids aren't in school, I'm only doing them if the kids we're with are also in low-exposure environments versus high-exposure environments like day care. Nuance matters here." She noted that if your child is going to school in person every day, this may be less of a deciding factor than if you only have a grandparent helping with child care.
No matter how comfortable the families are, Mantravadi said it's paramount that parents agree on boundaries regarding distancing and touching.
"In my experience, when you set clear expectations and give children context into the 'why' behind them, they often stick to the rules better," Mantravadi said. "They, too, want to desperately see their friends so are willing to follow rules that are set for these play dates to occur safely."
Can Families Host Birthday Parties?
It's hard to believe that the concept of a birthday party may be socially acceptable again, but even Rivera is eager to have a small gathering for her preschool-age son this summer. As with play dates, she will keep it to her backyard and limit the guest list to fewer than a handful of children.
"Hosting an outdoor birthday party with a few friends and some ground rules rather than inviting the whole class could be a great start."
Mantravadi agreed. "Hosting an outdoor birthday party with a few friends and some ground rules rather than inviting the whole class could be a great start," she said. If blowing out candles is still a must-include tradition, it should be distanced from fellow guests and on an individual cookie or treat versus a communal cake.
For his part, Snyder warned that parents should be prepared to pull the plug on party plans if any symptoms develop.
Can Families Go to Restaurants?
Outside, no problem, Rivera said. But despite being vaccinated, she is still avoiding indoor dining completely — and not just when she's got her children in tow. "I think indoor dining, where it's crowded and people aren't wearing masks, is still too risky," she said. She won't dine indoors with kids, and she won't dine indoors — or go to a bar — without her kids only to return home to them.
"If I was hanging out with fully vaccinated people eating outdoors or at their home, I'd do that," she said.
Snyder agreed, with one rare exception: "I would certainly understand if all of those going to the restaurant were fully vaccinated, but unless you are renting out the room, it's nearly impossible to know that status."
Can Families Hire a Babysitter?
The short answer to a pandemic parent's dream? Yes, you can hire a babysitter! Rivera's recommendation would be to choose someone who has been fully vaccinated. If for some reason that is not possible, some scenarios might actually be acceptable to have an unvaccinated, masked babysitter. "For many families, parents have already put their kids to bed, and they just need a warm body to be in the house while they're out," she said. In that case, because there will be no to minimal interaction with unvaccinated kiddos, it's probably fine.
Can Families Go on Vacation?
Although vacations have long been a feasible option for families amid the pandemic, the updated CDC guidance on air travel — in which vaccinated adults no longer have to get tested before the trip or self-quarantine when they return — has left many eager to book a flight.
Rivera cautions all adults, but especially parents, from this mode of transportation. "The CDC still says to avoid nonessential travel by plane," she said. "It's still very high risk, and as airlines are trying to recoup losses from the past year, many are packing travelers into planes. There's no distancing. And even if you travel alone, without your kids, if you return home without the safeguards previously in place, like quarantining, there's still a chance you could transmit."
"We don't know in great detail the impact new variants have on children, so it is best to be patient when it comes to extensive travel with kids."
Traveling by air with children is even riskier, not just because of the exposure at the airport or on board a plane. "The tricky part is the ever-changing COVID-19 infection rates in various parts of the country and world," Mantravadi said. "We don't know in great detail the impact new variants have on children, so it is best to be patient when it comes to extensive travel with kids."
Instead, Rivera — who took her first getaway of the pandemic with her husband and two kids last month — recommended planning a vacation that reduces the variables of exposure: "Some states have very high positivity rates and some have very low rates, so see what transmission is like in the community you are planning to visit. Having that knowledge may help you decide where you are comfortable going. Then, travel by car, make as few stops as possible, stay in an Airbnb versus a big hotel, and be mindful of your surroundings."
Snyder noted that traveling via bus or train, much like planes, also increases the likelihood of potential COVID exposure, so he implores families to drive to their destination whenever possible.
Can Families Travel With Other Families?
Rivera even gives a green light to going on vacation with another family outside your household. Because such a scenario would require unvaccinated kids being indoors together, and likely unmasked, she suggested each family doing their best to "avoid last-minute exposure" in the week or two before the trip. Snyder doesn't think children should have to isolate at home if they are attending school, but he added that families should pay close attention to their symptoms in the days leading up to travel.
Although some families may be eager to get preemptive COVID tests in advance of the trip, Snyder disagreed.
"I routinely don't recommend testing if a child or a family member doesn't have symptoms because you could have been exposed but not be positive yet," he said. "Then you could get a false sense of insurance that you're negative when you're not."
Much like Mantravadi's advice with play dates, Snyder said it is wise at this stage in the pandemic to limit these types of gatherings to one other family versus two or three or even four additional families. And although the families will be sharing a rental space during the trip, his go-to recommendation is to choose a location where a lot of time can be spent outdoors versus cooped up in a living room all day.
Can Families Go Swimming?
Rivera said outdoor swimming, like at a public pool, is an activity families don't have to cross off their lists this summer. Because swimmers can't mask up, "obviously keep your distance in and around the water." As for lessons, the ideal program would be private lessons with a swim instructor who has been vaccinated and wears a face shield.
Can Families Go to Museums?
For many families, access to cultural institutions — like natural history museums, art museums, and children's museums — has been cut off or severely limited due to the pandemic. With most around the nation back open, is it a safe place to bring kids after all?
"Zoos are great, as are outdoor science centers and aquariums," Rivera said. "Again, being outside is inherently less risky than going to an indoor museum." However, she did acknowledge that a lot of these arts-and-education-based establishments are making it safer. "Many of these places have timed entry, one-way paths to follow, decreased capacity, all to avoid congestion. It's still an indoor area with large amounts of people, but they are more cautious than a lot of other places."
For families wanting to mitigate as much risk as possible, consider attending during nonpeak times, like mornings and weekdays, and steering clear of "high-touch" exhibits that children may have a hard time resisting.
Can Families Enroll Kids in Sports or Clubs?
As with all other activities, the same rules apply to extracurricular activities, Rivera said. Because outdoor activities are safer, it'd make more sense to sign up a child for little league baseball, tennis, or soccer instead of gymnastics, basketball, or hockey, if those are held inside gyms. Close-contact youth sports should be avoided, if possible, as should any choir or singing practice that takes place inside.
But what if your child wants to take an after-school art class and there are no outdoor options? Again, it's about mitigating risks. If you find an open-air studio with good ventilation and a small amount of students who all physically distanced, that feels safer than a packed class in a small basement workroom.
Finding teams and programs that mandate masks for all participants may help parents in their decision-making, particularly with sports where breathing is more strenuous.
Can Families Send Kids to Summer Camp?
The CDC just issued a seal of approval on the concept of summer camps to those parents eager to give their children some much-needed outdoor time after a year of remote schooling. In its updated guidance to camp operators, the CDC stated that campers can be within three feet of peers, but they must wear masks at all times. For activities in which masks need to be removed, such as swimming, eating, or napping, additional spacing will occur.
Snyder encouraged parents to choose camps that favor conducting activities outdoors: "The more outdoor time, the less risk, period."
Can Families Remove Their Masks When Outside?
With the hotter summer months fast approaching and many public locations already lifting mask mandates, even the most well-meaning parents are left to decode contradictory information to determine if they still really need to wear masks, particularly outside.
"Even if you are vaccinated, you should still follow CDC guidelines for public spaces," Mantravadi said. "That means physical distancing, avoiding large gatherings, frequent handwashing, and, yes, masks."
"But the truth is, with infection rates still high in much of the country, the fewer people you and your children are exposed to, the better, even if you are vaccinated."
If a public playground does not have signs requiring you to wear a mask, families — including all children over 2 years old — should still wear masks if they cannot maintain safe distance from others. Rivera shared a two-out-of-three rule to help apply this more easily: "If you are not outdoors and distanced, you need to wear a mask. If you are outdoors and not distanced, you still need to wear a mask. And if you are both outdoors and distanced, no mask is needed."
So it's OK to go for a stroll with your kids or play catch at the park without masks on, but they should be readily available in case a passerby approaches. Even an empty swing set is fair game to enjoy sans mask. However, if your child is the only one at a crowded playground with a mask, that doesn't mean your child doesn't need to wear one. In fact, to Rivera, it might mean you should consider a different playground.
"Here's the thing: the next four to six weeks will likely predict the next four to six months," she said. "So although we parents are all excited to be getting vaccinated and to resume some aspects of prepandemic life, the point is to not totally go HAM. Keep your guard up and your risk low, and then we'll be on our way to real normalcy again."