The following article was syndicated from Fatherly, a community of parents and influencers with insights about work, family, and life.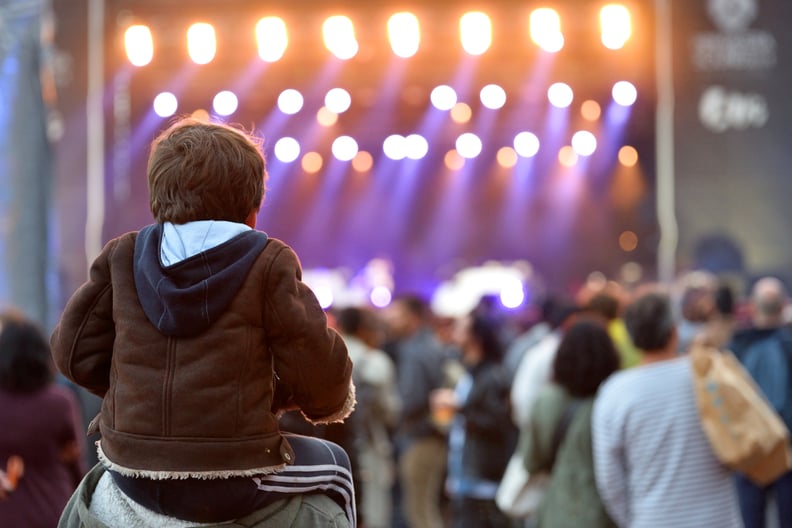 The following was produced in partnership with our friends at Spotify.
Summer music festival season is fast approaching, but you probably think your days of rocking out with the masses are over because you got all responsible and had a kid and stuff. Not so fast, Old Man — you know who else has kids now? The guys and gals who organize all those great music festivals. Here are six places you can teach your kid to twirl a glow stick and sweat profusely this summer without worrying that someone might call child services. There's also a playlist to get you hyped for their lineups, and prepare your kid to follow in your muddy, grimy footsteps.
Kids Area At New Orleans Jazz And Heritage Festival
April 22-24 and April 28-May 1
Fair Grounds Race Course, New Orleans, LA
Notable Acts: Stevie Wonder, Pearl Jam, Neil Young, Paul Simon, Beck
Of course there's an extensive kids' experience in New Orleans, where they invented bringing your kid to the show by having the show stroll up to your front lawn every weekend. "Jazz Fest, Jr." indoctrinates the next generation with children's musicians, local favorites, puppeteers, dance troupes, and Mardi Gras Indians at the Kids Tent (TBA), plus 6 more dedicated tents like the Show & Tell Tent, Land & Waters Tent, and Arts Demo Tent. And yeah, po' boys for all!
Kidsville At Joshua Tree Music Festival
May 12-15 and Oct. 6-9
Joshua Tree Lake Campground; Joshua Tree, CA
Notable Acts: Dumpstaphunk, The Main Squeeze
While smaller than some on this list, only Joshua Tree bills itself specifically as "A family-friendly global music experience." The lineup will expose kids to music from around the world, and daily programming includes yoga, a "Positive Vibration Station," and "Random Acts of Mindfulness." Kids 10 and younger get in free and enjoy all-day programs like circuses, nature walks, arts and crafts, puppet theater, and slacklining, leaving you free to vision quest among the cacti.
Kidz Jam At Bonnaroo
June 9-12
Manchester, TN
Notable Acts: Pearl Jam, Dead & Company, LCD Soundsystem, J. Cole, Judd Apatow & Friends
The big, noisy Tennessee festival has a kids' enclave with performances, interactive games, and sports — plus free earplugs, sunblock, and water! Check the Inforoo forum on the Bonnaroo message board for advice from people who've already attended with kids. Pro tip: bring a bug jar and a kazoo. Double pro tip: Splash-A-Roo, the area with kiddie pools and the Big Ass Water Slide (actual name) is not contained to Kidz Jam, because water slides are for everyone.
Kidzapalooza At Lollapalooza
July 28-31
Grant Park; Chicago, IL
Notable Acts: Radiohead, Red Hot Chili Peppers, LCD Soundsystem, J. Cole, Future
Lollapalooza's kids' festival is free for kids 10 and younger, open from 11am to 5pm each day, and features concerts from your new favorite kiddie groups like School Of Rock All-Stars and Mista Cookie Jar & The Chocolate Chips, who played last year (2016 lineup TBA). There's also arts and crafts so you can make keepsakes to remember the weekend, which probably would have come in handy during your college era festival trips.
Pickathon Independent Music Festival
Aug. 5-7
Pendarvis Farm; Happy Valley, OR
Notable Acts: Jeff Tweedy, Beach House, Yo La Tengo
Pickathon is as crunchy as its location suggests, with free water (BYO toxin-free bottle), local food purveyors with reusable plates and cutlery, and solar power. One in 10 attendees is a kid under 12, because 1) they get in free, and 2) their programming is awesome. There are circuses, crafts, nature walks, and shows just for them, plus a Family Camping Zone so they can make little hippie friends while you commiserate with their hippie parents. That's their kid busking in the trails between stages (seriously).
Austin Kiddie Limits At Austin City Limits
Sep. 30-Oct. 2 and Oct. 7-9
Zilker Park; Austin, TX
Notable Acts: Lineup TBA
One of the country's largest music festivals has a packed kids' fest that has featured everything from group percussion games to airbrushed tattoos, punk hairdos by pro stylists, and otherwise questionable behavior that becomes unquestionably awesome once loud music is playing (Check out last year's performers and programs while you await this year's lineup). Nostalgia alert: Kiddie Limits is produced by Peter DiStefano, who you'll remember as the guitarist in Porno For Pyros. Have fun explaining that to your kid.