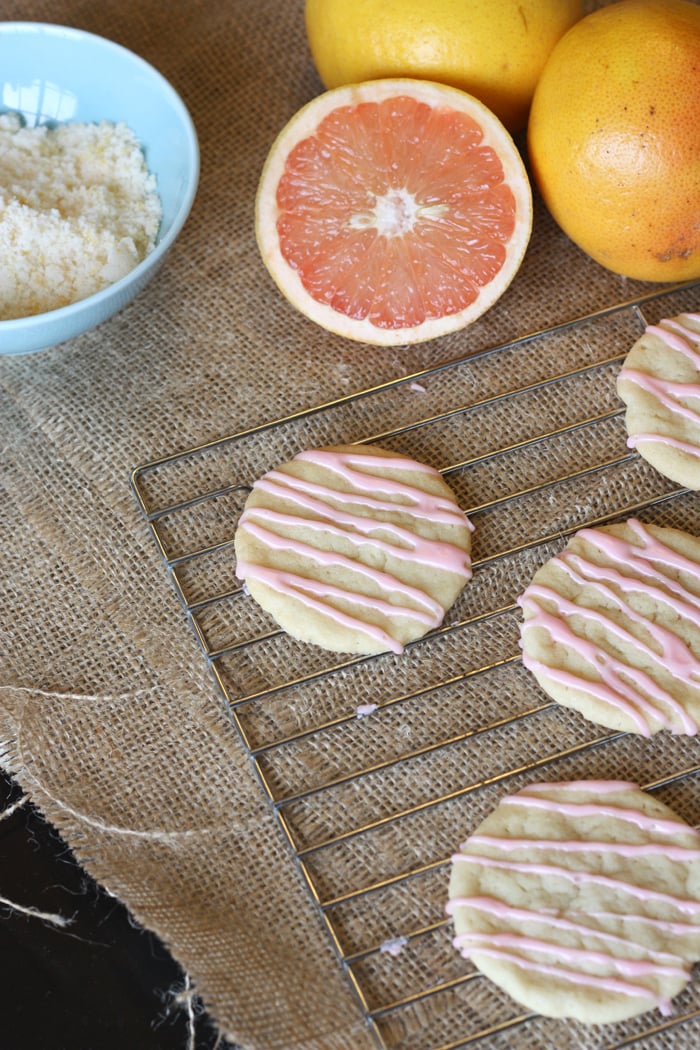 I can count on one hand the number of times I've made sugar cookies as an adult. I just don't really love them — they seem overly sweet to me and kind of bland (give me a chocolate chip cookie any day of the week!).
But this variation is fantastic; I had some store-bought sugar cookie dough on hand for a different project, and since we live in the land of citrus and are basically drowning in limes, lemons, oranges, and grapefruits, I thought I might combine the two.
The grapefruit flavor mellows out the sweetness of the cookie, and the zested sugar base on the cookie gives it a nice crispy texture on the bottom to contrast with the soft centers of the cookies.
I won't tell you how many I ate, but it was quite a lot.
Also, it appears to be a tradition now for me to post a grapefruit recipe in January (last year, it was this grapefruit sherbet, and in 2014, it was these grapefruit poppyseed muffins with grapefruit cream), so I obviously need to keep it going.
(Note: if you'd rather make a sugar cookie dough from scratch and you don't have a favorite recipe, I'd suggest this one from Mel's Kitchen Cafe. I haven't tried it myself, but the woman has never once steered me wrong.)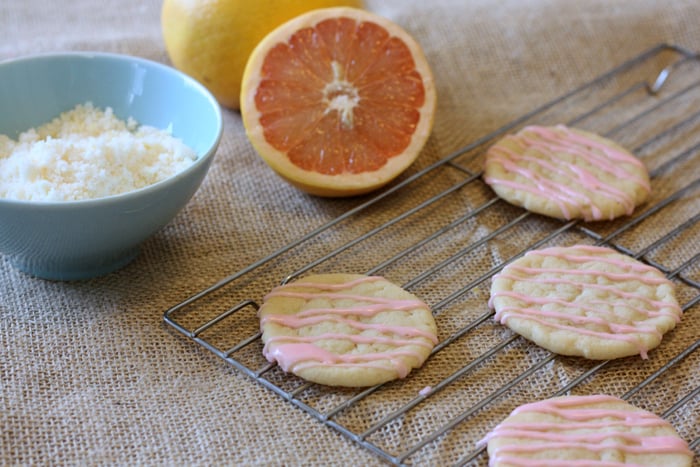 Grapefruit Sugar Cookies
Makes 2 dozen
1/4 cup granulated sugar
Zest of 1 grapefruit
1 batch homemade or store-bought sugar cookie dough (enough to make 2 dozen cookies)
1 cup powdered sugar, sifted
2 to 3 tablespoons grapefruit juice
Red food coloring, optional
Preheat oven to 400 degrees.
In a food processor or blender, mix granulated sugar and zest together until it's well combined.
Roll your cookie dough into 1-inch balls. Dip the bottom half of them into the zest/sugar mixture.
Arrange them on the cookie sheet, sugar-side down, spaced 3 inches apart. Dip a drinking glass in some flour and press the cookie balls flat until they are about 1/4-inch-thick discs.
Bake for 8-12 minutes (use the suggested time on your cookie recipe), until they are just slightly brown on the edges (try not to overbake them). Let them cool completely.
While they cool, whisk together the powdered sugar and 2 tablespoons grapefruit juice. If it's too thick to drizzle, add the last tablespoon, bit by bit. Whisk in 1 drop of food coloring if desired.
Drizzle the glaze over the cooled cookies and let them set briefly before serving.