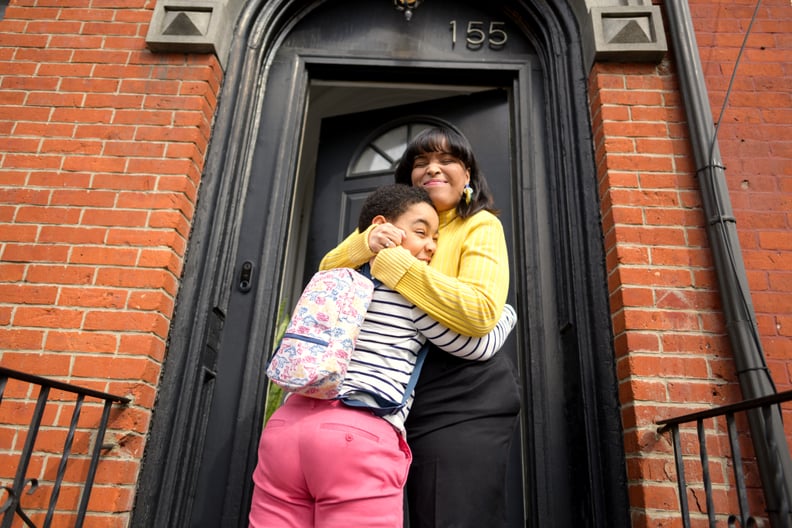 POPSUGAR Photography | Evan Kheraj
POPSUGAR Photography | Evan Kheraj
It is my off weekend — the weekend when the kids are at their dad's house, and I'm flying solo for five, count 'em, FIVE consecutive days. I love my kids, but I love these weekends. Or maybe it is just the anticipation of these weekends that I love. I envision myself getting a mani-pedi, sleeping in late and binge-watching Netflix while eating sushi and chocolate. But that's never my reality.
By the time I hug my kids tightly, bid them adieu, and send them off to Dad's house, the laundry piles are sky-high, the dishwasher is full of clean dishes to put away, and the sink is overflowing with dirty ones. There are bathrooms to be scrubbed, beds to be made, and a refrigerator that needs to be replenished. On top of the long list of catch-up chores I need to do, the kids often have sporting events on my off weekends and I want to be at every game. I almost always think these weekends will be low-key and relaxing, but that's rarely the case.
But of course, before I can tackle any of those chores, I get texts from my kids at all hours: Mom, are my shin guards at your house? Did I leave my curling iron in the bathroom? I can't find my lacrosse jersey! We can prepare, pack, and make lists all week long, but inevitably, their most important items will be forgotten when they leave. This requires lots of looking, texting, rushing, and delivering, which almost always interferes with my chores . . . which interferes with my imagined mani-pedi time.
And then there are the texts from my ex: Can you drive Molly to practice because I have to take Emmet to soccer? Did you RSVP to Tommy's birthday party? Can we please discuss the Spring break schedule? Whose turn is it to have the kids on Easter this year? So my "off weekends" are not really off at all. Even on Dad's days, I want to be 100 percent on call and available for whatever my kids need — because I am a mom 100 percent of the time.
On my court-appointed "on days," my life is filled with utter chaos. I've got three kids, their homework, sports schedules, and unending laundry piles to manage. And during these days, all three kids are often trying to catch me up on what I missed while they were with Dad. I work really hard to be 100 percent present with them and enjoy every precious second of my time with them, so I often ignore the laundry and dishes and bathrooms, and save them for my off days, when I always think I'll have more time.
What can sometimes be hardest is that no matter if it's an on or off day, I'm the only adult running the household. Sometimes I wish for someone else who could do my food shopping or check the oil in the car. I daydream about having a husband to share the workload. But I acknowledge these thoughts, dismiss them, and power through.
Of course, sometimes I yell, I'm distracted and impatient, and not much fun at all. I shake it off and try to start over before they leave, but once the kids go to their dad's, the guilt and shame sets in. It's during these days, when I don't get to tuck them in at night or see them each morning, that I'm hardest on myself as a mother. I want to run to them, hug them, kiss them, and tell them I'm sorry, but I can't; it isn't my day. And these moments don't seem to get easier with time, either.
Life as a divorcée has its own unique set of challenges, but what's so amazing is that the kids are happy. Mom is happy. Dad is happy. This wasn't the case when we were married, so I think we've found the best situation for all of our well-beings. My kids don't see us fight — at least not that often — and they get a mom who is 100 percent present when she's with them. I never imagined our vows would end in divorce, but now I can say that it was the best decision we ever made for our family — even if I never get that mani-pedi.