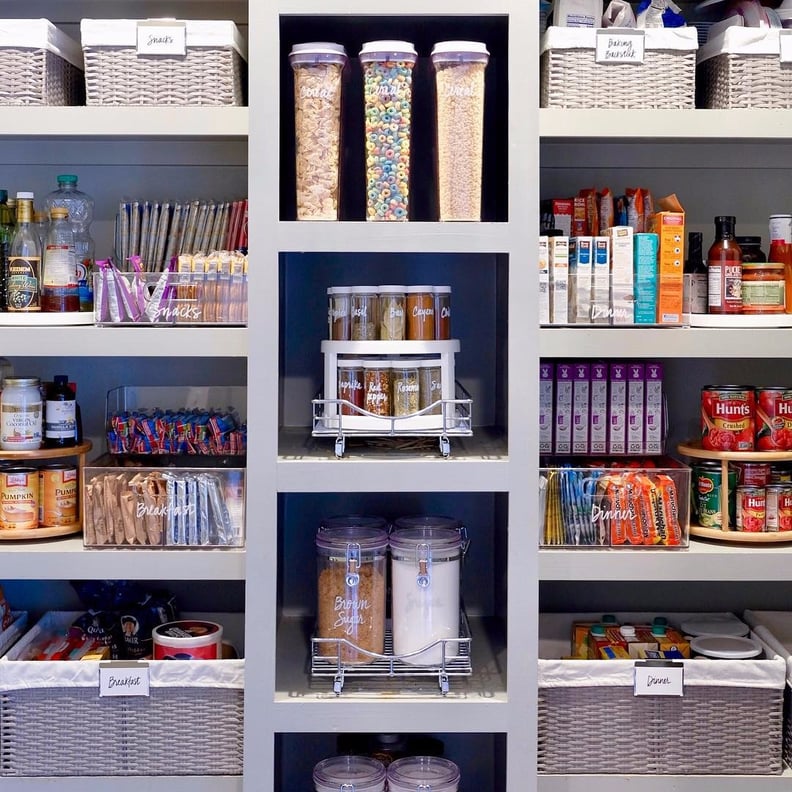 Despite how often I visited my pantry on a daily basis — for meals, snacks, and all the food prep in between — it remained one of the most neglected areas of my home in terms of organization. Most days, I felt like I was winning if I could just get everything in my pantry to fit on the shelves without falling off! But I finally tired of wasting time looking for buried ingredients and digging through the chaos for simple snacks. I decided to get a grip on the disorder.
To help me declutter, I went to the best of the best in home organizers: The Home Edit. While founders Clea Shearer and Joanna Teplin are based in Nashville, their work has attracted the likes of A-list clients all over the country, including Molly Sims, Christina Applegate, and Gwyneth Paltrow — yeah, they're so good that even Goop lifestyle guru Gwynnie sought out their help! While I couldn't fly them out to my home, I could pick their brains about what makes a great family pantry. Join me in learning from The Home Edit's must-read organization tips ahead.
Q: Are there any essential design or storage elements every great pantry has?
A: Every single pantry needs to have some form of a basket or bin to contain the general categories. Even if you like (or prefer) canisters and jars, you can incorporate a few or many to accompany the baskets.
Canisters are great for dry goods and staple items, but it's still important to have some large categories for groupings that aren't overly specific or singular. For example, a "Dinner Bin" can hold everything from boxes of pasta to cans of soup or taco shells — so you are never stuck with an item that doesn't have a home.
Q: Is there logic to your pantry layouts?
A: We like to group categories in a flow that makes sense: dinner items leading into breakfast, all the snacks grouped together, cooking and baking ingredients, etc. The top shelf of a pantry is always important to consider because it should hold backstock or less-utilized items, but also shouldn't be too heavy when reaching overhead.
Q: What is the biggest mistake people make organizing their pantry?
A: The biggest mistake is thinking you can organize your items without taking every single thing off the shelves. It's truly the only way to do it — there's just no shortcut.
Once everything is out, you can see what you have, check expiration dates, toss anything old, and combine any duplicates.
Q: Is there a secret to keeping a pantry organized?
A: Label your categories! If you label a bin as "Breakfast," it's very hard to put a bag a chips in it without feeling (appropriately) guilty. Labels are really the key to long-term maintenance.
Q: Any special pantry placement considerations in regards to families with kids?
A: It depends on whether you want kids to be able to help themselves to food or whether you want them to require assistance. We generally like to put school snacks down low and keep sweets and treats at a higher level. This allows kids to be independent when they want a snack or when packing lunches, but limits the selection.
Q: Anything families can do on a daily basis to keep their pantry in tip-top shape?
A: Make a grocery list while you're in your pantry so you can see which items are low in stock and what you need to replace. This will keep you from overbuying at the grocery store, which will not only save you money, but help streamline your pantry inventory.
Q: How can parents keep perishables kids love, like cereal or snacks, fresh?
A: Choose canisters with a hermetic seal to keep food fresh for longer! You can use glass items or BPA-free plastic — whatever fits your preferences!
Q: Do you have any tips for families with small pantries or limited space?
A: If you have a small pantry or limited cabinet space, it's important to be very cognizant of your limited space when shopping. If you overbuy and don't have the shelf or drawer space to accommodate the items, it will be very hard to stay organized.
Q: How often should pantries be given a refresh?
A: A quick 15-minute pass-through each month to weed out expired or nearly finished items goes a long way in long-term maintenance.