I have wanted to be an author for a long time. My mother is a poet and my father read to me dutifully every night at bedtime when I was a child, so I grew up with a love for words and stories. I've spent countless hours lost in bookstores, imagining how it might feel to spot a book I had written on the shelf. If that story connected with a single reader and brought them a moment of joy, hope, or the feeling of being less alone, it would be worth it, I thought. But I kept this dream private, stashed safely away.
At the time, writing felt too risky, too frivolous. Besides, baring my soul on the page terrified me. Instead, I went to college and pursued a career in architecture, which seemed like a good blend of practicality and creativity. I helped design libraries and schools — wonderful places full of books. I loved my work, yet a part of me still held onto my writing dream.
Years later, during a sabbatical, I decided it was now or never. I began to write in earnest. This time, I told people about my plans. Some scoffed at the idea and rolled their eyes, but most were supportive and cheered me on as I cranked out a first draft. I was proud of that book, but soon realized it was a mess. A complete disaster. So bad that I had to scrap the entire thing and start over. But before I did that, I had a LOT to learn. I began reading voraciously. I joined critique groups, enrolled in classes, and immersed myself in the writing community. I learned the ins and outs of the publishing industry. Finally, I felt ready to dive in and try again.
Then I got pregnant.
This wasn't a surprise. In fact, my husband and I had been hoping to start a family for nearly two years, with much heartbreak along the way. So we were overjoyed to welcome two daughters into our lives, one shortly after the other. But with babies and toddlers comes sleep-deprivation, frayed nerves, and that all-encompassing milky-blur of parenthood.
Despite this, I carved out slivers of time to write. When I returned to work part-time, I brainstormed plot twists during my commute. At home, I jotted ideas in my notebook while breastfeeding, tested out lines of dialogue by singing them into lullabies. When naptime finally became a more regular occurrence, I would type scenes as fast as my fingers would allow.
Each time we went for a drive, I packed a fully-charged laptop along with bottles and wipes in the diaper bag. On the rare occasion both girls fell asleep during our errands, I would pull over, park, and write. Usually, this allowed me to draft one chapter at a time. Sometimes less. It was challenging to maintain a narrative across constant interruptions, and it wasn't the most efficient system by a long shot, but it was something. And I loved it.
Slowly a story about a mysterious apple orchard and a pair of inseparable sisters took shape. One day, miraculously, I typed the words THE END. I stared at the screen in shock. Instead of Champagne, I celebrated with a long overdue nap of my own.
Of course, the work had only just begun. After several rounds of revision, I sent the manuscript to literary agents. A handful responded and said they wanted to represent my work. A career as an author began to feel less like a dream and more like a possibility. I signed with an agent and began the grueling task of revising the manuscript yet again. And again. The revisions took me nearly a year. Finally we felt the manuscript was ready to submit to publishers. It got some interest, but no offers. Rejection letters piled up faster than dirty diapers. I was disappointed, but I tried to think about the advice I would give my own daughters if they were faced with a similar situation. I would speak with them about perseverance, patience, and resilience. I owed myself the same.
Unwilling to give up, and buoyed by my husband's unwavering support, I poured my energy into a new story. I started over . . . again. I wrote during naptimes. Line by line. Page by page. Chapter by chapter. In seven months, I finished another manuscript. My agent was preparing it for submission when an editor named Alix Reid reached out about the other book — the one I thought was a dead end. Alix, who edited the Newbery Honor book, Ella Enchanted, said she loved the story and wanted to publish it. I nearly fainted. I cried. Then I danced around the kitchen like a complete lunatic. And this time, I definitely drank some Champagne.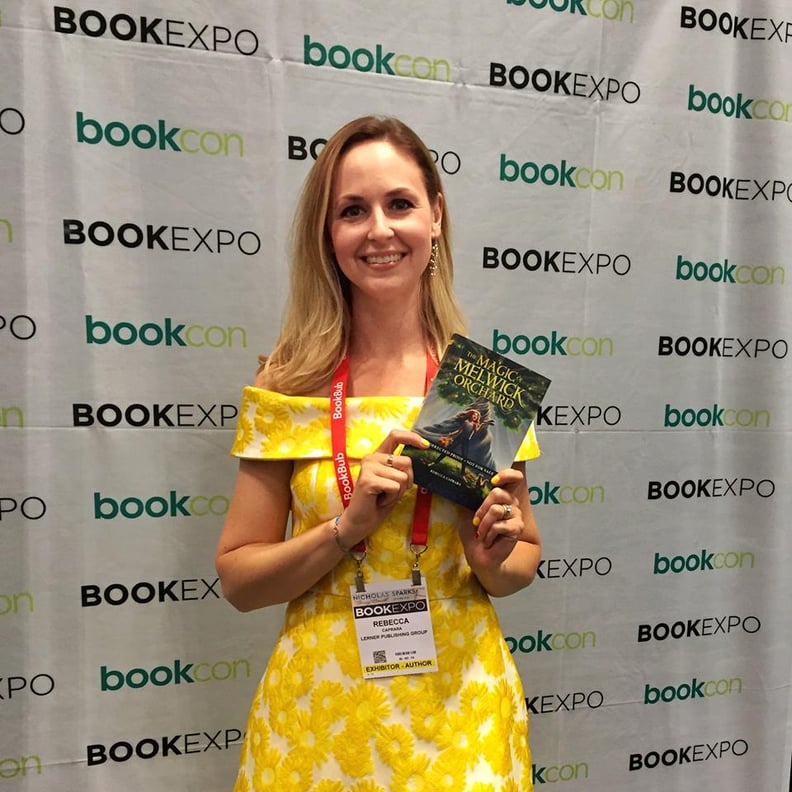 On September 1, 2018, nearly five years after I started it, my debut novel, The Magic of Melwick Orchard, will officially hit shelves. Maybe it will even make its way into some of the libraries and schools I helped design. Most importantly, I hope it will bring readers joy and hope and the feeling they are not alone. I also hope fellow parents who are madly multi-tasking and putting everyone else's needs before their own will take a minute here and there to invest in their own dreams. Slivers of time add up. Who knows what you could create.
Oh, and that other book I wrote because I was too stubborn to give up? It recently sold in a 2-book deal, with titles set to release in 2020 and 2021. Just like parenting, writing is an uphill climb, an unpredictable juggling act, and a labor of love every single day. I wouldn't trade either for the world.
Rebecca Caprara graduated from Cornell University and practiced architecture for several years, before shifting her focus from bricks to books. Her debut middle grade novel, The Magic of Melwick Orchard, will be published by Carolrhoda Books, an imprint of Lerner Publishing Group, in September 2018. It's available for pre-order now from IndieBound, Amazon, Barnes & Noble, and more. Learn more at www.rebeccacaprara.com or connect with her on social media @RebeccaCaprara.