I Went on Vacation With My Mom For My 30th Birthday, and It Was 1 of the Best Things I've Ever Done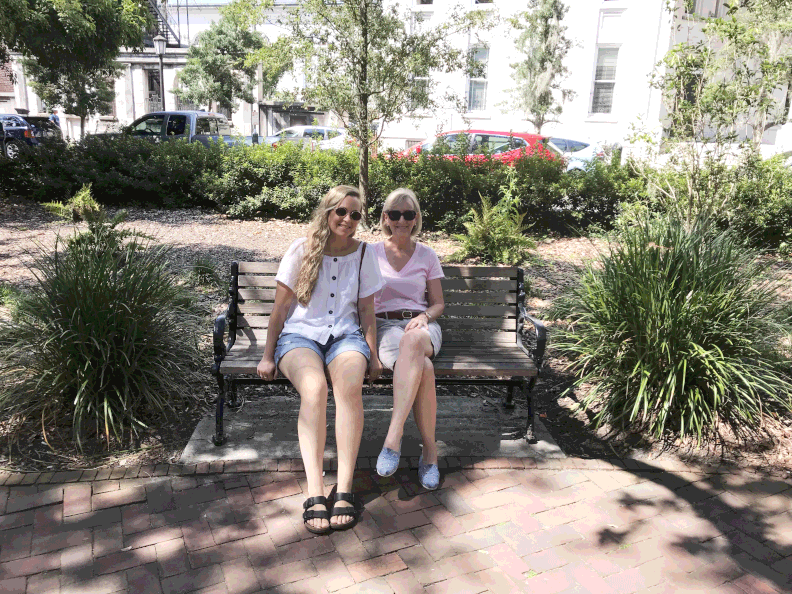 Caitlin Gallagher
Caitlin Gallagher
A few weeks before my 30th birthday, I knew I wanted to get away. I am married and have a sister and a small group of best friends who would have happily jumped on board if I'd asked them to take a little trip with me to celebrate my milestone birthday, but I didn't ask anyone — not even my husband. My plan all along had been to fly somewhere new by myself. I wanted to find adventures on my own and reflect on everything I'd done in my 30 years . . . and think about everything I still wanted to do. I love being by myself, and I thought my 30th birthday was the perfect time to do that.
I love learning about who my mom is outside of just being my mom. I asked her questions about her high school and college days, old boyfriends she had, and dreams she still wants to accomplish.
As my travel plans started to come together — I was going to fly down to Savannah, GA, for four days — my mom asked for details. A natural worrier, she's never been keen on me going places by myself, but since I'm a natural wanderer, that's never really stopped me. After answering questions about what I planned on doing and where I was staying, she sweetly asked, "Can I maybe come with you?" While going alone was what I originally wanted, I said "yes" without hesitation. The thought of a girls' getaway with just me and my mom suddenly felt like the perfect fit. I mean, what better way to celebrate turning 30 than with the woman who gave birth to me?
So, my mom and I traveled down to Savannah for the long weekend, and it was honestly one of the most special trips I've ever taken. I'll admit that turning 30 was a bit of a weird one for me. I've never been one to dread it, but my soul still so strongly feels 16 that "growing up" just doesn't seem to fit quite right. I imagine I'll feel that way forever, so having my mom with me was actually pretty perfect. She's the security blanket I will always need, no matter how old I get.
Our four days together were ones I will cherish forever. We wandered the charming streets of Savannah, went on a ghost tour late at night, ate ice cream too early in the day, took a spontaneous road trip to the beach, and got all dressed up for a fancy birthday dinner in an old Southern mansion. But the best part? We talked. Now that I'm older, I love learning about who my mom is outside of just being my mom. I asked her questions about her high school and college days, old boyfriends she had, dreams she still wants to accomplish, stories from my childhood, and so much more. In the last decade of my life, we've become more than mother and daughter. She's truly one of my best friends, and our weekend away together brought us that much closer.
But it also meant more to me on another level. My husband lost his mom to cancer two years ago, and my mom talks all the time about how much she misses her own mom, who died when I was 13. They both say things like, "I wish I could just talk to her one more time" or "I would give anything for five more minutes" or "I want to ask her this question so badly. She would know what to do." I think about this often, and am reminded how lucky I am to still have my mom with me. I want to hear all of her stories while I still can. I want to soak up all of her wise motherly advice while I still can. I want to take advantage of those precious five minutes while I still can. One day I know I'll wish I'd paid attention to her more, soaked up her quirky details that make her my mom. Like the way she can never resist a scone, no matter how full she is. Or how she unknowingly frowns while watching TV. Or how I definitely inherited my clumsiness from her, the woman who can trip over a tiny crumb. I want to know her, and I want her to know me. And taking a trip with just my mom gave me all of those things and more.
While I definitely still plan on traveling alone from time to time, I also plan on traveling with my mom more. There are so many stories left to tell, so many questions left to ask, and a hell of a lot of ice cream left to eat before lunch. And because I'm not 16 anymore (at least on the outside), she'll get the spoons and chocolate sauce instead of telling me not to ruin my dinner.