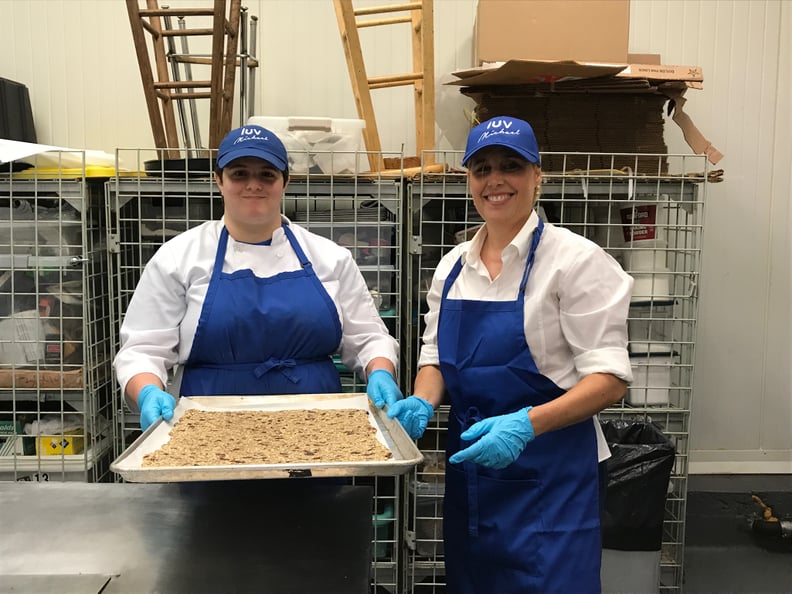 Granologist Donna and Dr. Lisa Liberatore.
Granologist Donna and Dr. Lisa Liberatore.
Luv Michael was a dream that derived from two things: food and love. When Dr. Lisa Liberatore and Dr. Dimitri Kessaris's son Michael, who was diagnosed with autism at age 2, was growing up, they feared he wouldn't be able to have a career that personally and professionally fulfilled him. "[When Michael was in school], I realized that he would be graduating in just four short years," Lisa told POPSUGAR. "I knew we needed to think outside the box [when it came to finding him] meaningful employment." Instead of putting Michael in a job he may not like, Lisa and Dimitri let his passion for cooking lead the way. But because local culinary schools weren't equipped to train someone with autism, she and her husband came up with the idea for Luv Michael.
Luv Michael, which is based in Long Island City, is a food-based company that produces homemade, organic granola. In addition to Michael, the company employs other young adults with autism, offering them culinary, sales, customer service, and life skills training. Their team, whom they've dubbed "granologists," produces 120 pounds of granola each week for local grocery stores and food chains like Fresh&co and also for major companies like Starbucks and JetBlue. And they're just getting started. "Great things can happen when you give something and someone a chance," Lisa explained. To learn more about the amazing company and the strides it's making in disability employment, keep reading.
POPSUGAR: Where did the idea for Luv Michael come from?
Lisa Liberatore: When Michael was 17, I realized that he would be graduating from his school in only four years and there was little being done to give him meaningful employment. Since he showed interest and ability while cooking at home and at church, we thought why not help him learn to be a prep chef. I quickly saw that we needed to think outside the box since traditional culinary schools were not equipped to teach someone with autism. We started in our home and then created the idea of a home business. Granola was chosen since its recipe didn't include using knives, and I wanted to have an ability to include his other friends with autism.
The name Luv Michael references giving a present to someone else, and that's something that needs to be taught to someone with autism, i.e. thinking about others and their feelings.
PS: What was the biggest obstacle in getting it off the ground and getting people to really listen?
LL: The biggest obstacle was having enough time and money while also having a full-time medical practice and raising a son with autism. My husband and I needed to work to help pay for a startup venture, but I also needed to be the one to create this project since I have both the passion and the idea for how to do it differently than other businesses, and I understand autism having raised my son for over 20 years now.
Anyone I present the idea of Luv Michael to gets what it is right away and how wonderful the mission is, but what they don't realize is how much a project like this costs to run, but more importantly, to sustain. Businesses may want to help, but most are interested in the bottom line and profits. We're doing everything that traditional businesses don't, and we also need more support staff and a special education teacher on staff to achieve our goals.
PS: What has the response been like from your employees and their families?
LL: We started with just Michael, my nephew Christian, and another young man who graduated from the same school as Michael, but very quickly parents started to search for opportunities for their young adult children and saw what Luv Michael was trying to do. We give tours to interested parents and their child every week and see the tears in their eyes when they experience firsthand what we're doing and achieving. The employees, who we call "granologists," are hired after a few weeks of a working interview, and that's always an exciting, goosebumps type of day!
PS: How do you make sure your work environment is inclusive for people with disabilities?
LL: We found that our employees do better in a very structured environment with a lot of visuals and clear direction. We understand their challenges and focus on teaching skills to reduce anxiety and help them focus. There's a spirit of love, understanding, and patience, which everyone at Luv Michael brings to their work.
PS: What is the hiring process like?
LL: First, the interested person takes a tour and spends the day with us. If they like the experience, which so far everyone has, we offer them a volunteer position, which is like a working interview. Over the next several weeks, we both see if it's a good fit. Then one of the granologists presents a chef uniform and a job offer to the unsuspecting volunteer. We also let their parents know so they can witness the special day.
PS: How big of a role does teamwork play in your employees' day-to-day?
LL: We have a small, dedicated team that goes above and beyond each day to think about how to make the work place better, more stimulating, and rewarding for our employees.
PS: What different career growth opportunities do you offer your employees?
LL: Our granologists learn so many skills that we organized it into a five-prong curriculum, including food safety and science, communication and sales, IT and software skills, wellness and soft job skills, and creative arts. Our granologists can work towards passing the NY state food handlers license or become managers with increased pay. They may also transition to other job sites utilizing the skills derived from their Luv Michael employment.
PS: What would you say to other employers who aren't sure about hiring someone with a disability?
LL: Our employees are so dedicated and come to work on time and prepared to work with their uniform pressed and ready. They're proud of having the job and getting paid. They're never distracted by their cell phones at work. They show initiative all the time. For example, one of our granologists, Obi, did a trial run taking the train on his day off to make sure he would be on time for his shift the following day!
PS: How do you think different workforces can be more inclusive when it comes to hiring people with disabilities?
LL: If a business wants to hire someone with a disability, it's important to know what the challenges of that disability are to be able to support it. In the case of autism, it means giving employees clear visual schedules and direction. We also recognize there can be sensitivity to certain sounds and light, which needs attention. It also helps for the employee with a disability to have a peer mentor, preferably someone within the organization.
People with autism are very attentive to details and correctness, and many have incredible endurance as well as artistic talents. They can really thrive in so many areas beside the culinary field, such as woodworking and restoration, other fine arts fields, gardening and landscaping, IT and data work, and even dog walking!
PS: What do you feel is a common misconception people may have about people with disabilities? What do you want to say to people with those misconceptions?
LL: Many people think that people with disabilities can't work or don't care about working, and that is very untrue. Our granologists care about getting a paycheck and their job. They are productive and bring joy to those around them. Many people with disabilities have talent and just need a chance. The right job may take trying some things out to see what works best for that individual.
PS: What's one moment that really stands out to you that proved you're really changing the world for these individuals?
LL: The moment that hit me hardest was recently receiving letters from the parents of our granologists telling me how Luv Michael has changed their lives. I cried while reading them.
PS: What do you want other individuals with disabilities to know about following their dreams?
LL: Individuals with disabilities should ask those around them to help find opportunities like Luv Michael to discover what makes them happy at work. Great things can happen when you give something and someone a chance. You may never know what you're really good at or passionate about until you try!
PS: What advice do you have for other parents who aren't sure where to start when it comes to making sure their kids can have independent lives and fulfilling careers?
LL: Various agencies will allow a child to try different jobs to see what fits best for them. If they're in New York, feel free to contact us at info@Luv Michael.org to see about coming for a day tour. Our plan is to create a replicable model by Fall 2019, and thereby allow other families to have a Luv Michael in their town.
PS: What is your favorite part about your job?
LL: I love seeing a new person getting hired. That is an incredible day for everyone. I also love creating new opportunities within our business as a response to what will make our granologists even more successful and feel rewarded by their job.