Chrissy Teigen Shared a Monthly Milestone Photo of 482-Month-Old John Legend: "They Grow Up So Fast"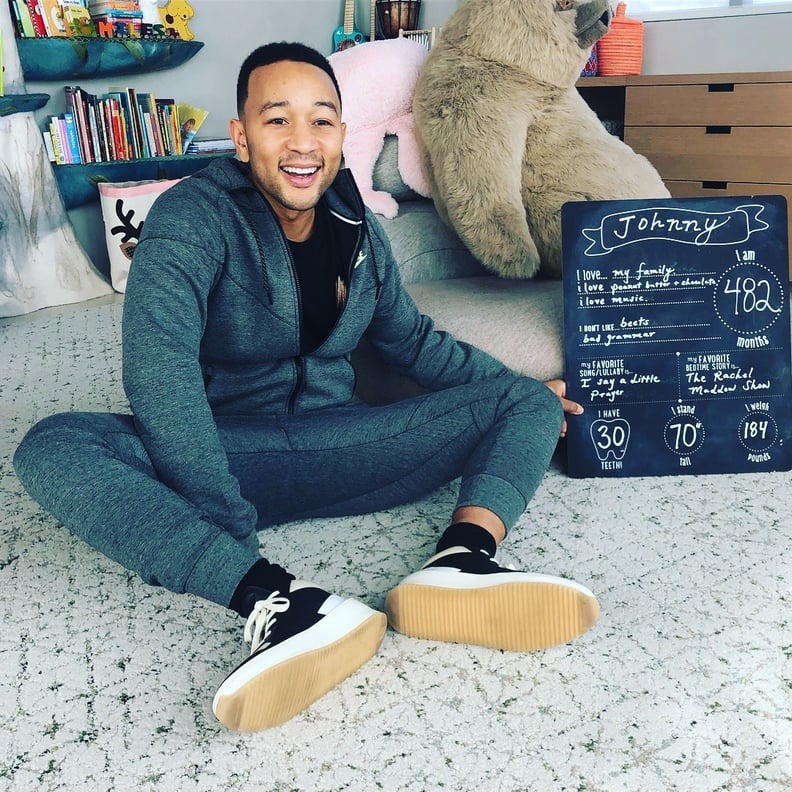 Chrissy Teigen celebrated her baby Miles's 9-month birthday the way many Pinterest-obsessed moms do — with a monthly milestone photo shoot, complete with a personalized chalkboard of stats. But, it seems another family member was getting a wee bit jealous of all of this little one's attention. And, nope, we don't mean big sister Luna.
It appears John Legend wanted in on the monthly milestone action and got his own chalkboard photo op. (OK, on second glance, what's more likely is that Chrissy orchestrated the whole thing and John is just a very good sport.)
When Chrissy posted them both to Instagram, she hilariously captioned the one of her husband, "Wow, they grow up so fast."
Whereas Miles loves bath time and "toys with music noises," 482-month-old Johnny loves peanut butter, chocolate, music, and "my family." Miles doesn't care for quinoa whereas little John dislikes beets and bad grammar.
In a possible slight against his dad, Miles's favorite song isn't by the Grammy winner. Nope, he's "Baby Shark" all the way.
Take a peek at both boys' photos — and while there's nothing cuter than an actual baby, we have to hand it to John for perfectly copying his mini me son's style and really nailing that pretoddler pose.
Chrissy Teigen's Monthly Photo of Miles
Chrissy Teigen's Monthly Photo of John