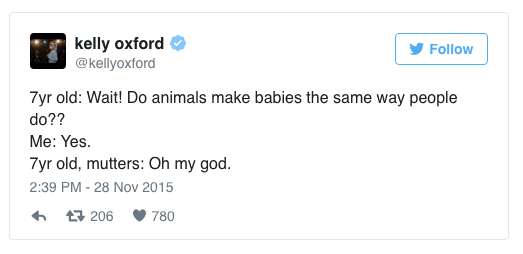 Twitter | kellyoxford
Seven-year-old Bea is keeping her mom, Kelly Oxford, firmly on her toes. "If you've ever wondered what it's like to raise a kid in LA" is one of Oxford's most common sayings on Twitter, which has come after anything from Bea informing her that her second BFF at school is McDreamy's daughter from Grey's Anatomy to being asked if there's such a thing as weed ice cream. Between her thoughts about vegetarianism to conversations surrounding her love of watching Keeping Up With the Kardashians, Oxford has tweeted all of Bea's solid gold musings out to the world, and we can't stop laughing.
Read through for 20 times Oxford's priceless tweets about Bea cracked us up.
01
When she learned the hard truth about female anatomy:
02
When she couldn't believe she said that out loud:
03
When she got dangerously curious about cannibalism:
04
When she knew how to spot a real from a fake:
05
When she got duped on Halloween:
06
When she made a lot of sense in a sassy way:
07
When she maybe didn't read the book after all:
08
When she was testing her mom's reactions:
09
When she didn't see anything wrong with watching reality TV:
10
When she cracked the science behind The Bachelor:
11
When she may or may not have revealed her future evil plans:
12
When she got excited about the little things:
13
When she thought she was being asked a trick question:
14
When she was toying with the idea of vegetarianism:
15
When she got real about her mom's Canadian upbringing:
16
When she realized that we're all just animals:
17
When she got real about people's life choices:
18
When she addressed a serious dispute:
19
When she asked her mom to check her social media habits at the door:
20
When she proved her age by sharing her favorite David Schwimmer role: