Something Surprising in This Grieving Widow's Maternity Photo Is Making Everyone Do a Double-Take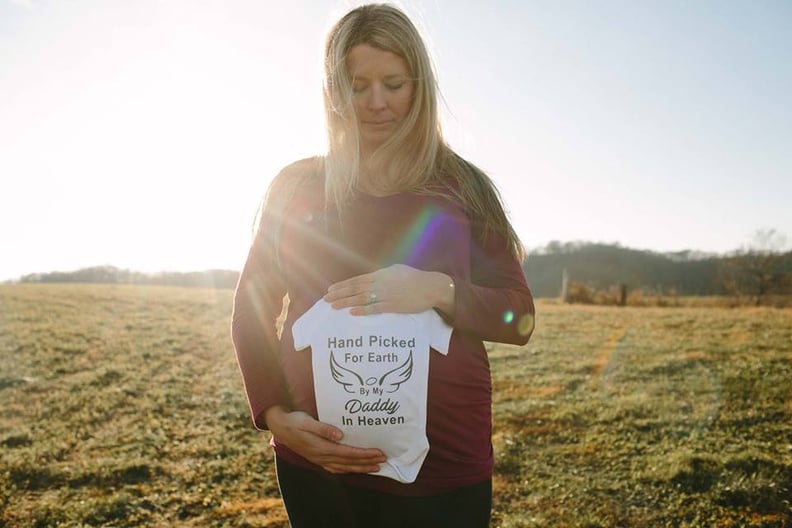 Jessica Brandau Photography
The last year has not been kind to Kelly Luethe, a mother of two with one on the way. After having a miscarriage earlier in the year, she lost her husband, Jarrett, in a tragic car accident in August while 18 weeks pregnant with their rainbow baby. Despite going through unspeakable heartbreak, Kelly decided to have a maternity shoot to celebrate her pregnancy, and the results prove that although Jarrett might not be there physically, he's very much there with his wife in spirit.
In several of the gorgeous photos you can see a rainbow, and if you look hard enough, you can even make out an orb in some frames. Kelly shared with POPSUGAR just how shocked she was when she saw the photos for the first time.
"My photographer, Jessica, first showed me one of the pictures she had taken while we were doing the shoot and I immediately noticed [the rainbow] was above my belly," she said. "Jarrett and I had a miscarriage earlier this year, so this is our rainbow baby. [I saw the rainbow first] and knew Jarrett had something to do with it. It gave me and Jessica goosebumps and I even started to get teary-eyed."
Kelly says it's truly "indescribable how hard [the last year] has been," but that's why she knew that she wanted to do something important to commemorate her late husband. "What I initially wanted to get the photos done for was to have my husband photoshopped in and be 'faded' . . . in [the] pictures," she said. "I didn't get maternity pictures with our other two children, but I just felt like if I could keep my emotions together that I wanted to do this."
Although Kelly believed in God before having the photos done, seeing the rainbow and orb in the pictures had a profound effect on her. "I did believe, but not as strongly as I do now . . . This happening to me has restored my faith completely," she said. "Ever since Jarrett's accident, I'd been longing for a sign from him. My faith was being tested. He would have done anything for me when he was still alive and I believe he knew I needed this and he is still taking care of me after he has passed."