This Tough Mom Battling Breast Cancer Is Proof That Childbirth Can Happen After Chemo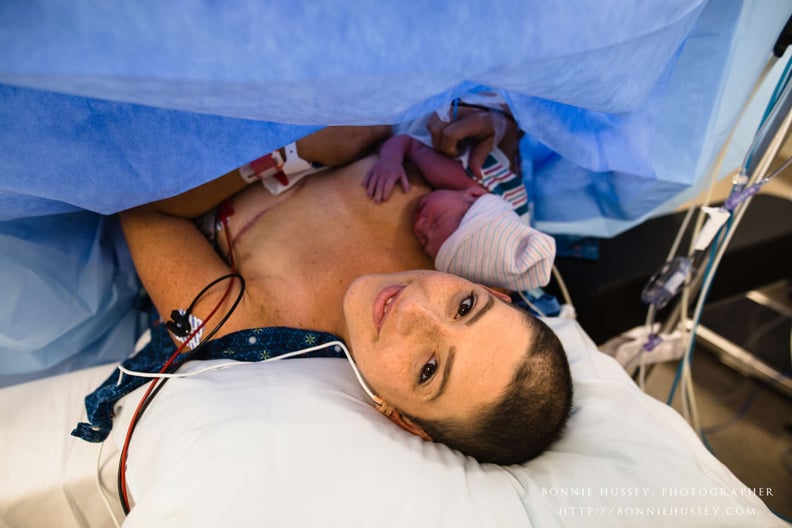 Bonnie Hussey
A few months into her pregnancy, Maria Crider was diagnosed with breast cancer. The unbelievably tough mom underwent a unilateral mastectomy, several rounds of chemotherapy, and radiation before giving birth to her son Logan through a planned cesarean in April. "It's been an emotional rollercoaster," she told HuffPost.
Maria said she was relieved to give birth to a healthy baby. "His delivery was confirmation that everything the doctors had told me was true and that he was perfectly healthy," she said. Following the C-section, Maria was able to hold Logan while doctors completed the surgery. She also attempted to breastfeed at the suggestion of her postpartum nurses, although it was difficult given that she had gone through chemotherapy.
Maria was able to safely receive treatment through her third trimester; however, she will have to resume it now that she's given birth. "I still have ways to go before I can put this part of my life behind me," she said.
The emotional birth was photographed beautifully by Bonnie Hussey. Every year, the birth and postpartum photographer offers a free session to several women. After hearing Maria's story, Bonnie knew she wanted to photograph her birth.
Maria also felt it was important to share her birth story with others. "I want it to give them reassurance that you can go through certain treatment while pregnant." She added, "Logan is proof, and he's just one of hundreds of babies born after chemo."