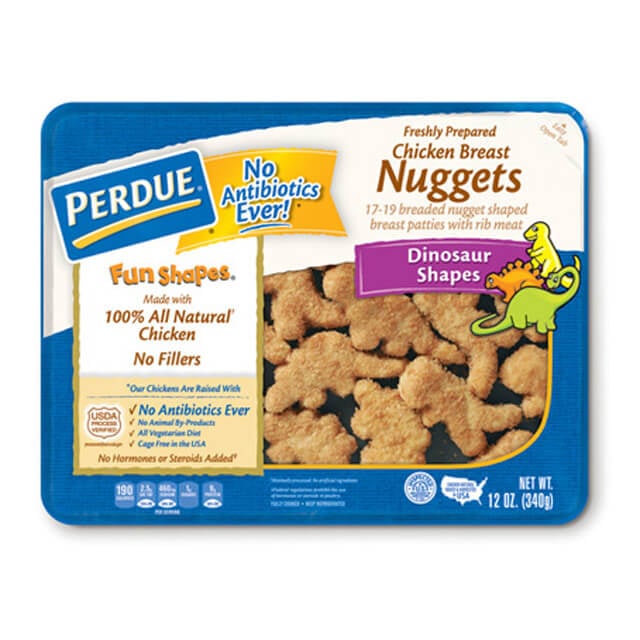 Perdue
Perdue
Check your kiddo's dino nuggets, ASAP!
Perdue is voluntarily recalling over 16,000 pounds of its Fun Shapes Refrigerated Chicken Breast Nuggets, which come in dinosaur shapes, "because of misbranding and an undeclared allergen." The recall does not affect frozen, fully cooked chicken nuggets.
"These items were produced with the wrong back panel label and have an incorrect ingredient statement that did not have the milk allergen declared on the package," reads the recall. Jeff Shaw, Perdue's Vice President for Quality Assurance, said: "After receiving a customer inquiry, we conducted a comprehensive investigation and have isolated this to an error during a specific time frame of the production run of Perdue Fun Shapes Refrigerated Chicken Breast Nuggets. Out of an abundance of caution for our consumers, we have decided to recall these items that were sold in the refrigerated case."
The affected product had a lot code date stamp range of 17009010-19009010, a "use by" date of March 11, 2019, and the UPC Code 72745-00129 (the correct Perdue Fun Shapes UPC Code is actually 72745-00107). If you have any of these recalled packages, you can contact Perdue Foods at 866-866-3703 for a full refund.