Baby Was Born in Front Seat of Car in Its Own Amniotic Sac — and It's the Definition of a Miracle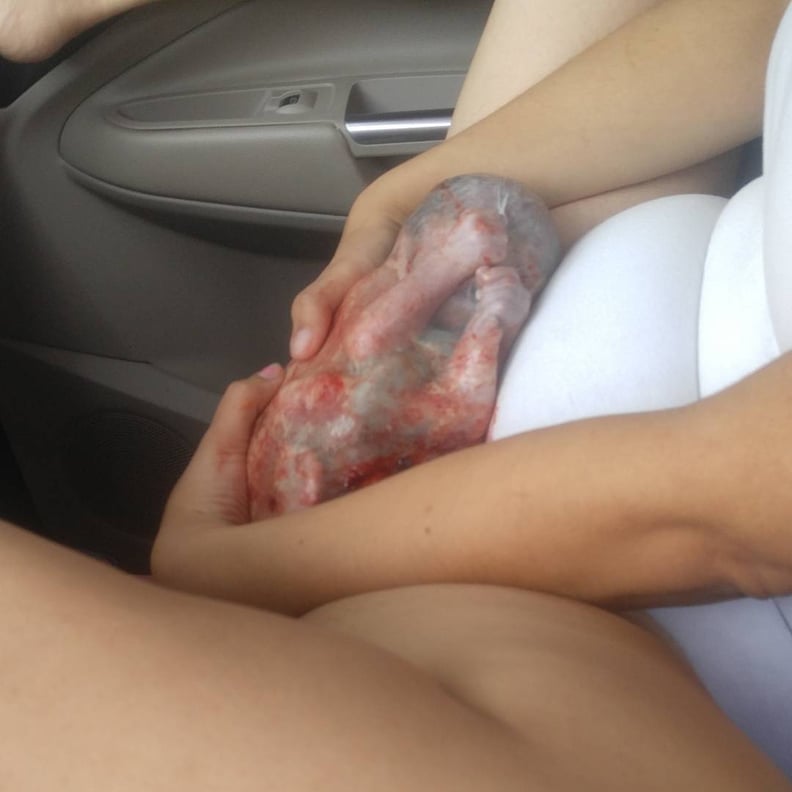 Raelin Scurry
Raelin Scurry
Giving birth in a car is incredibly rare, and a baby born en caul happens fewer than once every 80,000 births — they typically only ever occur in the most carefully controlled C-sections because the amniotic sac is so delicate. So giving birth to a baby in the front seat of your car while your partner is driving to the hospital and then looking down to see the newborn nestled entirely within its own sac has got to be impossible.
Not so for Raelin Scurry.
At just 29 weeks pregnant, she felt what she thought were Braxton Hicks contractions, but after 45 minutes of consistent pain, she decided to have her fiancé, Ean, drive her to the hospital.
"The contractions continued to get closer together and more intense, and before I knew it, I knew it was time to push," she wrote on Instagram. "I called 911 because I was so scared. They couldn't understand me between the screams with contractions."
She handed the phone to Ean and pulled her pants off. When she reached down, "sure enough," she felt the baby's head.
"I pushed one time and my miracle baby was here," she wrote. "When I looked down I realized he was still completely wrapped in the amniotic sac."
Her fiancé was still driving at this point, and although the 911 dispatcher instructed them to pull over, Raelin knew they'd get to the hospital quicker. They kept driving.
"I was so scared — at first the baby was still and all I could do was pray he would be OK," she admitted. Then, through the sac, she connected. "I rubbed his face with my thumb and he pulled his little hands and feet up to his face as if he understood my prayers and wanted to reassure us he was OK."
For the next seven minutes, until they pulled up to the hospital, her baby boy remained in the delicate sac.
"I let the doctors open it when we got to there — they opened it right outside of the hospital," Raelin told POPSUGAR. "I knew he wouldn't be able to breathe on his own with him being so early, so I left him in there."
Thanks to her incredible instincts, her premature newborn, who was born at just over three pounds, is "doing wonderful, all things considered."
Raelin added, "After all he went through, I know he's going to be an awesome little man. He is truly a miracle baby."