These Photos of Women Sporting Mesh Undies Prove New Moms Are Freakin' Awesome
Whether you've already actually given birth or not, pushing a human out of you is a whole lot of work and does a serious number on your body. And while women used to be mostly hush-hush about everything that goes into postpartum care for new moms, there's recently been an uptick in candid photos highlighting what those few weeks post-birth are really like.
Although it may seem a little too intimate to share for some, both celebrities and everyday mamas alike are snapping photos of themselves donning their hospital-grade mesh underwear. The images are relatable and inspiring. Choosing to share a not-so-glamorous photo of yourself in see-through underwear that's likely housing pads and hemorrhoid wipes changes the conversation surrounding childbirth; it helps normalize the idea that women actually need time to recover after bringing new life into the world. Look through to see what we mean.
Ever since giving birth to her son Gene, 38-year-old comedian Amy Schumer hasn't shied away from sharing her new-mom life on social media. She paid tribute to the mesh undies she was sent from the hospital with, captioning the photo, "5 weeks. Hospital underwear for life!" Kristen Bell even chimed in with a "YESSSSS," confirming that the panties are borderline life-changing.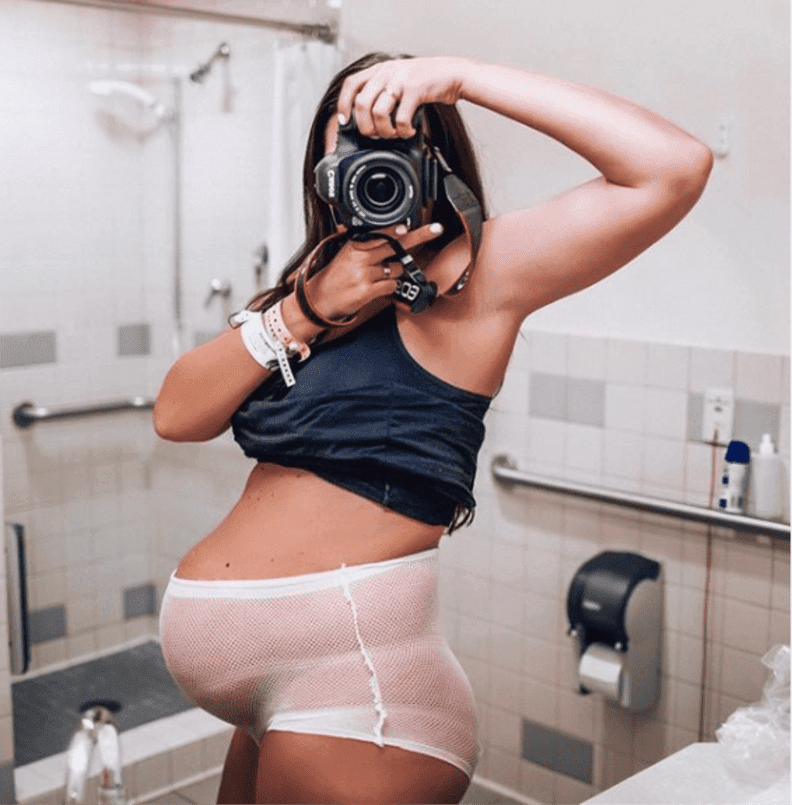 Jayme Pierce, a mom and influencer, recently shared an empowering photo of her body after giving birth to her son Brody. "Oh. My. Goodness. This is me right after I gave birth to Brody. That's right, POST-birth," she wrote. "Whenever I doubt myself or feel bad about my postpartum body, I can look at these pictures and remind myself how badass I am. Mesh undies and all."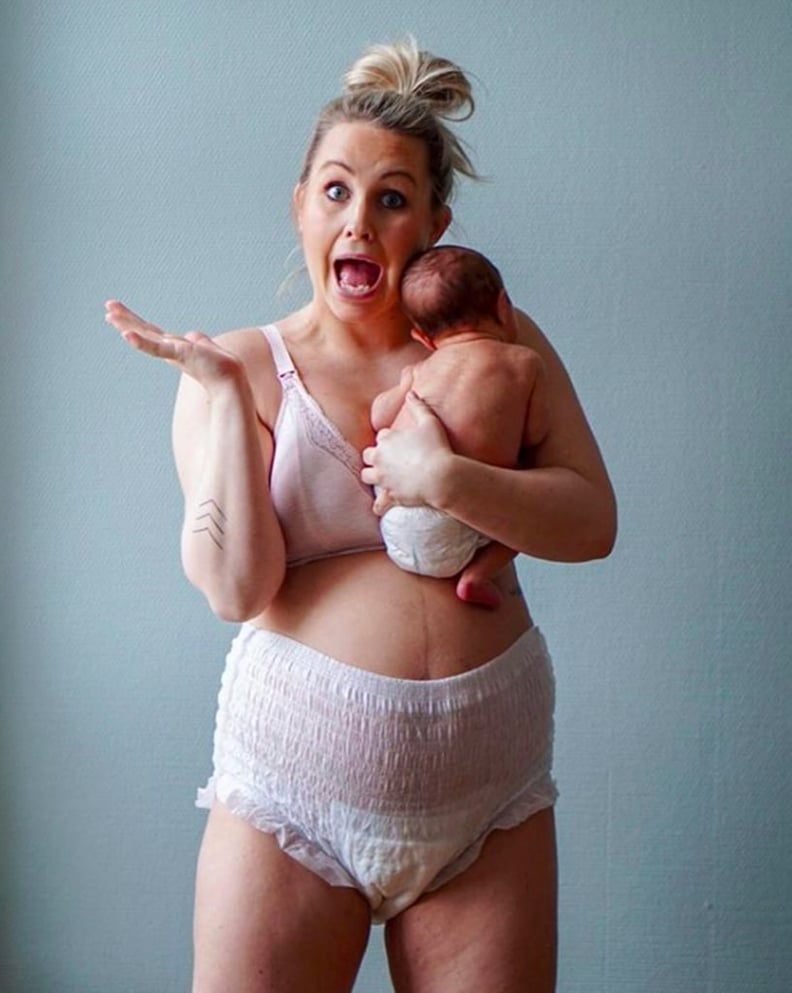 Mom of two Kristen Bell has also shared some precious moments in mesh undies. Back in 2017, she shared a photo of herself pregnant with her daughter Delta followed by a snap of she and husband Dax Shepard (scroll to the right!). She captioned the pictures, "Three years ago today. 47 lbs heavier. Getting through painful contractions with back rubs and breathing. Occasionally swinging from the IV pole to try and feel sexy and open up my hips. After 36 hours of labor I met a girl i love more than all the molecules in all the world. Happy birthday, Delta. Love, Mom."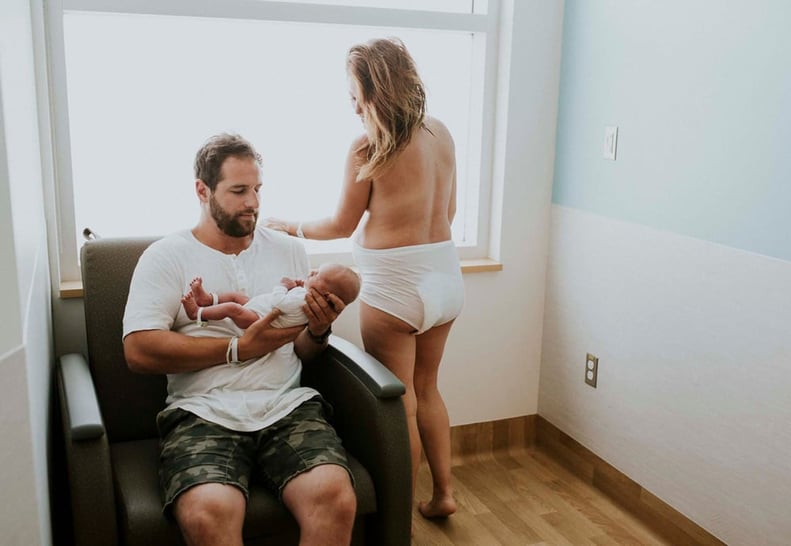 After HGTV star Jillian Harris welcomed her son Leo in 2016, she shared the details of his birth story on her blog. Aside from some gorgeous family photos, the mom also shared a snapshot of what post-birth really looks like: mama wearing mesh undies while her new bundle of joy bonds with his dad!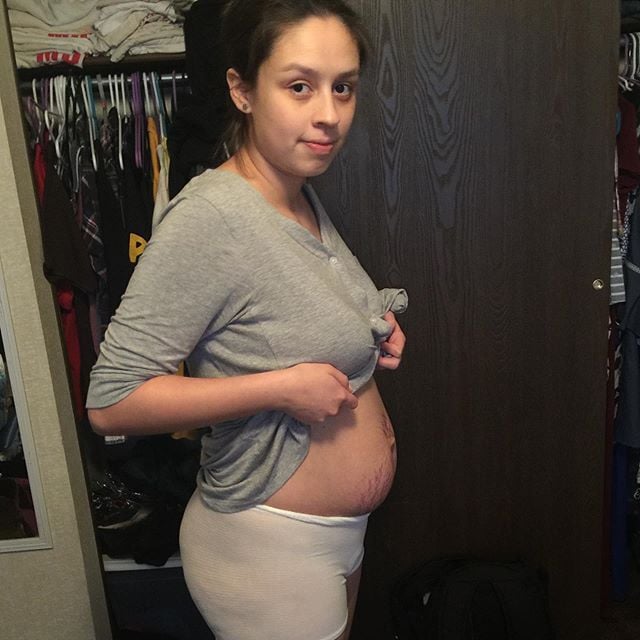 Brand-new mom Annie Ottenson wasn't afraid to put her postpartum body on display to her followers, either. "Giving birth and the postpartum journey isn't always a pretty sight," she captioned the Instagram photo. "I wanted to show you an insight of what It really looks like. These pictures are from right when I came home from the hospital to a few weeks after coming back from the hospital. Yeah I know not a very pretty sight I'm rocking the mesh underwear, the breast ice packs, and I'm beyond exhausted."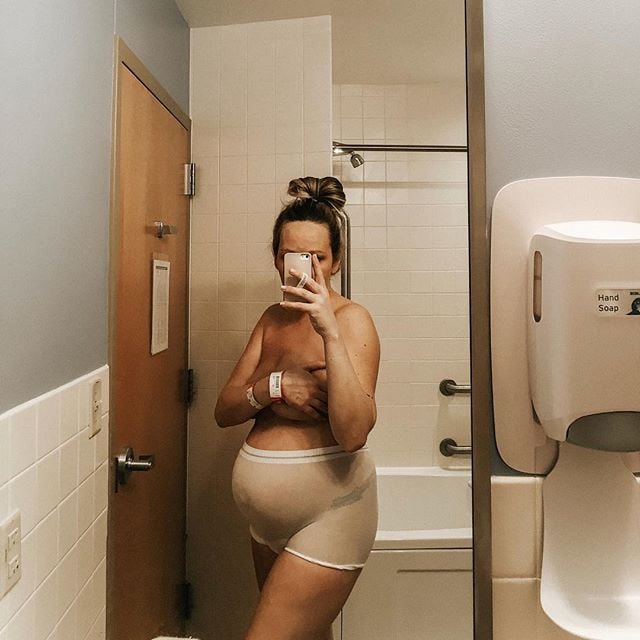 For Samantha, a mom of four, sporting her mesh undies was a decision that took a considerable amount of thought. "It's taken me a long time to get the courage to post this," she wrote in her caption. "A whole month actually! I was afraid of what friends and acquaintances might think. How they might paint me if they see me at school pick up or at the hockey rink. (Hello half-naked!) But this is real. This is postpartum. This is motherhood. The ones who matter won't mind and the ones who mind don't matter."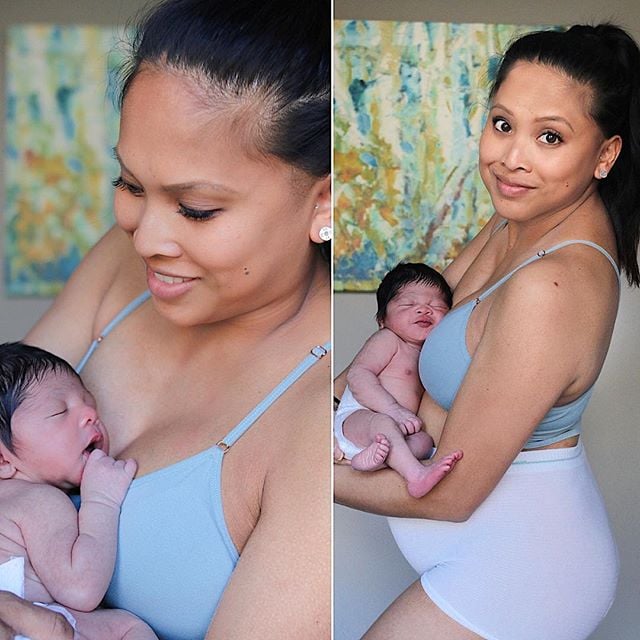 "In case you didn't already know, when you have a baby, you both are going home in diapers," wrote Carolyn, a postpartum specialist in an empowering Instagram caption. "Other fun things they never tell a first-time mom: engorgement, afterpains, hormonal rollercoaster, etc. By this third go-around, I knew what I was in for."