Every editorial product is independently selected by our editors. If you buy something through our links, we may earn commission.
Life moves outdoors in the summer. But bugs also set up shop in backyards and wooded areas families may head to for hikes, so if you have little ones, it's about the time of year you're looking to pick up a bug spray for babies or kids.
Baby-friendly pest control is a smart move in the warmer months, since bug bites can be more than just itchy nuisances. "Some mosquitos and ticks can transmit dangerous diseases like Lyme disease, Rocky Mountain Spotted Fever, malaria, and West Nile virus, depending on where you are in the world," says Amanda Stovall, MD, an Illinois-based pediatrician. "Preventing bug bites with clothing and bug spray is the first line of defense."
Products for adults aren't always suitable for kids, so when you're looking for a bug spray for babies or kids, the American Academy of Pediatrics and the Centers for Disease Control and Prevention both recommend using an insect repellent registered with the Environmental Protection Agency. All of those products must contain an EPA-registered active ingredient, including DEET, picaridin, or oil of lemon eucalyptus. The former two can be used on infants as young as 2 months old, but that last one isn't recommended for kids younger than age 3, the CDC says. (Even so, make sure to read individual products' labels, because some brands will caution against using their spray up until certain ages that differ from these guidelines.)
Additionally, the AAP recommends sticking to bug sprays containing DEET concentrations of less than 30% when using them on kids, using the least amount of product necessary, only using them once per day (without reapplying), and using the lowest concentration necessary for the length of time you're going to be outside (10% DEET provides about 2 hours' of protection, and 30% DEET provides about 5 hours' worth). Also be sure to wash it off with soap and water once you're back inside for the day, and know that DEET can reduce your SPF's effectiveness, so avoid products that contain both.
It can be tough to wade through ingredient list, so we rounded up a list of 11 bug sprays for babies or kids. These options will help keep your family bite-free — though you should also be sure to wear protective clothing and do thorough tick checks when you come back inside.
01

Bug Spray For Shorter Outdoor Excursions
OFF! FamilyCare Insect & Mosquito Repellent Spritz ($7)
This OFF! Bug spray has 7% DEET, ideal for a quick walk, a trip to a park, or an al fresco family dinner where you don't plan to invite mosquitos, gnats, and ticks. "This lower percentage DEET spray is a good option for those trips outside lasting less than two hours," Dr. Stovall says. The non-greasy formula contains soothing Aloe Vera. Also, keeping concentrations low is a great compromise for anyone who wants the proven bug-fighting powers of DEET, but are wary of the reported side effects like skin irritation.
Top Amazon review: "We use it as family, including [on] my kid. Mosquitoes are especially abundant in summer, but children enjoy activities in the backyard. Spray it once before going out, [and] I don't have to worry anymore."
02

Long Lasting Bug Spray For Babies and Kids
3M Ultrathon Insect Repellent Spray, Splash and Sweat Resistant ($14)
3M Ultrathon's spray is sweat and splash-resistant, making it an ideal choice for families on long hikes or water play. And you likely won't have to reapply again for several hours. "Higher the concentration of DEET, the longer the product will repel bugs, up to about 50%," Dr. Stovall says. Poison Control says 25% DEET concentrations — the amount in this product — can last about five hours, limiting the need to reapply. Two click-top locks prevent leaks and keep young children from being able to use the spray when they're not attended.
Top review: "My youngest child has severe reactions to mosquito bites, and we, unfortunately, live in an area that is generally high in mosquitos year-round. This spray has made the difference and allows him to get through the school day without issues."
03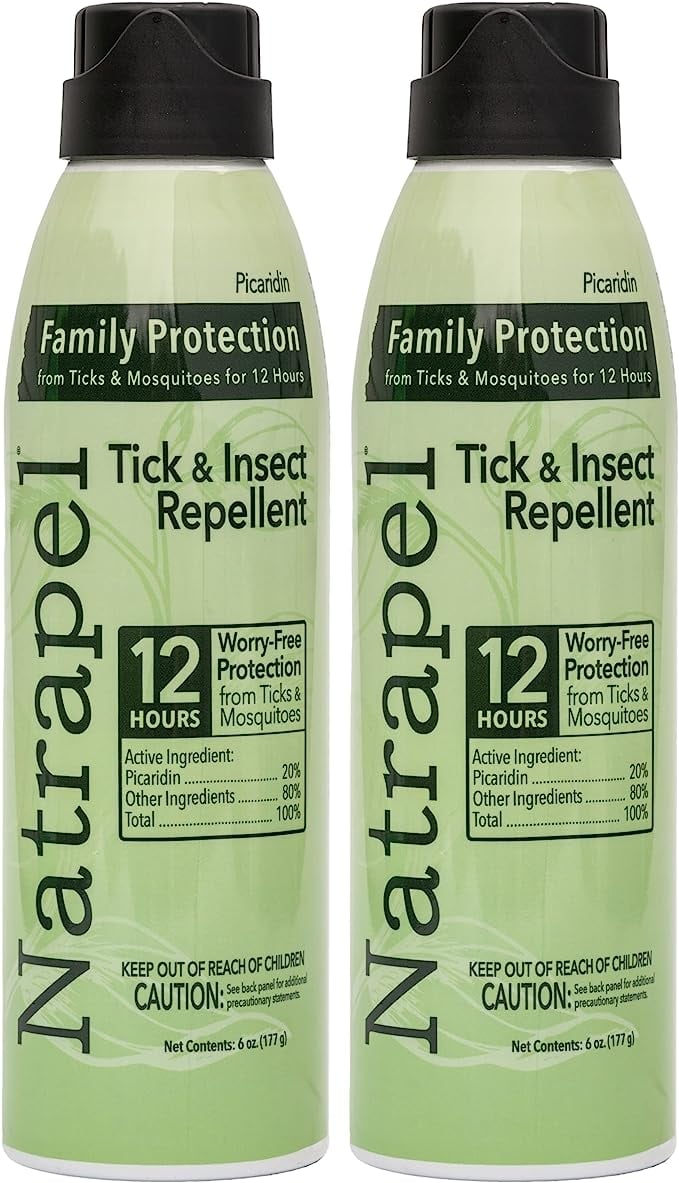 Bug Spray For Babies and Kids With Sensitive Skin
Natrapel Insect Repellent Spray ($22)
Though DEET is effective, some families may prefer to avoid it. Others may have had skin irritation. "Picaridin is a good DEET-free option that is safe to use," Dr. Stovall says. The ingredient imitates a compound found in pepper plants (Piperine) to keep bugs like ticks and mosquitoes at bay. Parents can use it on children over 2 months old, and it's safe to apply while pregnant or breastfeeding. The fine-mist continuous spray is a cinch to apply, even on the wiggliest of littles.
Top review: "I rarely leave reviews, but this is one of my staples. I discovered Natrapel when my kids were small, and we'd visit Colorado in the summer during years when biting flies & mosquitoes were horrendous...I bought every DEET-alternative insect repellant I could find and tested them all. This one, by far, worked the best and smelled the best."
04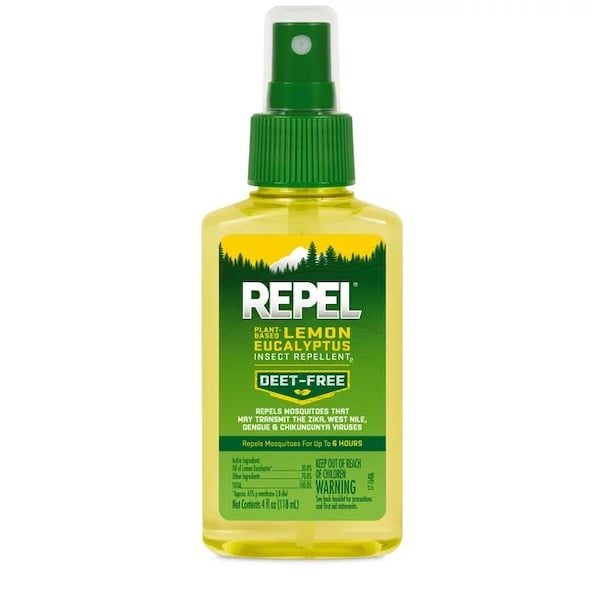 Bug Spray For Older Kids
Repel Lemon Eucalyptus Natural Mosquito Repellent ($12)
Repel counts the plant-based oil of lemon eucalyptus as its active, bug-repelling ingredient. The DEET alternative is derived from Eucalyptus citriodora tree leaves and can fend off mosquitos for up to six hours.
But be aware: this ingredient is not safe for babies. "For children over the age of 3, oil of lemon is an option for use in bug spray," Dr. Stovall says. "However, it can be a skin irritant. If it makes your skin red, itchy, or burns, wash the area with soap and water."
Top review: "I love this stuff. It really works. I spray on myself and the kids, and no mosquitoes. I also spray around the patio, garden garage, and trash cans. The flies don't like it either. It's safe to use and cheaper than other insect repellents."
05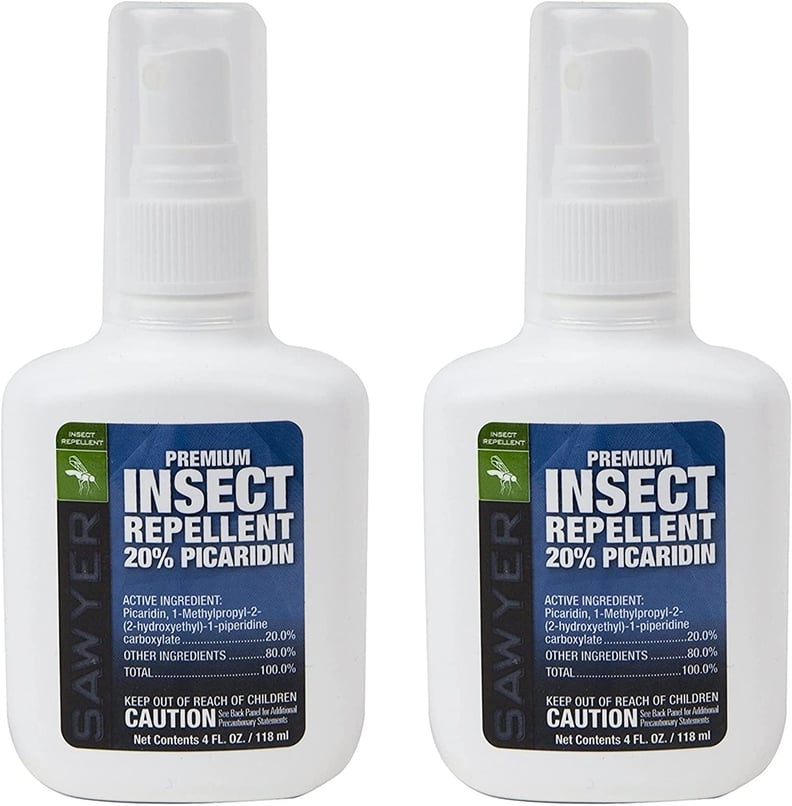 Non-Greasy Bug Spray For Kids
Sawyer Products Picaridin Insect Repellent ($30)

Sweat, sunscreen, and bug spray can make kids' skin feel greasy. But Sawyer's quick-drying formula is known for nixing that concern. The topical repellent wards off ticks and mosquitos, among other pests, because of its 20% Picaridin formula, which Dr. Stovall says makes it safe and effective. "It's safe to use on the skin as well as plastics and all types of clothing," Dr. Stovall says.
Heads up: some reviewers said it leaked easily, so be sure to secure the cap.
Top review: "Not only does this bug spray work wonders at keeping bugs at bay, but it also doesn't leave a sticky residue or oily feeling on my skin like some other repellents do. I appreciate that it is safe for use on both adults and children, as well as on clothing and gear . . . It truly is a game-changer when it comes to insect protection, and I would highly recommend it to anyone looking for an effective, pleasant-smelling repellent."
06

Budget Bug Spray For Kids
Cutter Lemon Eucalyptus Insect Repellent ($7)
This insect repellent from Cutter counts the oil of lemon eucalyptus as its active ingredient, which can ward off insects in kids ages 3 years old and up. At only $7, it's less expensive than many other options.
Top review: "My child kept on getting mosquito bites at school . . . Then another parent told me to try the Cutter brand, and it actually kept her from getting bit. [It] really works! The smell is nice too."
07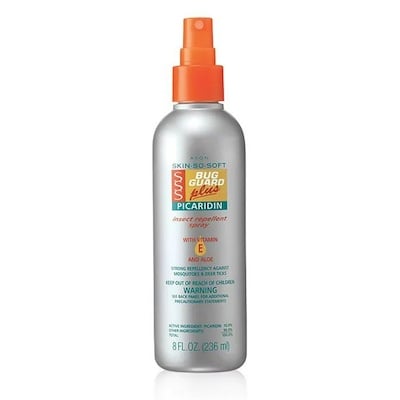 Family Size Bug Spray For Babies and Kids
Avon Skin So Soft Bug Guard Plus Liquid Repellent Picaridin ($26)
At $26, Avon Skin So Soft's Bug Guard seems like a splurge, but 8 oz. should cover you and your little ones for a while. (Just follow the label instructions and ask before using it on babies under 6 months old.) The formula uses picaridin to keep gnats, mosquitoes, sand flies, and other insects from putting a damper on outdoor family fun.
Top review: "We were having a constant problem with noseeums. Now, we have no problem. This product is everything it claims to be!! We no longer have any bug bite issues. We highly recommend."
08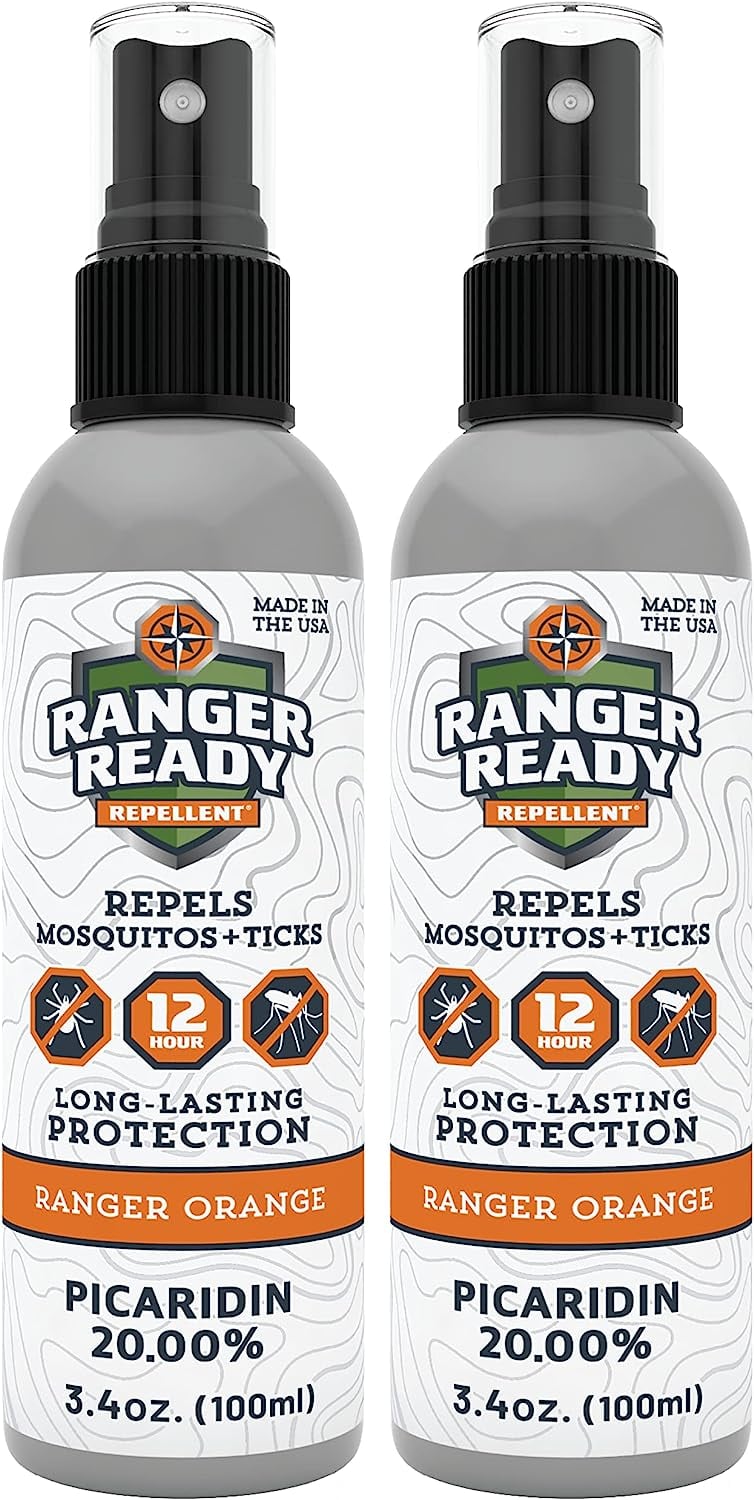 Travel Bug Spray For Babies and Kids
Ranger Ready Picaridin 20% Tick & Insect Repellent ($21)
Ranger Ready's picaridin repellent comes in 3.4 oz., TSA-friendly bottles, ideal for families jetting off on a short trip. Another bonus: the orange scent really does mask the usual bug spray smell that so many kids (and adults) hate. But the bottle warns against using it on kids under age 1.
Top review: "I put this on, and the pesky no-see-ums stayed far away. I like the smell. I'm going to order more for my kids."
09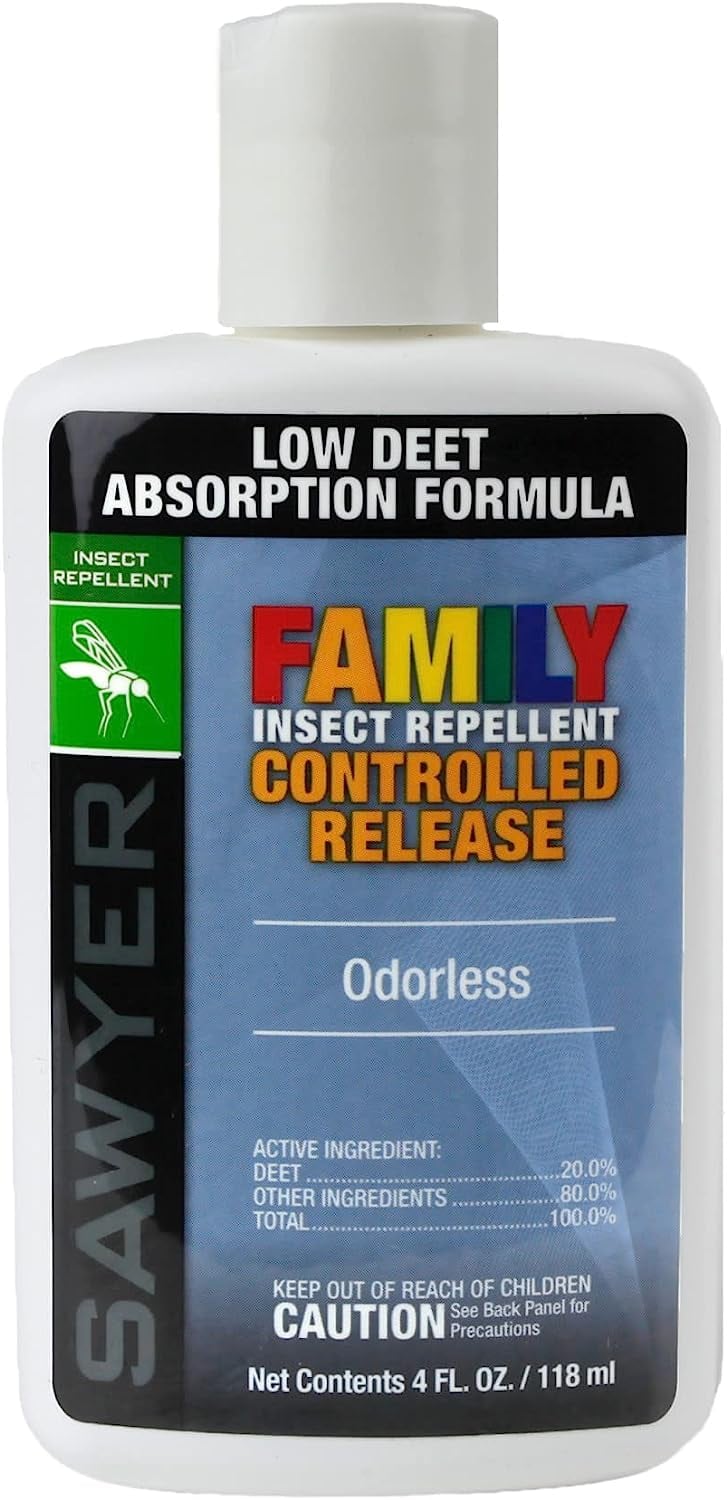 Pest-Repelling Lotion For Babies and Kids
Sawyer Products 20% DEET Premium Family Insect Repellent Controlled Release Lotion ($9)
Some families may prefer to use a pest-control lotion on children. "Lotions are a safe option when used as directed. They allow for more precise application compared to spray," Dr. Stovall says. This Sawyer lotion contains 20% DEET, which repels ticks and all mosquitos, including those carrying the West Nile virus. The controlled release means it takes longer to absorb into the skin, reducing reapplication needs. (The brand cautions against using this product on infants under 6 months old.)
Top review: "This stuff works like magic. My two children have been at summer camp in the woods and near ponds and swamps, early morning and dusk, for the last week and a half, and neither one has one single bug bite on them. Not one bite. I put just a dab on and easily spread it around."
10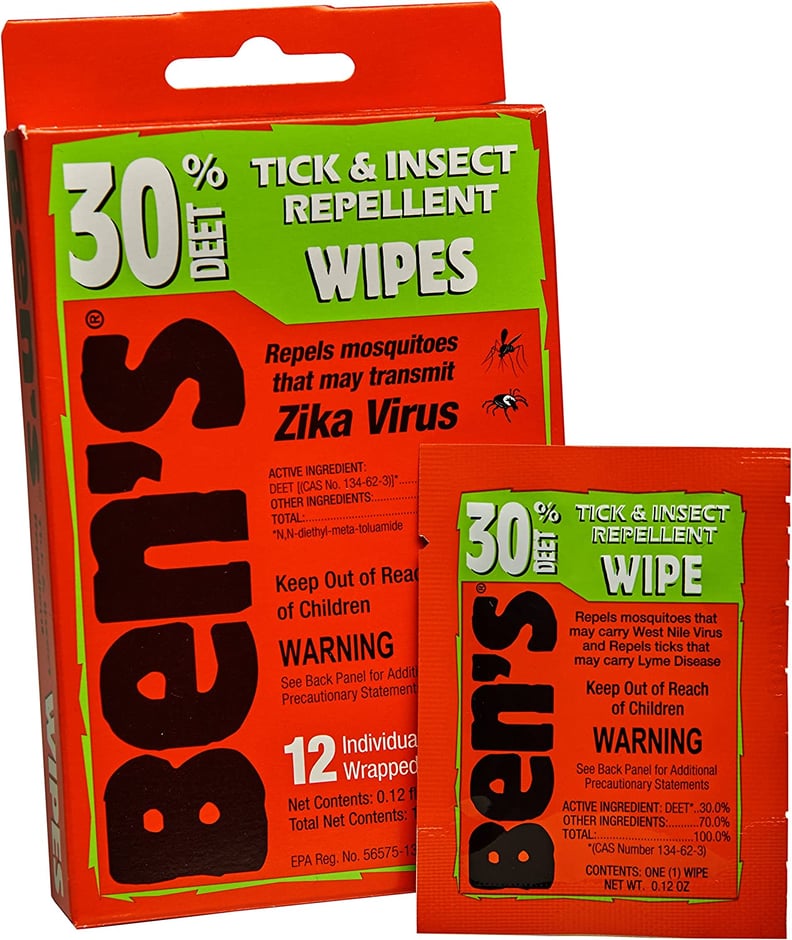 Insect Repellent Wipes For Kids
Ben's 30 Tick & Insect Repellent Wipes ($27)
Wipes can be clutch for parents. "Individually wrapped wipes are easy for stashing in a bag when out and about without worrying about spilling," Dr. Stovall says. Ben's wipes contain 30% DEET — good for long-lasting protection when you really need it (and also the highest concentration of DEET the AAP recommends for kids, so you may want to save this for when you need super long-lasting protection for older kids). Plus, "wipes decrease the risk of inhalation or accidentally spraying in the face," she says. And wipes help you avoid getting DEET into cuts and scrapes, which can lead to skin irritation.
Top review: "Perfect for on the road, camping, or anytime you might be out at the mosquito bewitching hour. They work great. They don't make me sneeze as all sprays do, and they don't stink as badly as the sprays."
11
Natural Bug Spray For Kids
Babyganics Insect Spray ($23)
Babyganics' popular insect spray is made with a mix of plant and essential oils, including citronella, peppermint, rosemary, and lemongrass. The EPA and AAP have not seen evidence to prove this formulation is an effective way to reduce insect bites, but it has a 4.6-star rating based on more than 11K reviews on Amazon. The formula also doesn't contain parabens, sulfates, phthalates, synthetic fragrances, or dyes — but it's not recommended for kids under age 6 months.
Top review: "I took this on a summer camping trip to Colorado. There were a ton of mosquitoes and black flies. This certainly helped to repel the black flies but not so much the mosquitos! Everyone who tried the product was still getting bitten. The product itself is a little oily, so you have to spray and then spread it. The scent is wonderful."