Sterling K. Brown Has a Creative Solution to Help Your Kids Learn to Love Cleaning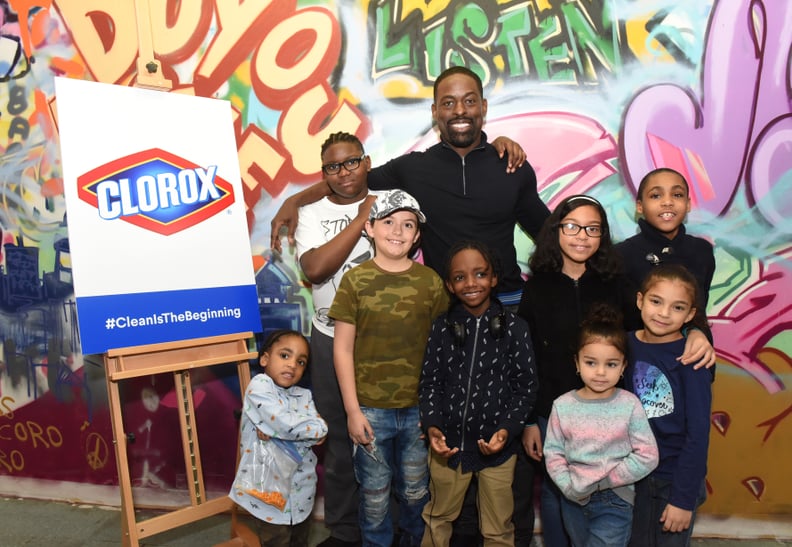 Diane Bondareff | Invision for Clorox / AP Images
Diane Bondareff | Invision for Clorox / AP Images
Sterling K. Brown practically oozes empathy and compassion on TV each week as Randall Pearson, everyone's favorite dorky-yet-lovable dad on This Is Us. In real life, Sterling also knows a thing or two about domestic life as the proud dad of two boys and husband to the beautifully talented Ryan Michelle Bathe. Simply put, there's plenty to admire about the 41-year-old actor.
Sterling recently partnered with Clorox and the nonprofit organization Thrive Collective to launch a new arts and crafts hub for at-risk kids in Harlem, NY, proving he really has just as big a heart as his This Is Us character. POPSUGAR caught up with the Emmy and Golden Globe winner, who was tapped to host the event and delivered a moving speech to an eager group of children waiting to greet him. There, he explained the significance of his latest initiative and how it bridges the gap between art and community service.
"What we learned through research that Clorox has conducted is not only does cleaning make you a more productive human being, but children who grow up in a clean space are more empathetic," he shared. "They become even more empathetic when they do the cleaning themselves. More than that, children who grow up cleaning become adults who feel connected to their communities."
"Now you have this space that has been created so that kids can come and share their creativity," he said minutes before his address. "They get a chance to create and have their creations validated by saying your perspective of the world is important."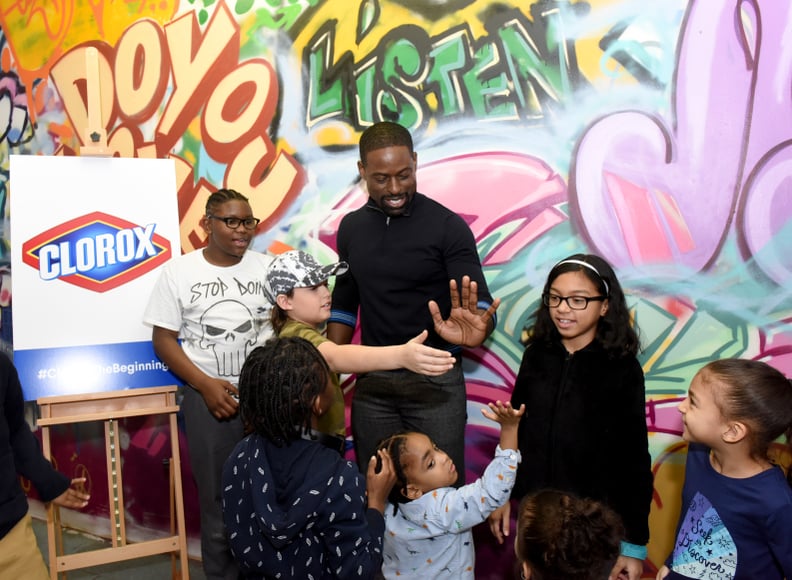 The heartwarming campaign hit close to home for Sterling because it reminded him a lot of his own childhood. "Growing up, if I didn't have a free space to allow my imagination to abound and be explored without constraint, I couldn't do what I do today."
He shared those same sentiments with the crowd. "I am an artist and I recognize the power of imagination and to have your imagination celebrated. Young people, use your art to make the world a better place. Show them the world which you seek and have them appreciate the perspective which you bring."
"Never forget where you come from and never stop giving back."
The decorated actor closed out his speech with an empowering message that would make his TV dad, Jack Pearson, proud. "I used to think cleaning was an end to and of itself. But cleaning is a beginning. There's something really special about taking ownership and pride about the space in which you inhabit, but also to know that you become a more empathetic human being [from cleaning] and you feel a need and desire to give back to the community for which you are a part."
"Never forget where you come from and never stop giving back," he continued. "As we ascend, as we climb together, make sure that you pull other people up with you. Go out into your communities, whether it means going to a park and cleaning that up, or whatever it is, make sure that the community that you're a part of knows that they are appreciated. Put your hands to the grindstone and make something happen."