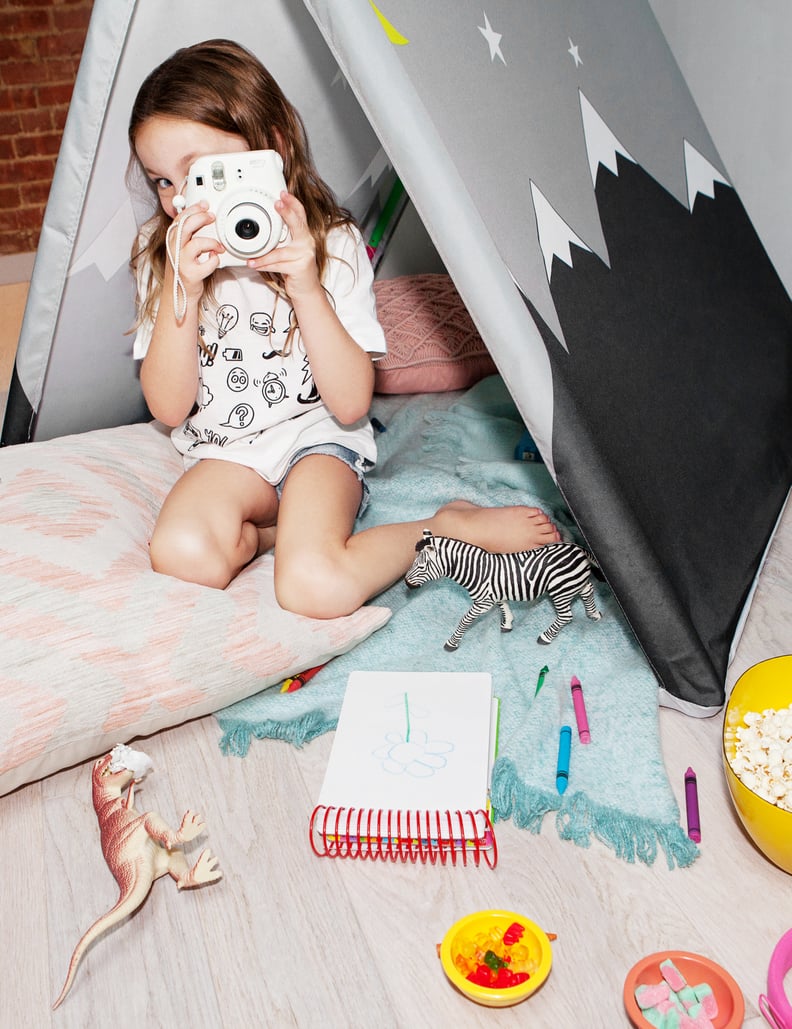 POPSUGAR Photography | Lexi Lambros
POPSUGAR Photography | Lexi Lambros
I have spent 12 summers of my life at Summer camp as a camper, volunteer, or counselor. I can tell you firsthand that attending camp can help children learn new skills, make lifelong friendships, and grow as people. All that fun and growth requires a lot of preparation — before they can hop in the lake or learn how to ride a horse, you've got to pack their bags.
When packing a child's trunk for camp, remember they are going to get dirty, so nothing should be packed that can't withstand a little dirt and grime. Think in layers that will serve your child throughout the day. At the camp I attended, it might be a nice 85 degrees during the day, but dip into the 40s or 50s at night. It's better to be over- rather than underprepared.
Since cabins and tents are notoriously unkempt, find a way to label everything, even if it's with a simple and colorful dot on the tag so that your child can better distinguish their stuff. Lastly, make sure to clear any possibly restricted items with the camp before it makes its way into their luggage. Below is a list of everything your child will need to have a great experience at Summer camp, so they don't have to worry about their clothes, and they can focus on having fun and making memories.
Clothing
Socks
Swimsuits/trunks
Shorts
T-shirts
Hoodie and/or sweatshirt
Warm hat
Baseball cap
Sunglasses
Long pants
Jeans
Jacket
Raincoat
Dress clothes for a dance or candlelight dinner (if there will be one at your camp)
Underwear
Warm pajamas
Tennis shoes
Hiking shoes
Slip-on shoes
Sandals (check with the camp to see if they restrict open-toed shoes)
Dress shoes (check with the camp)
Toiletries
Toothpaste
Toothbrush
Shampoo
Conditioner
Body wash/bar soap
Bath towel
Beach towel
Waterproof sunblock
Bug spray or wipes
Brush
Hair ties, if needed
Deodorant
Shaving products
Feminine products
Band-Aids
Lip balm
Any medications your child needs
Laundry detergent, if a washer is available
Cabin Gear
Sleeping bag
Sheets
Blanket
Pillow
Books to read
Stationary
Flashlight
Water bottle
Deck of cards
Clip-on fan
Disposable or digital camera, if phones are not permitted
Any special equipment they may need to participate in activities
Money for the store, unless your camp wants you to make payments directly
What Not to Bring
Unless otherwise stated on your camp's website, below is a list of things that are commonly either advised against or outright banned.
Anything that you wouldn't want to get dirty, lost, stolen, or damaged.
Open-toed shoes
Perfume or cologne
A cell phone, tablet, handheld gaming system, or computer
Food items (unless your child has a strict diet, in which case all food items should be cleared with the camp beforehand)
Nonprescription medications