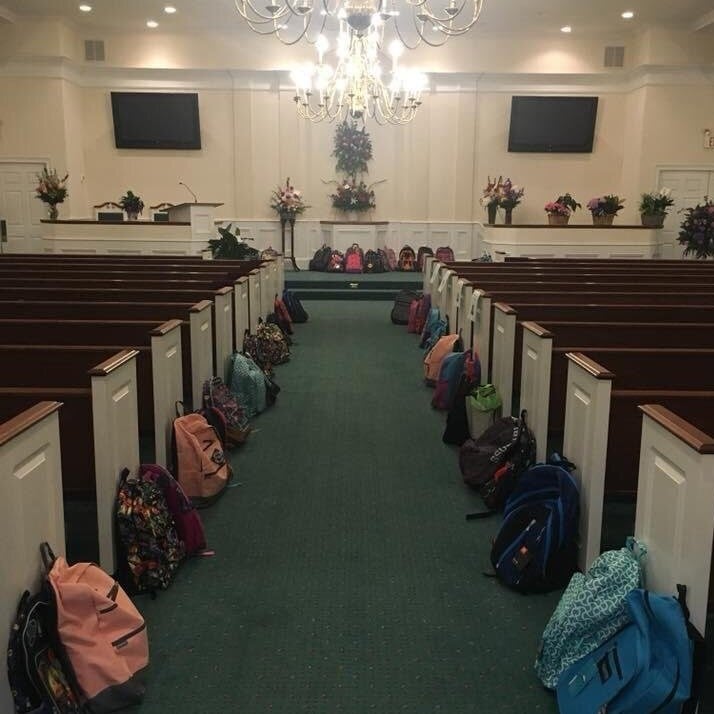 When Tammy Waddell, an elementary school teacher in Forsyth County, GA, found out that she had cancer for the second time, she knew she wanted to do one last good deed for her students in the short time she had left. So rather than asking for flowers at her own funeral, the 58-year-old educator opted for friends and family to donate school supplies instead. And according to a tweet from her cousin Brad Johnson, people seriously delivered.
Brad snapped a photo of all of the backpacks filled with school supplies lining both sides of the aisle with the caption: "My cousin's final request at her funeral was backpacks full of supplies for needy students instead of flowers. A teacher to the end."
Unsurprisingly, the photo quickly went viral, and now people are jumping at the chance to donate. Read through to see just how much of an impact Tammy made on her community.
Brad noted that more than 100 teachers showed up to honor Tammy with backpacks in hand. They were all made "honorary pallbearers."
Overwhelmed by the positive response, Brad was eager to show off exactly how many school supplies Tammy was able to get donated.
In an effort to carry on Tammy's memory, Brad shared where others can donate school supplies in her honor. He also added that people can do their part by giving supplies to their local school districts.
"Many have asked how to donate, but really we would like people to donate to the schools in their area," he wrote. "Many in our family are educators and we know the struggles of all districts. Spread the love locally!"
To say Tammy left behind an incredible legacy would be a massive understatement.